Bajrangi Bhaijaan in China: Salman Khan-starrer becomes fourth highest grossing Indian film of all time
Will Salman Khan-starrer Bajrangi Bhaijaan outshine the worldwide gross of Rs 894 crore, of Aamir Khan's Secret Superstar?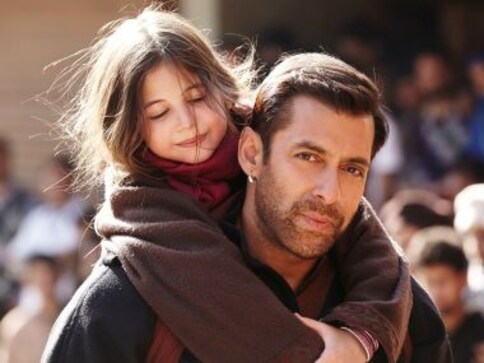 After warmly embracing Aamir Khan's Dangal and Secret Superstar, the highest grossing non-Hollywood films of all time in China, the mainland moviegoers have now received Salman Khan's cross-border drama Bajrangi Bhaijaan with open arms.
The movie has grossed an attractive cumulative of $31.06 million (Rs 201.6 crore) in two weeks in the PRC, taking its overseas gross to $60.06 (Rs 390 crore) and worldwide earnings to a whopping $125.06 million (Rs 812.1 crore).
Bajrangi Bhaijaan has now become the fourth highest-grossing Indian film worldwide, only behind Dangal, Baahubali 2: The Conclusion and Secret Superstar, which ended its month-long run in the Middle Kingdom on 18 February with a humongous box office haul of $118 million (Rs 766.1 crore). The Kabir Khan-directed film has dethroned another Aamir Khan blockbuster, PK, to achieve this feat. Now, Bajrangi Bhaijaan is also the fourth Indian film to breach the Rs 800 crore mark after Dangal, Baahubali 2: The Conclusion and Secret Superstar.
With its steady performance at the PRC ticket window, Bajrangi Bhaijaan has also gained entry to the elite $60 million club from overseas markets, with its cumulative foreign total currently at $60.06 (Rs 390 crore). In its sophomore week in China, the film, which also stars Harshaali Malhotra, Kareena Kapoor Khan and Nawazuddin Siddiqui in important roles, outpaced the lifetime overseas revenue of Baahubali 2: The Conclusion and PK respectively to secure the third spot in the list of highest-grossing Indian films in overseas, which is comfortably dominated by table-toppers Dangal and Secret Superstar.
Now, Aamir and Salman are the only two Indian heroes to have Rs 200 crore grossers in two single markets – India and China. With its $31.01 million total in China, Bajrangi Bhaijaan is now the second highest grossing import movie in the PRC, only behind Disney-Marvel's globe-trotting blockbuster Black Panther. The Eros International-produced film, which accrued a total of $19.87 million in its first week in China, has dropped just 44 per cent in the second week, earning a decent $11.19 million despite the phenomenal opening of Black Panther at the box office.
While Aamir's Secret Superstar braved Hollywood films such as Maze Runner: The Death Cure and The Greatest Showman, and homegrown holdovers such as Forever Young, to become the highest grossing import film of February, Bajrangi Bhaijaan managed to tower above the Academy Award-winning drama Three Billboards Outside Ebbing, Missouri in the box-office chart. The Frances McDormand-starrer has raked in a paltry $8.11 million in two weeks and held the seventh position on the chart yesterday.
Multiple Oscar award-winning movie The Shape of Water and Alicia Vikander's highly-anticipated action film Tomb Raider land on Friday in mainland cinemas and will pose a tough competition to Bajrangi Bhaijaan in the next few days regarding screen count. On 23 March, Universal's Pacific Rim: Uprising will hit the Middle Kingdom screens and is expected to garner an overwhelming opening gross. The first part, Pacific Rim, collected more than what the film earned in North America, and it will be one of the eagerly awaited movies in the PRC, for it also features Chinese stars Jing Tian and Max Zhang in important roles.
With the kind of lineup powered by Hollywood imports for the next two weeks in China, the chances of Bajrangi Bhaijaan surpassing the $50 million gross in the PRC look slim. China's popular ticket-selling and movie-rating site Maoyan.com has, understandably, reduced the film's lifetime forecast from 300 million yuan ($47.5 million) to 254 million yuan ($40.17 million) now. Bajrangi Bhaijaan still enjoys an excellent score of 9.6 on Maoyan from 168,000 viewers and 8.6 on Douban, called China's IMDB, from 114,000 users.
Now, the billion dollar question of whether Bajrangi Bhaijaan will outshine Secret Superstar's worldwide gross of Rs 894 crore or not will be watched by fans of both actors with bated breath. If Bajrangi Bhaijaan earns close to $43-45 million in its entire run or more than that in China, it would undoubtedly supersede the worldwide earnings of Secret Superstar to emerge as the third highest grossing Indian film globally.
Entertainment
In a trial that Judge Kent Holmberg and attorneys for both parties have agreed will last eight days, with each side getting four to call witnesses, Friday marks the final day that Sanderson's attorneys can compel Paltrow to testify.
Entertainment
A report by TMZ says the man travelled from South Carolina to Rihanna's Los Angeles home where she was with her baby boy when the incident occurred.
Entertainment
Mukesh Ambani was seen wearing a black suit whereas Nita Ambani carried a blue saree with grace and elan.