Bajirao Mastani review: It is a regular love story and not very ambitious, but the film satisfies its audience
Bajirao Mastani, a regular love story devoid of a convincing, rounded antagonist, is neither particularly ambitious nor audacious.
Around 20 minutes into Sanjay Leela Bhansali's latest, Bajirao Mastani, we see Mastani (Deepika Padukone), the daughter of Bundelkhand's king, stand stunned in the middle of a battlefield, surrounded by bloodthirsty warriors who are either killing or getting killed.
This bloody battlefield should have caused Mastani to be particularly alert and on the attack, but instead she's been rendered motionless by the sight of a Maratha warrior, Bajirao (Ranveer Singh), slaying her enemies. As Mastani keeps looking at Bajirao, the bodies around her continue to get massacred and fall; in a battleground where soldiers are losing their lives, Mastani has lost her heart. This scene is completely unreal, even illogical, and, yet, it is wholly enjoyable, even bizarrely believable — something that can unfold with this much aplomb only in a Bhansali film.
Melodrama is perhaps one of the toughest games to win in cinema, a little like walking on a tightrope, one wrong step — one miscalculated pitch — and you are out. But Bhansali usually takes that challenge a notch further: He oils his soles and walks on a muddy wire, and, as a result, quite unsurprisingly, his last few films have been big misfires. Bajirao Mastani, however, sees him go back to the basics, where he seems primarily devoted to first getting the mechanics of a scene right — its tone, arc, and dialogues — as if it's entirely a standalone element, and worrying about the big picture only later.
Bajirao Mastani looks slightly messy on paper, and it could have appeared messier on screen, for it stood the risk of being overcrowded with subplots: a husband betraying his wife and community; a son falling-out with his mother (Bajirao, a married Hindu, not just falls for another woman; he brings home a Muslim); an outsider craving for acceptance; a Maratha warrior's ambitions of ousting the Mughals from Delhi, thereby making his country a "Hindu rashtra (the land of Hindus)", but Bhansali, quite rightly, checks his ambitions and centers his film on the relationship between the two eponymous characters.
Since both Bajirao and Mastani are warriors, this film's considerably violent, and a terrain Bhansali isn't innately familiar with, as his first six movies, before Goliyon Ki Raasleela Ram-Leela, have mostly been maudlin dramas or, more appropriately, 'weepies', sentimental fares that didn't require or contain violence.
But since his last film, Goliyon Ki Raasleela Ram-Leela, which opened with an elaborate shoot out sequence and ended with its leads' committing suicide, Bhansali's characters have used violence to resolve or complicate their circumstances.
In Bajirao Mastani, violence isn't something that just occurs out in the open — in battlefields — it's also present indoors: Mastani has to protect herself and her son, in their house, from being attacked by soldiers sent by Bajirao's mother. When Mastani's friend asks her to return to Bundelkhand, as she's been forbidden to meet Bajirao and kept with the Empire's courtesans, she doesn't simply refuse, but expresses her anguish by brandishing a sword for a good few seconds.
Bajirao, too, frequently takes refuge in violence, most notably in two key scenes of the film's climax: When he, clueless and shocked after hearing grievous news about Mastani, races towards vanquishing a rival army without any provocation, and, secondly, when he repeatedly tries, and fails, to keep his sanity intact. You won't usually expect a director like Bhansali to nail these intricacies, that warriors' violent streak is perpetual — that it isn't just a means to an end; often times, it's both.
There are, however, also sporadic emergence of the old Bhansali in Bajirao Mastani, one who likes to pause the narrative, and weaken moments of intense dramatic tension, by needlessly peppering his film with songs. Even here, you can spot Bhansali desperately trying to find excuses to break into a song. When Bajirao's about to leave Bundelkhand, we see Mastani sing and dance in her father's court. When Bajirao comes back to the Empire, Kashi welcomes his return with a song. A little later in the movie, when Bajirao's successfully managed to subdue the Nizam of Deccan, he celebrates his victory with — what else but — a song, one that's so awkwardly shoehorned, a quasi-item number ideally belonging to a Rohit Shetty film, that it yanks you out of the story. Thankfully though, these indulgences don't cross their threshold, and, consequently, don't severely compromise the film.
Bajirao Mastani's also quite compelling because it continuously sweats the small stuff. Take, for instance, the scene where Mastani performs in Bajirao's court for the first time: Kashi is watching her dance, standing near the railing on the first floor, and the glances stolen by Bajirao and Mastani indicate her that they aren't seeing each other for the first time; the camera then frames Mastani in mid close-up, but we are aware that Kashi is still watching her, which adds another layer, and tension, to this hitherto routine scene.
A little while later, the camera again moves up to Kashi, and shows us her resigned smile, implying that she's come to terms with her new status: of being the other woman in her husband's life. Bhansali doesn't underline this moment, just lets it be. Or the scene between Mastani and Kashi, years later, which doesn't unfold via a loud confrontation, but through a conversation that's marked by grace, dignity, even begrudging respect. Or the subsequent exchange between Bajirao and Kashi, one underlined by indifference, gentle reluctance, and companionship, signaling a relationship that's run its course.
Bajirao Mastani, a regular love story devoid of a convincing, rounded antagonist, is neither particularly ambitious nor audacious. And although the film sets its targets straight and low, it pursues them with unflinching doggedness and sincerity, and achieves them satisfyingly. Most films remain clueless about their faults and merits (if they have any), but this one does, and is smart enough to pick its battles — exhibiting a kind of singular clear sightedness that should be a hallmark of more mainstream movies.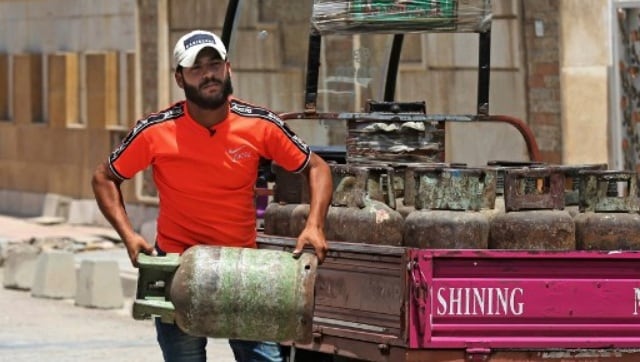 World
"When people recognise my voice, they open the door of their home and shout out to me," the deliveryman says.
Entertainment
Pan Nalin's Gujarati film is an ode as much to movie-going as to movie-making. He romanticises the 35mm experience but stops short of decrying digitisation as the death of cinema.
Entertainment
Shiva Baby has the potential of becoming the cinematic equal of The Graduate in regards that both films are the youth's mouthpiece, reflecting a time of hopeless ennui and disillusionment.