Baahubali 2: The Conclusion makes box office history in Kerala; inches to Rs 60 crore collection
Baahubali 2 released across a record 315 screens in Kerala, and at the beginning of the fourth week, still retains almost 75 percent of the screens
Baahubali 2: The Conclusion (also spelt as Bahubali 2) has created box-office history in Kerala. The film is inching towards a Rs 60 crore gross collection in Kerala, by the end of its third week. It means, in box office numbers, a net of Rs 48 crore and a distributor share of approximately Rs 30 crore. Global United Media, the distributors of the film in Kerala, are on a roll — as no other film has grossed so high in the state.
The producers of the Malayalam film Pulimurugan, starring Mohanlal, has claimed that they have grossed worldwide Rs 100 crore plus, but have not been forthcoming with a complete breakup of the collections. Baahubali 2 released across a record 315 screens in Kerala, and at the beginning of the fourth week, still retains almost 75 percent of the screens. Normally, a Malayalam film finds it difficult to retain 50 percent of its release screens in its second week. Baahubali 2 has not only retained 75 percent of the screens it released on, but also managed to retain multiplex big screens and almost the same number of shows in its fourth week.
B Unnikrishnan, MD of Ariesplex — the biggest multiplex in Thiruvananthapuram — and a leading Malayalam film director, says: "Baahubali 2 is on a historic run and has broken all existing box-office records in our complex, which was one of the highest grossing screens for Baahubali: The Beginning in India. It is such a big hit due to SS Rajamouli's content, which has been able to attract the family audiences along with repeat viewers."
Prem Menon of Global United Media, the distributors of Baahubali 1 and 2 in Kerala, says, "Baahubali 2 is a monster blockbuster because it caught the imagination of all class audiences across the state for its fairy tale story telling and awesome special effects. And the kind of promotions we did in Kerala with the entire cast and crew participating gave it the necessary reach across all platforms of the media which helped to generate positive word of mouth."
As per trade sources, Baahubali 2 has done the best in Kochi (largest concentration of multiplexes in Kerala, with high ticket rates), followed by the Malabar area (Malappuram, Kozhikode, Kannur and Kasargod districts) and then Travancore area. The left liberal media in North India has said the Baahubali franchise was a pro-Hindutva film — which makes it noteworthy that in Kerala, it has performed outstandingly in the Muslim belt of Malabar and key Syrian Christian areas in Central Kerala.
However, leading film critic and writer Vijay George, says, "Malayali viewers have traditionally never mixed faith and films. Let us say it ran because of good content and its making. There have been stories like Oru Vadakkan Veeragadha or Aaromalunni, the sword and romance movies in the past that narrated 'Vadakkan Paattu' (folklore). I would say more than Baahubali 2's so called Hindu flavour, what worked was Malayali audiences lapping up the visual splendour, technical brilliance and story telling of SS Rajamouli. Also, the seriously flawed quality of some of recent Malayalam releases kept a large section of the audiences away from cinema. Baahubali 2 has brought back the lost viewers back to the big screen."
The trade feels Baahubali 2 has done outstanding business in Kerala mainly due to its wide release and the national promotions of the film, which caught the eye of the local audiences. No Malayalam film has released so wide and distributors were willing to play it on all screens and did not demand advance from theaters, a regular practice in Kerala. Instead, distributors offered the film free but with stiff terms and conditions, in many places they got 65 percent of the net in the first two weeks. And after a battle with multiplexes they managed to squeeze 55 percent in the first week. Twenty-one new screens in Kerala opened with Baahubali 2, which brought in the additional revenue.
The release date — 28 April 2017 — was a big advantage and there was no real opposition. Dulquer Salmaan's Comrade in America (CIA), which released a week after Baahubali 2, could not stand up to it, as the SS Rajamouli film by then had turned into a tsunami hit. The repeat audiences for the film which released in Malayalam and Tamil in Kerala also generated additional income for the film. And it looks like the film will run unopposed till the spat of Ramzan (Eid)  releases due on 23 June. From 23 May, when the Ramzan fasting starts normally, there will not be any new releases , which would mean theatres would prefer to continue with B2, a proven hit. And monsoon is hitting Kerala early on May 30 this year.
Prem Menon says, "Baahubali 2 is a once-in-a-lifetime blockbuster and we feel it has the ability to touch Rs 75-80 crore gross from Kerala, which is mammoth if it continues its dream run.
India
The police registered the case on its own, a day after a short video of an armed Sameer escorting a group of children to the Madrasa had gone viral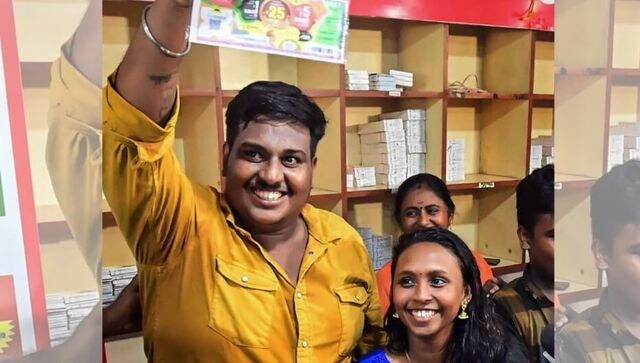 India
Anoop, a resident of Thiruvananthapuram, won a whopping Rs 25 crore in the Onam bumper lottery on 18 September. However, days after winning the jackpot, the auto driver in Kerala wishes he did not bag the first prize
India
Kerala High Court also asked the police to grant adequate protection to all public utility services that apprehend violence, at the hands of those supporting the illegal hartal