Badhaai Ho writers Shantanu Srivastava, Akshat Ghildial on film's success and how it compares to Tevar
Akshat Ghildial (story, screenplay, dialogues) and Shantanu Srivastava (story) talk about the process that brought Badhaai Ho's Kaushik family to life
They met as students during their MBA programme in Delhi in 2001. By the end of the second year, Akshat Ghildial and Shantanu Srivastava had decided they wanted to work together. In 2018 they are reveling in the success of Badhaai Ho, their debut collaboration as screenwriters. The story draws on both of their life experiences as two boys who grew up in Meerut and Rohtak, respectively. Here Ghildial (story, screenplay, dialogues) and Srivastava (story) talk about the process that brought the Kaushik family to life.
Where did the idea of an older couple expecting a baby germinate?
Akshat: I discussed the idea with Shantanu. He loved it and thought it might make for a feature film. We toyed with how we could develop it. Shantanu already knew Amit (Sharma, director) from working together on Tevar and he suggested we take the idea to him.
Shantanu: When we moved to Mumbai after our MBA, we shared a tiny flat with some other batchmates. One batchmate who had lived in a spacious 3BHK in Powai would always hang out in our small flat. We wondered why and joked that maybe his mother was pregnant.
Akshat: My nani is the no-filter nani. And my mother was 18 when my aunt was born.
Shantanu: My mother was part of a kitty, which did paath for an hour and then played tambola. The room would quickly get redecorated from temple to casino and I would be enlisted to call the numbers! The Kaushik family was created in my home.
There are three writers credited on the film. How did the collaborative process work?
Shantanu: In mid 2015, when we wrote the synopsis of this film, we connected with Amit and he jumped on the idea. Once we had solidified the idea a bit more, we met Priti Shahani of Junglee Pictures and that's when we discovered that they had a similar concept with them. So we incorporated the two ideas and Priti credited Jyoti Kapoor with story as she had worked on a parallel story for the production house.
Was there much improvisation to the script and dialogues? I especially noticed the use of silences and gestures in place of dialogue.
Akshat: A lot of what you see was already in the screenplay. Amit did make some additions and the actors also brought in their interpretation. Amit was insistent that we were a part of the readings with the actors and guided them on dialect and diction. It was a terrific collaboration. Because we were dealing with an awkward topic, it was clear to us that there would be awkward silences. It is a lot about embarrassment. When dadi (Surekha Sikri) is blasting both of them (Neena Gupta, Gajraj Rao), there is not much they can say.
Was the class juxtaposition between Renee (Sanya Malhotra) and Nakul (Ayushmann Khurrana) consciously designed?
Shantanu: Absolutely. Class establishes differences in small ways – such as how Renee's mother celebrates something compared to how the Kaushiks celebrate. The upper middle class whines about the pretentious middle class and how involved they are in each other's lives. Through the mothers – who are of a similar age – we show one celebrating a 50th birthday and the other in an advanced stage of pregnancy. Both are loving mothers with opposing parenting methods – Renee's mother is hands-off whereas Nakul's mother is controlling.
Although a 'taboo' subject at its core, how did you fashion the story to appeal to a family audience?
Akshat: In order for it to be a family entertainer, the film could not be vulgar or lewd. So we wrote the story from the son's point of view – his embarrassment. All the jokes about the pregnancy were always at the father's expense. We also wanted to make a comment on how children put their mothers on a pedestal but they forget she is a wife and woman too. These thoughts defined the boundaries of the humour and the humour was borne out of the situations.
Shantanu, how does this feeling of success compare to the reactions to Tevar?
Shantanu: Amit and I gave our blood, sweat and tears to Tevar. We made some mistakes as first-timers, but the film will always be close to my heart. I ascribe the accolades for Badhaai Ho to the effort I have put in over the years, writing scripts for film and television and feel I have earned it. Writing a film is a tough job and watching a film being made and then succeeding is a humbling experience.
What are you working on next?
Akshat: Shantanu and I are working a series for Junglee. Besides that I am playing with my five-month old. I got so inspired by the story of Badhaai Ho, that I had my own baby.
Shantanu: Bhavani Iyer and I are writing a film on Field Marshall Sam Maneckshaw for Meghna Gulzar. I am also developing a script for another production house.
Bollywood
Swastika's hold on her craft motivated me to perform better, says Plabita who plays the role of Fetish Girl in Escaype Live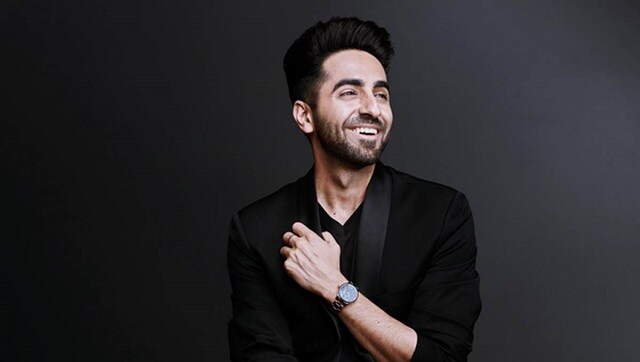 Entertainment
In an EXCLUSIVE interview with Firstpost, actor Ayushmann Khurrana talks about his new film Anek, how he always loved taking risks by choosing films, and how it is the best time to be a craftsman.
Entertainment
The rap song from Anek is sung by the powerhouse singer, Sunidhi Chauhan, and the lyrics and music are given by Shakeel Azmi and Anurag Saikia, respectively.