Badhaai Ho: Delhi govt sends legal notice to makers seeking removal of smoking scenes
The Delhi govt has issued a legal notice to the makers of Badhaai Ho seeking removal of smoking scenes and promotion of tobacco products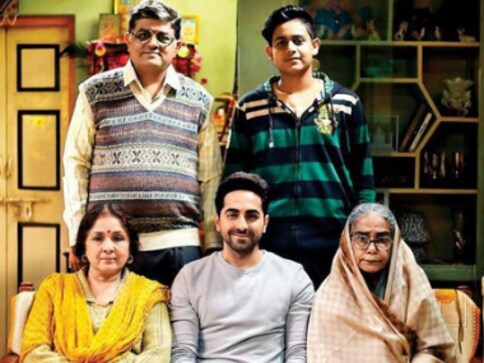 The Delhi government has issued a legal notice to the director, producers and actors of the just released Hindi movie Badhaai Ho seeking removal of smoking scenes and promotion of tobacco products, an official said on 28 October.
SK Arora, Additional Director (Public Health) and State Tobacco Control Officer, said there were a number of scenes in Badhaai Ho where the characters can be seen smoking. Tobacco brand promotion was also shown. This, he said, violated Section 5 of Cigarettes and Other Tobacco Products (Prohibition of Advertisement and Regulation of Trade and Commerce, Production, Supply and Distribution) Act, 2003 (COTPA).
"There are repeated scenes of smoking and of a tobacco shop. There are scenes displaying brands of tobacco products. The brand promotion of tobacco products -- direct and indirect -- are banned under section 5 of COTPA. Our legal notice is based on these things," Arora told Indo-Asian News Service.
"The legal notice to the director, producers and actors of Badhaai Ho has been issued because there has been promotion of a tobacco brand as well as surrogate advertisement repeatedly. We demand the immediate removal of these scenes from the film," he added.
It is not the first time the Delhi Health Department has urged Bollywood to axe scenes. "We wrote to Bollywood a number of times regarding this. Bollywood stars and films are role models for youngsters. The youngsters follow their habits and copy it blindly. Bollywood should decide to think on moral grounds and should feel responsible for the people. The script can always be changed for the interest of the public," he added.
In the past, the Department had issued notices to Ajay Devgn, Akshay Kumar and Akshaye Khanna among others. "Akshay Kumar, on one hand, advertises for health awareness campaigns and in Gold movie, he was seen smoking repeatedly. These things can be avoided. The script can be changed," Arora added.
The Act also prohibits the selling of videotapes containing the advertisement of cigarettes or any other tobacco products. "No person shall take part in any advertisement which directly or indirectly suggests or promotes the use or consumption of cigarettes or any other tobacco products."
Amit Sharma's Badhaai Ho, starring Ayushmann Khurrana, released on 18 October.
Entertainment
Drawing inspiration from classical music and ghazals, Nadeem-Shravan created songs that often outlived the success of the films they were associated with.
Entertainment
"NR Narayana Murthy and Sudha Murthy's story also makes you think about your priorities and purpose in life," says Ashwini Iyer Tiwary, who co-wrote the film with Shreyas Jain, Piyush Gupta and husband, director Nitesh Tiwari.
Entertainment
Waman Bhosle was known for editing films Do Raaste, Inkaar, Dostana, Agneepath, Parichay, Hero, and Karz among others.