Babumoshai Bandookbaaz: How women hold all the power in this seemingly male-centric film
Claw at the seemingly male-centric screenplay of Babumoshai Bandookbaaz and you will find liberated, sexually charged and absolutely unapologetic women who give zero hoots, ruling the narrative.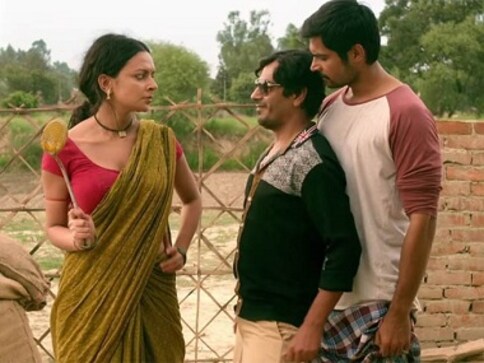 In a movie bursting to the seams with testosterone, coupled with trigger-happy, violent men that cannot go three words without a colourful expletive, it's hard to focus on much else in Kushan Nandy's directorial venture Babumoshai Bandookbaaz. 
The movie stars the powerhouse of talent that is Nawazuddin Siddiqui (Babu Bihari), and, one could say Babumoshai Bandookbaaz is one man's show through and through. The women in turn, seem to get lost in the dust of a tiny village in Uttar Pradesh's hinterland where this gun slinging movie is set.
What one doesn't realise is that it was the women of Babumoshai Bandookbaaz that low-key held all the power.
They were the ones that decided who died and when, being in charge of entire political parties and regions — and in charge of their men. The power of the vagina in the film is as always, unmatched.
Babumoshai Bandookbaaz is Bengali actress Bidita Bag's first out and out commercial Bollywood film, and boy did she leave a lasting impact.
Filling in as Chitrangada Singh's replacement in the movie, Bag took the role of the cobbler Phulwa, and made it her own; so much so that I was left saying "Chitrangada who?" at the end of Babumoshai's 2 hours.
Sensual love making scenes were done with as much ease and aplomb as disturbingly violent ones, with Bag even knocking a couple of emotion ridden sequences out of the park as she donned the role of Babu Bihari's love interest. Phulwa's character took love and lust, coupled with the all too human action of betrayal, and tied it all up in a neat package — delivering to us a character central to the narrative (no matter what the screen time given to her). It was Bag's Phulwa who ruled Nawaz's emotions from start till end, and it was his initial love and eventual hatred for her that saw the *spoiler alert* demise of Nawaz's protagonist.
Another commendable performance was delivered by Banke Bihari (Jatin Goswami's) partner in the movie — Shraddha Das. Playing a curly haired buxom belle called Yasmine that lustily gyrates in front of scores of sexually depraved men at various functions to make a quick buck, Das' character was fully aware of her needs as well as her sexuality, and owned it like a boss. Portraying the character of a struggling Bhojpuri actor, it is Yasmine that brings in the killing contracts for Goswami's Banke, showing the complete and utter dependence of another male character hinged on a female in Babumoshai Bandookbaaz.
Next came Divya Dutta, one of Bollywood's most underrated actor's in my humble opinion, with subtle yet hard hitting performances in blockbusters like Bhaag Milkha Bhaag, Veer Zaara, Badlapur and Aaja Nachle. Essaying the role of Sumitra jiji in Nandy's film, Dutta calls the shots and how. Touted as the leader of a political party in Uttar Pradesh, Sumitra jiji is frequently seen giving killing contracts to Babu Bihari in order to eliminate her competition during election time. Dutta gives a chilling performance, as is expected out of a finessed actor like her.
Another missable yet powerful female character (in terms of the authority and influence she hold's in her male counterpart's life) is cop Bhagwan Tiwari (Tara Shankar's) wife. Simply referred to as Meena ji in the entire movie, this woman — mother to seven of Tiwari's off springs — can rightly be given the title of the burly cop's Achilles heel. No matter which situation the police officer was tied up in as the plot of the movie unfolded, Meena ji's phone calls were always attended to and prompt action was always promised.
"Groceries are over, will you please fetch some on the way home?" *Tiwari in the middle of a complex chase sequence* "Yes Meena ji". "Chachi ji said it's going to be a boy this time as well" *Tiwari with a gun in his hand* "Tell chachi ji to keep her thoughts to herself". It was on a phone call to the very same Meena ji that Tiwari's character breathed his very last, being momentarily distracted by his wife calling and subsequently getting the news that he had finally fathered a girl child. Tiwari died a happy man listening to Meena ji's voice giving him the best news of his entire life thus far.
It is moments like these (so understated yet holding so much value) that are seamlessly woven into Babumoshai Bandookbaaz's narrative which make you realise the brilliance of certain parts of the screenplay, and how subtly yet powerfully they were played out.
If looked at superficially, one could argue that on the surface of things the women of Babumoshai Bandookbaaz are only meant to be seen as objects of desire, but all you have to do is resurvey your viewing experience and you'll realise that they are so much more.
All you have to do is claw at the seemingly male-centric screenplay by Galib Asad Bhopali, and you will find that liberated, kinky, sexually charged and absolutely unapologetic women who give zero f*cks rule the roost in Nandy's Babumoshai Bandookbaaz.