Baahubali's masculinity, Kattappa's secret, Rajamouli's vision: Why one film has India waiting
How did Baahubali 2: The Conclusion become the most awaited film for a nation that has, for a while, been fed a regular diet of Khan and Marvel?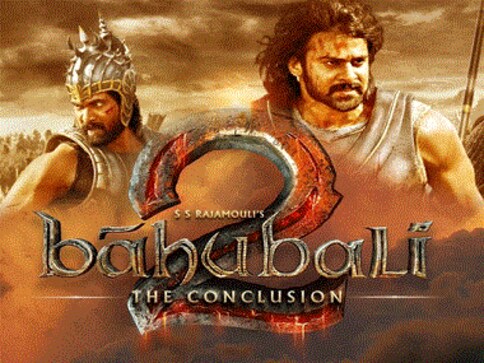 Well before 2015, even before S S Rajamouli became a household name across the country for giving Indian cinema arguably its biggest film franchise in the form of Baahubali, the rest of the country had already sampled some of his work without being fully aware of it.
Remember Rowdy Rathore? Or Makkhi (Eega in Telugu)? The former was a remake of Rajamouli's Vikramarkudu, and while the latter didn't quite propel its director to national fame back then, Makkhi was noticed across the country, for its sheer audacity. (Makkhi is still a super-fun lazy weekend watch, just saying.)
Rajamouli's oeuvre
More involved non-Telugu cinephiles would probably know of Rajamouli from his 2009 blockbuster, Magadheera. His biggest film before Baahubali arrived, Magadheera was a grand-but-silly reincarnation drama, rich in both VFX as well as 'filmy' contrivances. It cemented Rajamouli's status as a blockbuster filmmaker in Telugu cinema, but it wouldn't have impressed fans of popular Hindi cinema, for obvious reasons.
The buzz surrounding big Hindi films (such as Sultan or Dangal) begins around the time the film is announced, and builds steadily over the period of its making. The buzz then reaches and stays at fever pitch for a couple of months before release (usually with some help from Kapil Sharma and umpteen reality shows), before eventually exploding into humongous box office returns.
In comparison, Baahubali came into the public eye only a few months before the first film's release in 2015, and even then, most people preferred to nit-pick about the quality of its VFX, rather than keenly await its release. (Baahubali also happened to arrive in theatres just a few days after Bajrangi Bhaijaan – the kind of film any producer thinking logically would want to avoid clashing against.)
How, then, does one explain the fact that it took just one film – a Telugu film at that, with no pan-India star and relatively niche music – for Rajamouli to be regarded as a modern-day master of the Indian epic, never mind that Baahubali's VFX isn't a patch on the typical Hollywood superhero extravaganza?
How did Baahubali 2: The Conclusion become the most awaited film for a nation that has, for a while, been fed a regular diet of Khan and Marvel?
How Rajamouli led upto Baahubali
The factors are many; and it all begins with scale, vision and conviction.
Sample this: Peter Jackson's entire Lord of the Rings trilogy, shot over a decade-and-a-half ago at over four times the budget of the two Baahubali films, took under 300 days of principal photography, with patchwork shoots of a few weeks every year, for the next few years.
In comparison, Prabhas reportedly shot for a total of 613 days for the two Baahubali films, spanning a period of almost four years, shooting no other film in the meantime; and he never misses out on a chance to talk about how such belief in a project can only come from the conviction of the director.
The team behind Baahubali spent over a year in pre-production for the film; but for Rajamouli, the journey probably began much earlier. Like Baahubali, both Eega and Magadheera were built on the theme of reincarnation. Even Vikramarkudu, with Ravi Teja's double role, has a similar thought running through its veins. With Magadheera also came mythology and scale. And Eega pushed imaginativeness in homegrown VFX to its then-limit.
In essence, Rajamouli was probably just warming up for Baahubali all along.
One of Baahubali's biggest strengths is the high level of detail in its imaginativeness. Take, for instance, the gibberish that the Kalakeyas spout in the climactic battle of the first film. It happened to be an actual language invented for the film, with a vocabulary of about 750 words and legitimate rules of grammar. (Klingon or Dothraki, anyone?)
There is also the carefully-designed depiction of gender dynamics in the film.
Baahubali and masculinity
The female characters in Baahubali – Sivagami (Ramya), Avanthika (Tamannah) and Devasena (Anushka Shetty) – are all strong characters with warrior-like traits; but they're very clearly either mothers or consorts. They're the ones for whose attention the men – Bhallala Deva, Baahubali and Shivudu – are vying, one way or the other.
The film is undoubtedly masculine, relying heavily on male glorification for its thrills. At a time when feminism seems to be the only political thorn to the alt-right movement sweeping the country, Baahubali largely made India comfortable with its safe, familiar gender dynamics, despite being heavily flawed from a feminist perspective.
This also coincides with the ongoing revival in nationalist sentiment.
Familiar patriotic tropes
Generation X – parents of us millennials – will reminisce about how Ramayan and Mahabharat in the 80s brought a whole country before the tube on Sundays. Baahubali, with its undeniable Hindu aesthetic and imagery (heavily borrowing tropes from the aforementioned epics), has been widely touted as India's answer to LOTR; this at a time when the commonly understood meaning of patriotism is wanting Hindustan to reclaim its supposed place as the greatest nation and civilization on earth.
Baahubali: The Beginning went on to catch the nation's attention in a manner that no one would have expected. It helped that a name like Karan Johar (the savvy showman that he is), picked up the distribution for the Hindi dub of the film well before its release.
No matter what one thinks of him, that all-too-familiar Dharma logo at the start of a film means something to the audience.
The perfect set of circumstances combined with creative and marketing smarts formed the launchpad for Rajamouli's vision to take off, and how. The ending of the first film promised that part 2 would arrive within a year. That promise wasn't even close to being kept, with the second film taking a whole year longer than what was initially suggested.
Despite that, Baahubali 2: The Conclusion has managed to keep the audience intrigued and waiting; so much that it has become a pop-culture event like nothing else.
At this point, perhaps, one must also give due credit to the fact that very few things have stoked the curiosity of an entire nation as much as the reason behind Kattappa's betrayal and subsequent murder of Amarendra Baahubali.
This is perhaps one of the few things the nation actually wants to know; and the time for answers is finally here.
Entertainment
The actress added, "I got it quite early in my life. I remember the last day of my shoot; I was very emotional because I didn't want to leave the part."
Entertainment
The teaser blew the Internet with pulsating and polarizing reactions. For some, expectations have soared, for more than some, shattered to smithereens.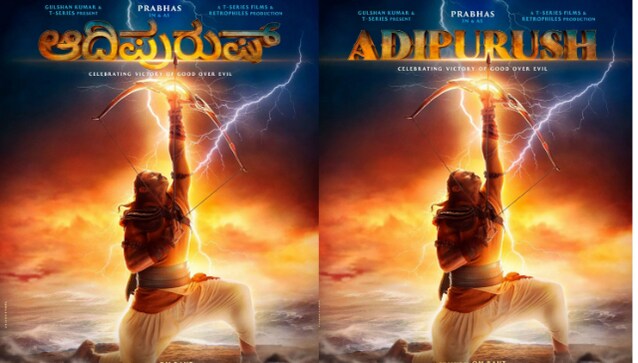 Entertainment
Directed by Om Raut, the poster and teaser of Prabhas' Adipurush will release on 2 October 2022.