Baahubali VR: How AMD's ambitious effort for Rajamouli's epic could be a game changer
Raja Koduri, chief architect of the AMD Radeon Technologies Group, tells Firstpost all about how Baahubali VR film - The Sword Of Baahubali - was made and how it's going to set a new benchmark for photo-realistic virtual reality content in near future.
A few years ago, when Advanced Micro Devices Inc (AMD) announced a strategic partnership with Arka Mediaworks, the studio behind SS Rajamouli's epic drama Baahubali, it didn't quite capture people's imagination. Which was surprising, because it's not every day that you hear about a global tech-giant like AMD wanting to tie-up with an Indian film. Then again, not every film is Baahubali.
"A lot of people were skeptical about what we were doing and why we had taken so much interest in an Indian film. Thankfully, my entire team at Radeon backed my plans to collaborate with Baahubali team," Raja Koduri, senior vice president and chief architect of the AMD Radeon Technologies Group, says, adding, "In general, people think Baahubali: The Beginning is the film which changed everything in terms of VFX in Indian cinema, but I would say Rajamouli's previous film Eega was ground-breaking in every sense. I was quite amazed with what Makuta VFX and Rajamouli's team had achieved in Eega with very limited tool sets. That's when we thought that they could do push the envelope even further if they had access to better tools."
And thus, AMD came on board as the technology partner for Baahubali. By the time the trailer of Baahubali: The Conclusion released, no one was questioning AMD Radeon's decision anymore.
For Baahubali: The Conclusion, in particular, AMD's latest graphics cards, CPUs were at the core of creating cutting-edge visual effects and it was the chip maker which spearheaded the Baahubali VR (Virtual Reality) experience — The Sword Of Baahubali — to become the most photo-realistic VR experience of its kind in the world. It's even got a nod from the selection committee of Tribeca Film Festival, New York, one of the most prestigious film festivals in the world, where it's going to be screened later this month. In the meantime, Arka Mediaworks has been traveling to various parts of the country to showcase the teaser of Sword of Baahubali and the complete VR film is expected to available for public viewing soon after the film's release.
To put it in perspective, there couldn't have a better validation that the Baahubali team needed to make heads turn and more than anything, Raja Koduri is confident that Baahubali VR could be a major turning point in the evolution of virtual reality at a global level. "In the near future, I wouldn't be surprised if a lot of people end up writing research papers about what we have done with Baahubali VR. A lot of research and development has gone into making The Sword Of Baahubali possible," Raja adds.
In a way, the magnificent world that Rajamouli and his team had created for Baahubali turned out to be fertile ground for AMD Radeon Technologies Group and John Griffith's CNCPT, a Los Angeles based studio which worked on the graphics of Baahubali VR. "Art is a difficult part for any VR experience and we are happy that AMD and Arka Mediaworks have access to all the data in the form of high-resolution digital scans — whether it's the King's court or the larger-than-life palaces inside Mahishmathi. John Griffith's studio CNCPT has been working on the VR version, and having worked on virtual reality videos in the past few years, we understand the technology behind it in terms of how much GPUs (Graphics Processing Unit) and the bandwidth it requires," Raja says, adding, "We have always wanted to work on such stuff at AMD and thankfully, with Baabubali, we have the right content which will help us to push new technology."
John Griffith, who also worked on the pre-visualisation of Baahubali 2's climax sequence, is all praise for AMD's technology which was of immense help for Baahubali VR. "My company CNCPT is responsible for the creation of the whole Baahubali VR experience. It is a hybrid piece — there are stereo live action elements combined with completely CG characters and environments. We want to give people the feeling of being in the world and sets of Baahubali and put you face to face with the characters themselves. it is a very ambitious piece in that we are trying to push the quality level higher and higher, which is a real challenge for VR. AMD is helping us achieve that with their latest hardware. The technology they are producing now is absolutely incredible," John says.
Sword Of Baahubali has Prabhas, Rana Daggubati, Anushka Shetty and Tamannaah, along with Ritu Varma and Simhaa who play Samaya and Saadhu respectively. Ritu Varma, who shot to limelight post the success of Pellichoopulu, was flown to Los Angeles in September last year for a facial scan with a special VR camera, which captured close to 20-30 different facial experiences of Ritu. Her VR character, Samaya, is said to be India's first real-time VR character.
Baahubali VR was shot using bb360cc, the most advanced VR camera ever built, which is equipped with upto 32 cameras for a complete 360-degree video experience. The bb360cc, which was purpose-built for Baahubali, is named after the film (bb in bb360cc stands for Baahubali). And the world of Baahubali was the perfect testing ground to put bb360cc to great use. The process of shooting the VR video in Hyderabad was filled with challenges. Recounting one such incident, Raja says, "My colleague Mikael Sevenier who worked on the video got access to a lot of AMD technology for this video and he was like a kid in the toy store experimeting with a lot of stuff. This was our first experience of shooting VR in India and there were a lot of practical challenges. On the very first day of the shoot, the image quality was distorted and we didn't realise what the problem was. Then, we figured out that one of the fibre-optic cables was damages because a horse stomped on it. [laughs]."
The Radeon team also managed to do a 360 degree live-streaming video of the Baahubali: The Conclusion pre-release event in Hyderabad, which is another achievement. Incidentally, there was a power cut just 30 minutes before the event began on 26 March 2017 and everyone in the team began to panic because the entire centre-console was running on just one power inverter. Luckily, the power was soon restored, before the live-streaming began. "India is an amazing place to witness how people find solutions in a short time. It was quite an adventure," Raja quips. So how did his team manage to live-stream it — after all real-time stitching is an incredibly complicated procedure? "In the past few years, our team has worked hard on creating high-end GPUs. Each GPU is capable of performing 8 TOPS (Tera Operations Per Second) and for the pre-release event, we had four such GPUs which are capable of pulling of 32 billion operations per second. There's a lot of computation involved for a smooth real-time stitching of the video which over 3 lakh people saw through live-stream."
In the past couple of years, there's been a lot of buzz about how virtual reality will change the way people consume content in near future; however, as of now, the technology is still work in progress. "We are still in the early stages of the VR evolution and we don't know where this is going. Having said that, I think it would be a lost opportunity for all of us if we are not part of this change right now. But then, we aren't going after the VR hype. The technology has to mature a lot. More than that, we need the right content, hardware, and then, the content has to be packaged and curated the right way for it become more mainstream," Raja avers.
Describing VR as a dark ride at Disney World, John puts it in perspective saying, "I think the type of content that you are seeing and will continue to see will reflect upon VR being a very personal experience. I look at VR as sort of a dark ride at Disney World. Because it is a three-dimensional immersive experience you have the ability to be literally taken to and experience places and stories in that same way. Editing is also very different in VR. The viewer is not locked into a framed window, they have the ability to look around, so it becomes challenging to get the viewer to look at what you want them to. It's exciting. Just like in the early days of film, we are discovering what the visual language is for VR."
The teaser of Sword Of Baahubali has already got plenty of Indian and international studios excited and a lot of them are said to be eager to collaborate with Radeon Technolgies group to create more VR content. "It has opened up a lot of possibilities of what could work on in future. Not just films, VR content for streaming games and documentaries is a definite possibility," Raja says. Ask him if the studios, who are producing such content, have figured out how to monetise it and pat comes the reply, "We don't know yet. I think everyone is focusing on solving the problem first and then figure out how to make money. I worked at Apple Inc, along with Steve Jobs, and he always used to say, 'If you go chasing money, you'll get what you deserve — which is zero'. That's the same principle which I abide by as we develop the technology for VR."
It goes without saying that the whole team of Baahubali can't stop raving about Rajamouli and it's not without a reason. Raja Koduri is Rajamouli's cousin and he says that even as a child, Rajamouli was quite intelligent. "He used to watch every film and try to focus on some positive aspect, no matter how terrible it was. Even today, he has the curiosity of a 5-year-old. I think that's the attitude which is making him push the envelope with every film. He doesn't talk much and he isn't an engineer, but he understand VFX pretty well. Few years ago when Rajamouli came to LA to share his vision of Baahubali, every studio head in LA was blown away by his conviction. When you see talent, everything else is taking care of, I suppose. The best part is that every film Rajamouli has made is better than his previous work. I'll be scared if he ever makes a perfect film," he laughs.
Entertainment
In an exclusive conversation with Firstpost, Saif Ali Khan talks about his concerns as an open-minded actor.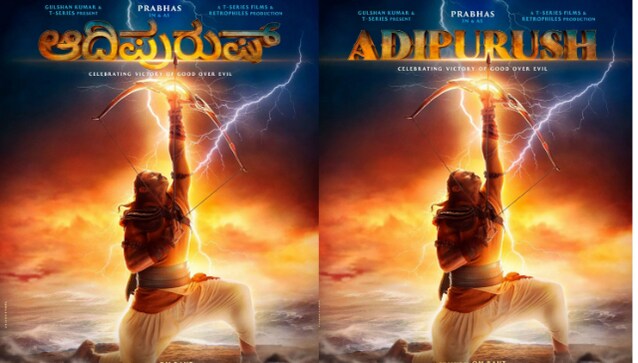 Entertainment
Directed by Om Raut, the poster and teaser of Prabhas' Adipurush will release on 2 October 2022.
Entertainment
The crowd was large and voluminous, the fire amongst the fans was raging high and the energy could be felt. Their love for Prabhas was visible and loud, it was a vision to witness.