Baahubali 2's Rs 1000 crore collection: How SS Rajamouli's film achieved its box office numbers
It will be a while yet before Bollywood can challenge (or surpass) Baahubali 2's box office collections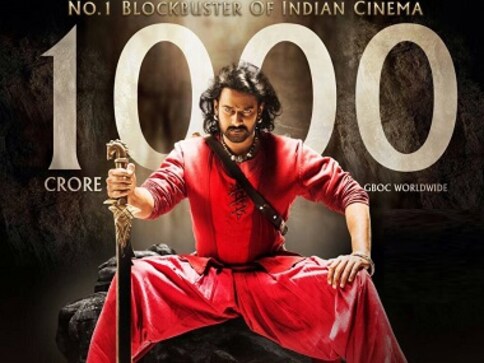 SS Rajamouli's period epic Baahubali 2: The Conclusion (also spelt as Bahubali 2) has become a landmark film at the worldwide box office, by collecting over Rs 1000 crore in 10 days. It is the first Indian film ever to touch the magic figure of grossing over 1000 crore worldwide, out of which roughly Rs 800 crore has come from India domestic theatricals, and the rest from overseas markets.
Karan Johar of Dharma Productions, who distributed the Hindi version of the film in the North Indian markets, tweeted, "The biggest milestone has been reached by the biggest blockbuster of Indian cinema — 1000 crore for Baahubali 2!"
Please note that Baahubali 2's Hindi version alone has crossed Rs 300 crore and is racing towards Rs 400 crore — a new record for a Hindi film.
Trade expert Taran Adarsh shared these details on Twitter over the weekend (the film's second, at the box office): "Baahubali 2 packs a solid Rs 25 crore on Saturday; creates new record: fastest to reach Rs 300 crore club (Day 10)." Adarsh added that these numbers indicated he nett collections for the Hindi version, from the domestic market.
And the US market, dominated thus far by the Khan triumvirate, Baahubali 2 became the first Indian film to do a business of Rs 100 crore. It has beaten Dangal's $12.4 million to rank as the number one (Indian) film in the US. Early on Sunday (7 May) afternoon, Great India Films, the US distributor for Rajamouli's magnum opus tweeted: "Baahubali 2  just crossed $16 millions with tracked locations."
The numbers clearly indicate that Baahubali 2 which has crossed Rs 1000 crore worldwide, is way ahead of the competition. However, Bollywood has some hope as Dangal has crossed Rs 800 crore worldwide with its fantastic China opening ($ 11.3 million opening weekend), and became the second highest grosser of all time. Baahubali 2 is yet to open in the Chinese market, as Baahubali: The Beginning proved to be a bit of a damp squib there.
So what made Baahubali2 such a mega blockbuster?
The film had a universal appeal due to its theme, content and packaging with its never-seen-before CGI. The film transcended its regional Telugu origins due to superior dubbing (Hindi version) and storytelling which caught the imagination of Indians at home and abroad who speak in diverse languages.
Everything about its promotions was different from the usual Bollywood film, where the hero of the film takes centre stage. As Kunal Kohli mentioned in a tweet, "As amazing as the numbers are, why aren't people discussing the content which made the numbers? The stars of Baahubali 2 didn't go on reality and comedy shows and make asses of themselves, doing silly things."
And as another Bollywood tracker pointed out, the promotional cost for Baahubali 2, across all languages, was around Rs 3.5 crore, while even medium-budget Hindi films were setting aside around Rs 8-10 crore for publicity.
The Baahubali 2 promotions were always a joint effort of director SS Rajamouli and its cast — Prabhas, Rana Daggubati, Anushka Shetty, Ramya Krishnan and Tamannaah. The real star and spokesperson for the team was its director SS Rajamouli, and the focus remained on the product and its making. Television interviews where always with the team and they also ensured they gave their time to digital publications. The film was also aggressively promoted across social media, and when the Karnataka issue over actor Sathyaraj came up, Rajamouli defused it with a video explaining his stance. Plus the iconic hashtag #WKKB (Why Kattappa killed Baahubali), kicked up the right buzz around the film. The producers Shobu and Prasad did not also release too many visuals or songs from the film.
Another factor which made it a success was the distribution of the film in its key North Indian market by Karan Johar's Dharma Productions and Anil Thadani's AA Films. In the south — its citadel — except for the goof up in Tamil Nadu, all other areas had strong and reliable distributors. Special care was taken by the producers to make Baahubali 2 look like a Hindi, Tamil or a Malayalam film, though the mother board was Telugu. When Bollywood dubs a film into regional languages, they still emphasise only the Hindi version. Here each version was cut taking local flavour into consideration (all versions have a different running time) — or else Baahubali 2 would not have broken Rajinikanth's recent Kabali box office record in Tamil Nadu.
Trade analysts say the film has also shown for the first time, the size of the Indian market and its huge potential. A large chunk of Baahubali2 box office collections came from South India, where big-budget sword and armour extravaganzas do well. Hindi mainstream directors have never wooed these audiences as they were always focussed on the North Indian heartland and multiplex audience in the metros. Baahubali 2 is a film which has done very well across multiplexes and single screens.
The producers of the film also spent a lot of money on technology and R&D. In south India, where a lot of theatres had 4K projection, they were given 4K digital projection instead of the regular 2K. And US collections were boosted because it was first Indian film to open in nearly 50 Imax screens. Rajamouli and his team had pulled off a miracle of sorts by making Baahubali 2 technically slick, which showed in the projection and the repeat audience for the film. Down south, people — especially families — are watching the film more than once, for its storytelling and grandeur. Though piracy is rampant, it has not dented the box-office collections as everybody wants to watch it on the big screen. At the end of the day, content backed by superior marketing and promotions won.
Producer Shobu Yarlaggada was quoted as saying in LA Times, "I do hope our film's success will allow other filmmakers to think bigger and go beyond regional boundaries."
It will take Bollywood some time to challenge and surpass Baahubali 2's collections. As Rishi Kapoor  tweeted:
"BAHU"t"BALI"yaan chadengi filmon ki to match this film's triumph and business. An Indian Celebration.Glad am part of this business of films pic.twitter.com/lGYpDZR1W0

— Rishi Kapoor (@chintskap) May 7, 2017
Arts & Culture
Now the world knows how to Naatu. RRR's catchy number 'Naatu Naatu' created history at the Oscars as it became the first song from an Indian film to win the Best Original Song award. 'The Elephant Whisperers' won Best Documentary Short Subject. We take a look at other defining moments from India
Entertainment
Here are a few key details about the upcoming Academy Awards.
Opinion
This is the new Indian cinema winning accolades, recognition, and breaking box office records not only in Hollywood but across the world