Baahubali 2: The Conclusion to Arjun Reddy — Telugu cinema soared high in 2017
The Telugu film industry had much to celebrate in 2017 | #YearInReview Baahubali | Arjun Reddy | Khaidi No 150 | Fidaa
This article is part of our 2017: A Year In Review series
In January, 2017, if someone had told us that this would be the best year for Telugu cinema in recent history, most of us would have brushed off this prediction as wishful thinking. For an industry that has rarely seen a 10 percent success rate over the past few years, 2017 has been nothing short of a miracle. With blockbusters like Baahubali 2, Khaidi No 150, Fidaa, Shathamanam Bhavati setting the cash registers ringing, it was also the year where 'newness' was embraced whole-heartedly. Some of the most talked about films of the year like Arjun Reddy, Ghazi, Ninnu Kori and Mental Madhilo were all helmed by first time directors, and more importantly, Telugu film industry finally emerged from the shadows of its own past to hog the limelight at a national level.
No discussion about Telugu cinema in 2017 will be complete without acknowledging how SS Rajamouli's magnum opus Baahubali 2 has been a game-changer for everyone. The film went on to gross more than Rs 1,600 crores at the box-office all over the world, and the Hindi version alone became the first film to cross Rs 500 crores (net). Box-office records aside, the film has given wings to the dreams of other filmmakers in the industry and proved that nothing is impossible. Shobu Yarlagadda, who produced the film, says, "The film's success has definitely increased the scope and ambition of the entire industry. We can look beyond the existing market for Telugu films to make inroads in Tamil Nadu, Karnataka, North India, and other international markets like USA, Gulf etc. Baahubali 2 has proved that there is so much potential, given the numbers it made at box-office."
To put it in perspective, Baahubali 2's success was so long-lasting that it has even encouraged several other filmmakers and producers to not worry too much about the budget, since the market for Telugu films has increased by leaps and bounds. "The impact that the film made at box-office was so huge that producers are now willing to put in more money to make a film. All of a sudden, the market for Telugu films looks much bigger than what it was couple of years ago. And now, OTT players like Amazon, Hotstar are vying with Hindi TV channels to shell out big bucks for our films. It's a great time to be making films," says filmmaker Praveen Sattaru.
Prominent producer Dil Raju, who had a dream run this year with six back-to-back hits, too says that Baahubali 2 was the biggest differentiating factor for Telugu cinema in 2017. "The film has made the entire industry proud at a national level. I hope our films continue to make news in terms of content, visualisation, and revenue on a bigger scale in near future," he opines.
Apart from Baahubali 2, there were also plenty of other smash hits like Khaidi No 150, which marked 'Megastar' Chiranjeevi's comeback after more than nine years, Balakrishna's 100th film Gautamiputra Satakarni, Varun Tej-Sai Pallavi starrer Fidaa, Sharwanand's Shatamanam Bhavati, Allu Arjun's DJ, NTR Jr's Jai Lava Kusa and Rarandoi Veduka Choodham to name a few. And there was no dearth of critically acclaimed films like Arjun Reddy, Ghazi, Ninnu Kori, Mental Madhilo, Hello, and PSV Garuda Vega which made headlines amidst big-ticket entertainers.
Talking about why Telugu films have found new takers, Nani, who is basking in the glory of his recent hits like Nenu Local, Ninnu Kori, and MCA turning out to be hits, says, "For the past few decades, unlike other film industries, Telugu cinema stuck to its template of making larger-than-life films in a general sense. There are some really wonderful films coming out from Hindi, Tamil, and Malayalam cinema, and a lot of them are gritty, realistic dramas. Compared to them, Telugu cinema has kind of been aspirational, and there's an element of escapism that draws people's attention. With all the chaos in the world today, perhaps audiences across the country have found solace in our kind of films. You take any Hindi TV channel and you'll see some of their highest viewed films are all dubbed versions of Telugu films. Back home, cinema is such an important part of our lives that for a lot of people it's the only option to relax and have some fun. That's exactly what is so amazing about our movie culture. We are obsessed with films."
While template-driven films continued to dominate the overall business, the most heartening change in the industry has been the rise of new-age films. For instance, Sandeep Vanga's Arjun Reddy, a modern version of Devdas, was hailed as a cult film with Vijay Devarakonda delivering the performance of a lifetime. Sandeep turned the story of a medical student who struggles to come to terms with his heartbreak, into a raw, bold, and visceral tale that shattered a lot of cliches about filmmaking. On the other end of the spectrum were films like Fidaa, Ninnu Kori and Mental Madhilo — all of which explored the institution of marriage, and love — that stood out for their portrayal of what being in love meant. The differentiating factor was having a strong female protagonist at the centre of the story. In Fidaa, it was Sai Pallavi who swept us off our feet with her portrayal of a young woman who wants to stay back in her native place and take care of her father instead of getting married. Her Telangana dialect was spot on, and even more endearing was the romance between her and Varun Tej in this Sekhar Kammula film. In Ninnu Kori, it was Nivetha Thomas who stands up to her ex-boyfriend to tell him that she's happily married to someone else, and advises him to move on in life. And finally, in Mental Madhilo, it was an uber confident Nivetha Pethuraj, who tells her prospective husband that she knows what she wants when he asks her why she agreed to marry him.
Apart from period dramas like Baahubali 2 and Gautamiputra Satakarni, 2017 was also the year where Sankalp Reddy's Ghazi and Praveen Sattaru's PSV Garuda Vega showed the power of ambitious story-telling made with just a fraction of a big-budget film. Sankalp Reddy's Ghazi was touted as India's first ever film that was set inside a submarine during the 1971 Indo-Pak war and the team's efforts didn't go unnoticed. Shot in a specially designed set, resembling a submarine, in Hyderabad, the film's production design and cinematography created a claustrophobic experience to heighten the tension of war. And to think that Ghazi was one of the most critically acclaimed films of the year was a clear indication that the audience is ready for films that defy conventional formula of a Telugu film. Perhaps, one of the biggest surprises of 2017 was the startling comeback of actor Rajasekhar in Praveen Sattaru's PSV Garuda Vega. The action drama delved into the world of National Investigation Agency (NIA) officials, smuggling, international-trade, plutonium scam, hacking, and bomb squads. The pulsating background score by Sricharan Pakala and thrilling action choreography, coupled with an earnest performance by Rajasekhar turned PSV Garuda Vega into a stunning experience.
It wasn't all rosy for Telugu film industry in 2017, of course. The disappointing run at the box-office for Mahesh Babu starrer Spyder came as a rude shock, and there were few other duds like Mister, Rogue, Nakshatram that made us cringe. The industry was also rocked by few controversies including a drug racket that was linked to few actors and technicians; Nandi Awards controversy with several filmmakers alleging that the awards committee was unfair to more deserving films; ugly fan-wars about the authenticity of box-office collections among others. Despite all these untoward developments, there's no denying that right now there's a certain sense of undeniable anticipation for the next big hit and emerging talent among Telugu movie aficionados.
At the end of the year, as we look back at what Tollywood has churned out this year, the question is — Did we really make great films? Or were conditions more favourable this time compared to previous years? It surely has plenty of scope for a well-informed debate, but then, isn't 'great' a relative term in itself? 2017 reminded us what the joy of watching films feels like, starting from January with Khaidi No 150 and Shatamanam Bhavati all the way to December with Vikram Kumar's Hello. We may or may not have made great films in 2017, but what we certainly made great again was the notion that cinema is bigger than any individual. It wouldn't be an exaggeration to say that the script of Telugu cinema in 2017 was akin to that a blockbuster action drama. To infinity and beyond.
Find latest and upcoming tech gadgets online on Tech2 Gadgets. Get technology news, gadgets reviews & ratings. Popular gadgets including laptop, tablet and mobile specifications, features, prices, comparison.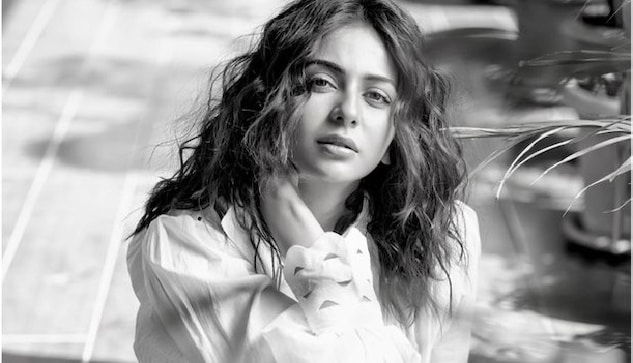 Entertainment
Rakul Preet Singh, who co-stars in a cross-border romance with Arjun Kapoor, says she got to know about the film shooting getting stalled on her way to Mumbai.
Entertainment
Palasa 1978 does not merely narrate the resistance of Dalits — the film sings it.