Baahubali 2 mania has only one comparable phenomenon — Rajinikanth fandom
Bahubali 2 reminded us of Superstar Rajinikanth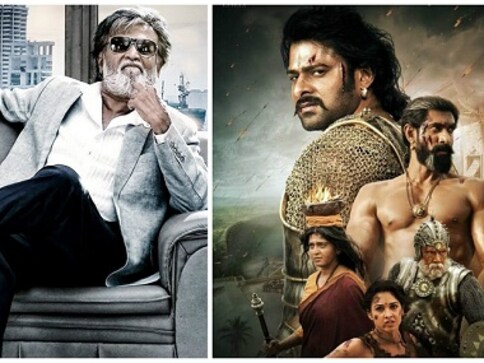 'Idhi naa maata naa maate shaasanam...'
*Claps*
*Roars*
This single dialogue drives Bahubali 2: The Conclusion (also spelt as Baahubali). And it belongs not to Baahubali (Prabhas) but to Sivagami (Ramya Krishnan). Yes, Baahubali lets the woman take over, and with grace.
[Disclaimer: Loads of overwhelming thoughts and opinions from a die-hard south Indian cinema maniac follow.]
A punchline is probably the best and only way to start this piece.
I am sure the minute I said 'punch' many of you immediately thought of superstar Rajinikanth. While those cheer-inducing dialogues have so far been the turf of Thalaivar, coming out of the theatre where Bahubali 2 was screened — throat hoarse from yelling my lungs out — I am amazed that this response has been induced by a Rajamouli movie.
As a Chennaite who has grown up around Rajini mania and an avid Tollywood follower, I couldn't help but make comparisons. Rajini fans would kill me if I chose or even compared Prabhas over him, or even Ramya Krishnan. But guess what? After watching Bahubali 2, I think did exactly that. May be just for those two-and-a-half hours. But I did.
Also, the content and story of Bahubali 2 as compared to Rajini movies from the recent past, was something to think about.
Never before have we hooted so much for Prabhas. Never before has the audience gone crazy for dialogues from Ramya Krishna and Anushka Shetty. Never before have we loved a supporting role as much as Sathyaraj's Kattappa.
The thing with Rajini films is that you get goosebumps the minute the superstar walks into the frame. And later, no matter how ordinary the script is, we whistle every time he's on screen. Thalaiva doesn't even have to do anything! But then, that's why he is Thalaiva.
Now, having experienced that, here is a film itself which is like Rajinikanth. In his last release, Kabali, Rajini made the movie larger-than-life purely by his presence. In Bahubali 2, every character is larger-than-life and shouting for applause. Bahubali 2 exemplifies Rajini-style awesomeness.
Bahubali 2 is Ramya Krishnan playing Sivagami, and the crowd going wild at the power in her eyes and her commanding body language. But weren't we similarly awestruck by her in Narasimha, that too with Rajini present? Bahubali 2 would be incomplete without Sivagami, her pride, her punchlines.
Bahubali 2 is Prabhas who conquers your heart, every time he is onscreen. With every plot twist, you hope he triumphs. He keeps you engaged in just the way a Shah Rukh Khan or Aamir Khan do. Prabhas 'kills it'.
Bahubali 2 is Anushka Shetty. Yes we have seen her in Devasena type of avatars before, but there's something about her this time that has the audience cheering like never before.
Bahubali 2 is Rana Daggubati. Although he essays a negative role, Balaladeva is the perfect villain. Rajinikanth movies don't have bad guys we'd die for! But all Rana has to do, is roar in anger and flex his unbelievably chiseled body and there, he has us!
Bahubali 2 is SS Rajamouli, who pulls off a feat more improbable than any of Rajinikanth's logic-defying stunts. Remember all those action sequences in which Rajini would perform unebelievable stunts and we would enjoy it like before? Bahubali too has many such sequences. Sequences which seemed over the top but yet made us gasp.
It takes a rare filmmaker to direct actors the way Rajamouli does. He did it with Ravi Teja in Vikramarkudu, he convinced us with a housefly in Eega, Ram Charan's career best Maghadheera. And now, he's made a film that's bigger and better than its own first part (Baahubali: The Beginning). Now how often does that happen?
And here I thought no one could convince people, especially south Indians, that something (or someone) could be bigger than Thailavaa.
Bahubali 2 'does a Rajini' even with its background music. My energy levels shot up every time I heard 'Neruppu da' in the past year. But with 'Rudrasaaa, Jai Sa Rudrasaa' booming in the theatres, I think it's time to say 'Move aside, Nerrupu Da'.
For so long now, I've been waiting for 2.0 (the Enthiran/Robot sequel) and probably a better, content-driven movie from the Superstar, Rajinikanth. Little did I know, we had a superstar film in the making. From brilliantly choreographed bow and arrow sequences to VFX scenes which are a treat to watch, Bahubali 2 had me awestruck.
You know when a Rajinikanth movie is done, and you want to watch it again to relive the dialogues and few of those goosebump-inducing moments? I watched Kabali at 6 am and 9 am back-to-back, but only and only for Rajinkanth. But Bahubali, I would watch it all over again, to relive Mahishmati, to experience the out-of-the-world characters.
Bahubali, 'Oru vati patha, nooru vati patha madhiri', indeed!
Entertainment
RRR's song Naatu Naatu won the Best Original Song at the 95th Academy Awards, becoming the first Indian film to take home the honour.
Entertainment
After winning the Golden Globe award earlier this year, Naatu Naatu from RRR roared at the 95th Academy Awards too, with composer MM Keeravani fueling the nation with pride.
Entertainment
As the video of SS Rajamouli and his wife celebrating Naatu Naatu's win grabbed eyeballs, eagle-eyed internet users noticed that they were seated in the last row. Several fans took to Twitter to slam the Academy Awards for the move.