Baaghi trailer: Tiger Shroff pummels his way through formulaic martial arts story
After teasing fans with a couple of posters, the Baaghi trailer was finally released on Monday evening. And what does it tell us about this Shraddha Kapoor-Tiger Shroff starrer?
Well, for starters, that it takes every trope known to us in martial arts films down the ages, and repackages it, Bollywood-style.
We begin with the glittering lights of a city, and a voiceover by Shraddha Kapoor that introduces us to her character: Sia, a "born rebel". Her credentials as a rebel are established by shots of her bashing up some baddies.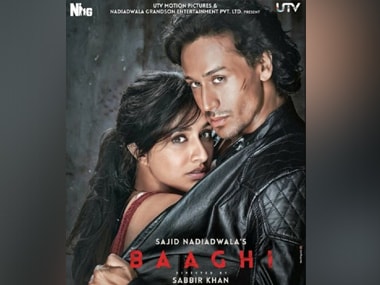 Then, she tells us about "Ronny" — another "baaghi" (rebel). Cut to Tiger Shroff slowly raising his head and glaring at the camera to show us just how full of rage he is. He steps into an arena, delivers a knockout kick to his opponent's jaw (Chuck Norris, aka 'Walker, Texas Ranger', would have been so proud), an arc of blood spreads artistically across the screen, and we're into the plot!
So, Ronny has been packed off to a martial arts academy in the most sylvan of surroundings, presumably to channel his rage issues, by his father. He tells us as much, indicating to someone at the academy that he doesn't really want to be there: "Mujhe yahaan aane ka koi shauk nahi thaa, wo mere baap ne bamboo kiya, toh main aa gaya!"
He then shows off his skills a little bit, leading the academy's instructor — a Master Shifu-like character (but not as short, and not an animated character certainly) — to "put him down" with his own superior prowess.
Then begins Ronny's half-hearted training at the academy. Only, while everybody else gets to do kalaripayuttu and other such awesome things, Ronny is put to work scrubbing floors and cleaning the tiled roofs. (Is anyone else reminded of Karate Kid, and Mr Miyagi's karate training for Daniel that involves painting fences, sanding floors and waxing a car?) In the meantime, a frustrated Ronny reveals to us his real reason for being at the academy: Sia.
Yes, in case we'd forgotten about her, she makes a dazzling entry, emerging out of the water and stealing Ronny's heart, all at one go. Sia, however, doesn't seem terribly impressed, telling Ronny, "Tu jo apne naino se mere upar baan chala raha hai na, wo mujh pe kaam nai karega. Apni limit mein reh." Belying her own dialogue, however, we see her soon enough, cavorting underwater with Ronny and stealing kisses in the rain.
But the course of true love ne'er did run smooth, and Sia and Ronny must contend with — Raghav, a rogue martial arts expert who covets our heroine. He promptly dispatches Ronny with a gunshot and takes Sia away to his heavily guarded skyscraper fortress (no traditional 'dojo' here for Ronny to infiltrate). There's a private army on every floor, we're told — professional killers, swordsmen (because they're cooler than guns, of course) and martial artists.
To get his ladylove back, Ronny begins training in earnest — and this time Master Shifu gives him the full works: Gruelling workouts, sword-fighting, testing the limits of his physical endurance etc. After that, the end is a foregone conclusion we suppose, so we get a series of shots of Ronny landing kicks of varying kinds on his enemies, showing off his bare, hyper-chiselled abs and generally making toast of Raghav's minions.
The plot may be something we've seen a million times, but we've got to say, director Sabbir Khan does make it all look slick in Baaghi. The trailer shows Tiger Shroff playing to all his strengths and Shraddha Kapoor seems to be keeping up with ease in the action department. And there's a pounding background score to accompany the spiralling body count (the trailer ends this at 118, or close).
As for the formulaic approach — why tamper with something that has worked for martial arts movies from time immemorial?
Watch the trailer here:
https://youtu.be/8HQIKJBUsQk
Find latest and upcoming tech gadgets online on Tech2 Gadgets. Get technology news, gadgets reviews & ratings. Popular gadgets including laptop, tablet and mobile specifications, features, prices, comparison.
Updated Date: Mar 15, 2016 11:55:35 IST