Aziz Ansari, Eminem vs Donald Trump: Number of celebs against Republican nominee grows
Aziz Ansari, the 'Master of None' star gets serious for the #WHYWEVOTE campaign.
Donald Trump's rise on the national stage was fueled by Twitter, letting him circumvent the mainstream media by tweeting directly to his 12.6 million followers. By the same token, in this election year, unprecedented numbers of celebrities are using the tools of internet video and social media to voice their unfiltered political leanings — which, generally speaking, have been against Trump.
Aziz Ansari joined the list of celebrities against Trump urging millennials (his main target audience for Master of None) to vote in this one and a half minute video rant that went viral.
"How many celebrities have made these stupid f—ing videos? Robert Downey Jr. made one, DiCaprio made one, Jennifer Lawrence made one," an increasingly exasperated Ansari explains. "These people are way more famous than me! Why do you need me?"
Entertainment Weekly reports, that the ad comes from NextGen Climate's #WHYWEVOTE campaign, which is set on using the internet to encourage and energise young people to vote in the election.
"There's a f***ing guy running that says he hates brown people. That's not enough?! He doesn't believe in climate change! Do you realise how dumb you have to be to not believe in climate change at this point? Go vote! Please!" said Ansari.
Here's the video:
It was just two days ago when Rose McGowan, Meryl Streep, Amy Schumer and Lena Dunham came out with an anti-trump PSA criticising the Republican nominee's misogynist remarks.
Another star to join the bandwagon is the rap star Eminem, who was first a friend of Trump. Eminem unveiled 'Campaign Speech,' a nearly eight-minute new track posted online.
Don't worry I'm working on an album! Here's something meanwhile. https://t.co/QX3cdpqFD2

— Marshall Mathers (@Eminem) October 19, 2016
World
The Vienna talks aimed at reviving the deal were suspended in June, when Iran elected ultraconservative Ebrahim Raisi as president
World
It is unclear if the Saudi royal family was aware of the fake furs or was deceived by a supplier. The Saudi Embassy in Washington declined to respond to the matter, as did a spokesperson for Trump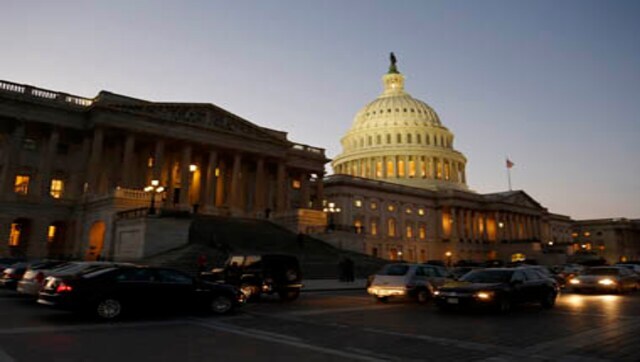 World
The breakthrough — which temporarily defers the crisis by adding another $480 billion to the allowable debt total — came with an estimated 11 days to go until the country would no longer have been able to borrow money or pay off loans for the first time in its history