Ayushmann Khurrana, the Chandigarh boy who has become Bollywood's adored everyman
How does Ayushmann Khurrana follow up on Bareilly Ki Barfi and Shubh Mangal Savdhaan? By hitting it out of the park with Badhaai Ho and Andhadhun in 2018.
(It's been an eventful, almost rebellious 2018. Over the next 2 weeks, as the year comes to a close, Firstpost will be looking at the major films, talent, trends, web series and talking points that dominated entertainment, cinema and pop culture in 2018.)
*
Actors are known to tender a variety of requests when preparing for an extensive outdoor shoot. What Ayushmann Khurrana always asks the production team for is propped up next to his bed in the Agra hotel room where he is residing during the shoot of his upcoming film Dream Girl.
"I ask for a cricket bat," says Khurrana. "We play between shots and on days off."
He may have chosen to make Hindi films his profession, but the leg-spinner, who played under 19 cricket at district level, has not left his love for the sport behind. "I still dream of playing cricket. Till last year, I used to regularly play with the Yash Raj Films (YRF) sales and marketing teams, including the directors and Adi sir (Aditya Chopra). But this year has been too busy," says the 34-year-old actor who has had two hits in 2018.
Almost exactly a year ago (to the date), I wrote a column for Firstpost that described 2017 as "a landmark year for Khurrana". Twelve months later, one could simply change one digit — to make it 2018 — and repeat: "2018 has been a landmark year of honest film choices and unabashed performances". How do you follow up on Bareilly Ki Barfi and Shubh Mangal Savdhaan? By hitting it out of the park with Badhaai Ho and Andhadhun.
Khurrana, who is speaking on the phone from Agra, sees these outdoor shoots as an opportunity to get to know parts of the country, the people and culture better. After pack-up, he samples the local food, discovers the city and meets new people. When he's not playing cricket, that is.
His most popular and successful films have been quintessentially Indian, rooted in the local milieu. From Vicky Donor, in which he played a sperm donor in Delhi to Prem of Dum Laga Ke Haisha and Badhaai Ho where he seamlessly slipped in and out of three local accents even as his character came to terms with the notion that his middle-aged parents are expecting their third child.
"These are true to the soil, real people, and I love playing them. My travels with my college theatre group, experiences doing street theatre and interaction with radio callers when I was a radio jockey connected me to the grassroots," says Khurrana. Acting, music and poetry are three creative outlets he cherishes and nurtures but acting, he says firmly, "cannot be life".
It has often been said that an actor needs to be a vessel that is emptied and refilled. But in order for that to happen, the person must get out and live life, gather new experiences and be open to unexpected and varied stimuli.
Khurrana agrees emphatically: "Life gives you references and new experiences which, as an actor, you can incorporate into celluloid. I believe it is important to know your country and your people well, to be connected," he says.
He gives an example of one small way in which he does this. "When I go to YRF, I like to sit at the tea stall outside the gates of the studio and chat with the chaiwala about his life and what's affecting him."
For all the professional highs, it's been a trying time in the Khurrana household with his wife Tahira being diagnosed with breast cancer. "Seeing your spouse suffer while you are on a career high is a great leveller. It instantly reminds you of the unpredictability and unfairness of life. Of course we celebrated together, because we are united on this journey after all," says the actor.
Alongside the family and acting, music is one another passion. 'Pani da rang' in 2012's Vicky Donor was his first soundtrack single and 'Nain na jodeen' featured in Badhaai Ho. He plays the occasional private gig, releases a single every year and is content with one or two film songs annually.
While the guitar has been his instrument of choice, he did install a piano at home to prepare for his part of a blind pianist in Andhadhun. "I never received professional musical training, but, after we got a piano at home, my son has been taking lessons and he's as good as me," says the father of two.
Scroll through his Twitter feed and you will find Hindi couplets peppering Khurrana's timeline. While sharing his verse publicly is new, writing poetry is not. He won the second prize in an open Hindi poetry contest when he was in the 8th standard (trumped by a 20-year-old Hindi postgraduate).
You might catch him scribbling away in his notebook in an airport lounge, in between shots on a set or during a cricket match, inspired by a moment or an experience—either his or of someone close to him. But not all his poems are public domain. Some have been reserved, for a book he often thinks about publishing.
"I recently started sharing the poems, unsure of the response they would get. I was sure that Hindi verse would be uncool for the millennials. But the current generation is bizarre. Some of the poetry gets over 1000 likes and hundreds of retweets. By sharing these I have opened up another window for myself, which shows I am approachable and accessible, it shows me for who I am. You have to put on an act onscreen but if you do so off-screen too, you will go mad."
In 2019, he will be seen in Dream Girl and Bala. "There is no reference point for either character. It will be a discovery for me, but I am also hoping to play a more aggressive or a poised character in the future," he says.
As a member of the coveted Rs 100 crore club, staying grounded might be difficult now, I suggest, and he's frank enough to admit that he does feel a shift in expectations. "The phase began in 2017 and 2018 was next-level. But the thing that is unchanged is that I have stuck to my guns. I have always been fearless and now I have to be even more so, as I continue to seek out good content."
The new year will bring new characters, fresh songs and thoughtful verse for the Chandigarh boy who has become Bollywood's adored everyman.
Entertainment
Stunt coordinator George Cottle shared a video on Instagram celebrating the series wrap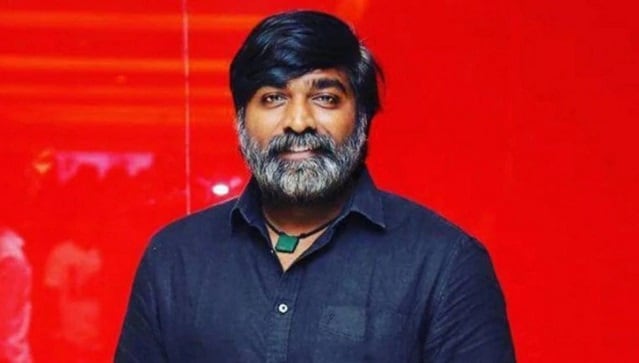 Entertainment
The Tamil superstar has a growing fan following in the Hindi language audience thanks to OTT platforms
Entertainment
People are celebrating the release of Ajith starrer 'Thunivu' not just at the cinema halls but also streets of France by bursting crackers, hooting, lighting smoke bombs, dancing