Ayushmann Khurrana responds to Donald Trump's tweet on Shubh Mangal Zyada Saavdhan
Ayushmann Khurrana says he is surprised to see a reaction from the US President on his recent release Shubh Mangal Zyada Saavdhan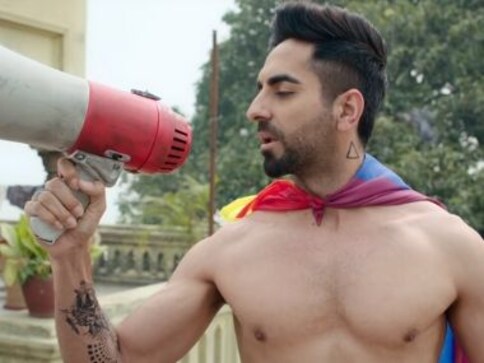 A day after Donald Trump praised the release of Bollywood film Shubh Mangal Zyada Saavdhan, the film's lead actor Ayushmann Khurrana says he is surprised to see a reaction from the US President.
Helmed by Hitesh Kewalya and produced by Bhushan Kumar, the film stars Khurrana and Jitendra Kumar as partners who clashes with Kumar's conservative parents over their relationship.
"It was a very surprising tweet. I want him to work for LGBTQi rights in his country. I hope the LGBTQi community in US gets his support. He should definitely watch our film, it's very important for him," says Khurrana during an event.
"Great!" Trump had written as he retweeted a post by British LGBT activist Peter Tatchell, who celebrated the Bollywood movie with a "Hurrah!"
The film, which is a light-hearted comedy, can be seen as a progressive attempt towards the acceptance of same-sex couples - an issue that continues to remain a taboo in India even after a year of its decriminalisation by the Supreme Court.
Also see LIVE updates on Donald Trump's maiden visit to India on Firstpost : US president tweets in Hindi shortly before arrival in Ahmedabad, says 'eager to meet everyone soon'
Khurrana recently said in an interview to Firstpost Shubh Mangal Zyada Saavdhan is that mainstream film that would take on LGBTQIA+ issues head-on.
"While being responsible and sensitive, we have kept a commercial approach towards the film so that it reaches the masses. It is not a love story between two boys. It is the reaction of the family when they come to know that their son is gay. We have seen a lot of films that have dealt with homosexuality in the recent past, but they've mostly been parallel cinema, or for festivals. Shubh Mangal Zyada Saavdhan will be the one that will penetrate the masses. Target audience of the film is an average Indian homophobe," he said in the interview.
also read
Entertainment
The leading man's Red Chillies Entertainment has filed new application owing to content leaks of the film on social media
Entertainment
In the first look poster, Ali Fazal can be seen sporting a rather rugged look in front of a dirt bike in the middle of the desert.
Photos
Known to have a penchant for classic tailoring, minimalism and glamor, Anushka's overall sense of style is the confidence and authenticity that she exudes naturally. One brand that has been a constant in her wardrobe over the years is Dior. Let's take a look at some of her most stunning Dior outfits