Awe! director Prasanth Varma talks about his long journey of making an ambitious Telugu film
Once Nani came on board (as producer), Awe! became much bigger as a project, reveals director Prashant in an exclusive chat with Firstpost.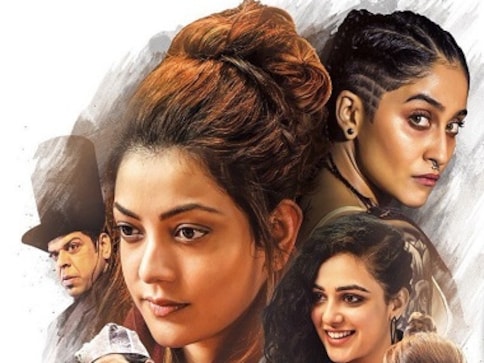 It's not everyday in Telugu cinema that you come across a film that brings together some of the biggest names in the industry. Perhaps, it's for this very reason why Awe!, which marks Prasanth Varma's directorial debut, feels like an odd film out. The success of this film could pave way for many more that break the routine, but it's a million dollar question if it'll reach that stage.
Ever since news broke out that Nani had produced a film which has Kajal Aggarwal, Nithya Menen, Regina Cassandra, Srinivas Avasarala, Priyadarshi, Murali Sharma, and Eesha playing lead roles, along with Nani and Ravi Teja giving voice over to a fish and bonsai tree respectively, we couldn't help but wonder what's so special about the script that got all of them so excited.
"I can't tell you what the story of the film is. Even the names of most of the characters haven't been revealed because that might give away the story," Prasanth laughs, while refusing to divulge details about what convinced each of the actors to come onboard. Is it an anthology where each story falls in a different genre? "At this moment I can only say that there will be a moment after every 15 minutes where you'll be surprised. It's not an anthology, but each story is connected in a very interesting manner. The ending will put everything in perspective," Prasanth explains, adding, "We designed a different colour-palette for each of the story, which will range from a Disney-like fantasy to a Game Of Thrones-like gloomy set up. In that sense, Awe! is an original attempt and every actor who heard the story was so thrilled that they went out of their way to make this happen."
Surprisingly, except for Kajal Aggarwal and Nani, no actor knows how the film is going to end. It's not that they didn't want to know but their respective characterisations were so unique that they didn't really pay heed to what happens next. "The funniest reaction came from Rohini. She was shocked that we were doing this film in Telugu. I wasn't sure if she would suit the role because she had to play a villager, who's quite innocent. When I spoke to her about my apprehensions, she took sometime on the first day of her shoot to transform herself into that character. It was a thrilling experience to see her pull off the role. Not just her, every other actor in the film has done something which they have never attempted before. Be it Regina's look (she trimmed her hair and got plenty of tattoos done) or even Kajal and Nithya Menen's characterisations, everything about the film is unique," the director says.
Despite Prasanth's reluctance to spill the beans about the film, it goes without saying that nothing is normal about the film. But then, nothing has been 'normal', so to speak, about Prasanth's journey, so far, to put together a film at this scale. He began making short films and music videos while he was still in college, and later when his short film Deenamma Jeevitham went viral way back in 2011, he got plenty of offers to direct a feature film. His subsequent short films like Silent Melody and Dialogue in The Dark too earned him a lot of attention in the film industry, but nothing was good enough to earn him the big offer to direct a feature film. "I even narrated a script to Chiranjeevi garu in early 2017. I knew I wouldn't get his nod since I'm a newcomer, but he was thoroughly impressed with my narration (laughs)."
On 31 December, 2016, when Prasanth was about to throw a New Year party to his team, since one of his films was finally taking off, 30 minutes before midnight he got to know that even that film was shelved. "I was so frustrated that I cancelled the party and decided to make a film on my own with a budget of Rs 5 lakhs. I didn't want to deal with any top producer or actor because of my previous experiences. The constant rejections and disappointments left a strong impression on my mind and I wanted to prove that I can make a film with a ridiculously low budget," he smiles.
The following day, he pitched the story to his friend, who was also quite excited about the idea that Prasanth had come up with. "Soon, I got a chance to pitch the story to Kajal. Initially, I had just 10 minutes to narrate the story during her lunch break. Two hours later, long after the food had gone cold, Kajal was so impressed that she wanted me to come to Mumbai to make the film in Hindi because she felt it would be more suited to Hindi audience. But I was adamant that I wanted to make it my way in Telugu. Finally, she relented because she was quite excited about her role. Even during the shoot, she was so dedicated that everyone on the set was surprised," says Prasanth.
The 28-year-old director had met Nani for another project, which didn't take off, but the duo had kept in touch with other over the years. "Last year, when I made a short film (Dialogue In The Dark), Nani called me immediately and convinced me to let him produce a film. He promised that I'll have complete creative control on the film and till now, he never told me to change even a frame in the film. Once he came onboard, Awe! became much bigger as a project. By then, I had already pitched the film to all the other actors including Kajal, Nithya, Regina among many others, and they were ready to start shooting," he says. The budget for his original idea, which started with Rs 5 lakhs in mind, grew manifold but Prasanth clarifies that the scale of the project didn't change what he wanted to make in first place. "I can still make the film in Rs 5 lakhs. The film was born out of frustration," he says.
He's quite aware that a section of the audiences might be disappointed with the film because of their pre-conceived notions about the film based on the star cast. "That's also a reason why we haven't revealed anything about the story because we wanted to retain a suspense element. If people love the film it could be a game-changer for the industry. Take a film like Pulp Fiction, for instance. It became a cult film because of its star cast. Awe! could be that film for our industry," Prasanth opines.
Awe! is slated for release on February 16.
Entertainment
Netflix India on Saturday released the teaser of several big projects including Nayantara: Beyond the Fairy Tale.
Entertainment
Directed by H Vinoth, Ajith Kumar's Thunivu is an action-thriller film produced by Boney Kapoor.
Entertainment
The movie humanizes the lives of gangsters who're at the bottom of the chain.