Avengers: Infinity War promises to be a culmination of 10 years of the Marvel Cinematic Universe
Avengers: Infinity War promises to be something that we've never seen before. Only time will tell if that is good or bad news.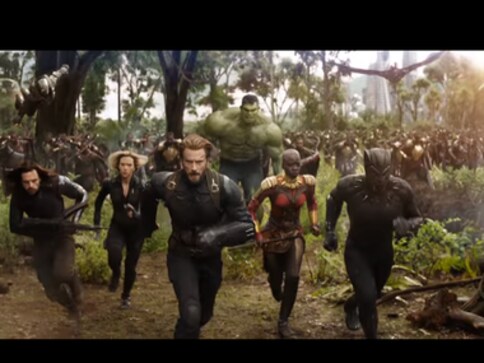 Ten years of cinema.
Think about that for a minute. By the time Marvel Studios' Avengers: Infinity War is released in May 2018, the Marvel Cinematic Universe will be 10 years old.
In May 2008, we lived in a world which had not seen The Dark Knight. No Country for Old Men had won the Best Picture award at the 80th Academy Awards. In fact, the United Progressive Alliance (UPA) in India had not even completed its first term back then.
This is what makes Avengers: Infinity War such a special film. The reason why each and every Marvel fan was overwhelmed when he/she watched the Infinity War trailer was this:
Avengers: Infinity War is a film which essentially combines 18 films made over a span of 10 years.
All the major characters you have known and loved over a decade will be present in Infinity War. And this is behind all the hype. How can a film efficiently combine 10 years of cinema to present a climax (and maybe an end of sorts) of one of the biggest movie franchises ever made?
This is the challenge Marvel Studios has taken up and just getting a glimpse of what is to come will give you goosebumps.
There is also a crucial reason why the Infinity Wars trailer uses dialogues from the earlier MCU films and the main theme of the first Avengers movie: Nostalgia.
Also read — Marvel prepares for the new generation after Avengers 4 finale in 2019; 20 new films planned
When you see Iron Man, Hulk, Doctor Strange, Vision (in human form!), Scarlet Witch, Thor, Black Widow, Spider-Man, Loki, Thanos, Black Panther, Captain America (with a beard which "looks like it guzzled a barrel of ale and challenged the entire bar to an arm-wrestling match", as this article in /Film described so well), Bucky Barnes, and the entire Guardians of the Galaxy in one trailer, it is like watching 10 years of a crescendo approaching its climax.
This will also be a good time to mention that the trailer also teases the scene which is supposed to include over 30 Marvel characters.
And finally, we get a good glimpse of Thanos, the supervillain Marvel Studios has been teasing ever since he first appeared at the end of Marvel's The Avengers. It is difficult to say whether Thanos will be able to break the recent spell of bad villains MCU movies have been suffering from.
The good news is that Thanos in the trailer is shown to already have two Infinity Stones, which would make him a formidable villain. The bad news is that one of Thanos' lines is "This does put a smile on my face", which comes across as an intentional or unintentional copy of one of the most iconic lines of Heath Ledger's The Joker: "Let's put a smile on that face."
The movie also shows a broken Avengers team, and one of the highlights would definitely be how Captain America and Iron Man get past their differences which began with Captain America: Civil War.
We also see, for the first in the MCU, a glimpse of Spider-Man's 'spider sense' and the web-slinger wearing the Iron-Spider Suit which we last saw in Spider-Man: Homecoming. Another character to watch out for would be Vision, who apart from getting a human form, also seems to be struggling as he gets the Mind Stone stolen from his head.
Keeping in mind the number of scenes depicting Wakanda and the obvious importance of Black Panther, it is safe to assume that the upcoming Black Panther movie will be crucial for the MCU as well as Infinity War.
As far as Guardians of the Galaxy are concerned, we'll have to wait and watch where they fit in.
Keeping in mind that Infinity War may be the end of the MCU as we know it, it's only safe to assume that a crucial character may die in the film. Marvel's contracts with the actors who play important characters like Iron Man and Captain America are coming to an end.
Something else which Infinity War needs to urgently include is better portrayal of female characters. Characters like Black Widow and Scarlet Witch have just been reduced to one-dimensional superheroes.
Needless to say, though, with so many things happening in one movie, Infinity War promises to be something that we've never seen before. Only time will tell if that is good or bad news.
Marvel Studios' Avengers: Infinity War will be released in May 2018. You can watch the trailer here:
Explainers
Viktor Orban donned a scarf depicting 'Greater Hungary' – the historical Hungarian kingdom that contained almost all of what is today Slovakia and large parts of other neighbouring countries including Ukraine, Austria, Croatia, Serbia – to a soccer match on 20 November. Now they are seething
Explainers
From claiming traffic congestion causes divorce to jumping to the defence of Maharashtra governor Bhagat Singh Koshyari amid the Chhatrapati Shivaji Maharaj row, Amruta Fadnavis has shown a penchant for making news
Explainers
Lalit Patidar, 17, from Nandleta village, said he was diagnosed with the condition at the age of six. Less than 50 cases of hypertrichosis have been recorded since it was first documented in 1648