Avengers: Infinity War heads for record-breaking $237 mn opening weekend in North America
Before Infinity War, the original Avengers had the highest opening to date for a Marvel film, debuting with $207.4 million in 2012.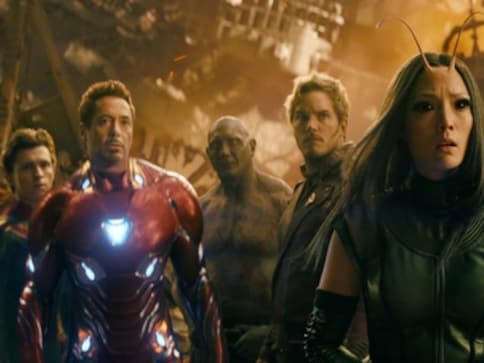 No one doubted that Avengers: Infinity War will see a massive box-office opening.
The highly-anticipated superhero movie, which features Marvel's super-heavyweights like Iron Man, Doctor Strange, Spider-Man, Black Widow, Captain America, Black Panther, and Thor among others, is expected to score huge in its first weekend and emerge at top of box-offices around the globe.
First estimated figures are out and, according to a report by Deadline, Avengers: Infinity War is expected to rake in $103 million on Friday in North America alone. Deadline also reports that the Marvel superhero movie collected a total of $39 million in Thursday night previews — the fourth-highest preview total in history, trailing only Star Wars: The Force Awakens ($57 million), Star Wars: The Last Jedi ($45 million), and Harry Potter and the Deathly Hallows — Part 2 ($43.5 million).
The total North America weekend collection for the Anthony and Joe Russo directed movie is pegged at $237 million. This will make Avengers: Infinity War second behind Star Wars: Force Awakens ($247.9 million) as the highest opening weekend collection. Some analysts believe that Avengers: Infinity War will make over $247 million as a lot of that depends on Sunday's business.
Also read — Avengers: Infinity War movie review — Marvel sets the bar high with a film that's worth all the hype
Avengers: Infinity War opened in 4,474 North American venues in the second-widest domestic release ever, behind only Despicable Me 3 at 4,529 locations. The movie has also been performing strongly in overseas markets with $95 million in its first two days from 43 territories.
The original Avengers had the highest opening to date for a Marvel film, debuting with $207.4 million in 2012. Its sequel, Avengers: Age of Ultron, launched with $191 million. It remains to be seen in Avengers: Infinity War will top these number.
Find latest and upcoming tech gadgets online on Tech2 Gadgets. Get technology news, gadgets reviews & ratings. Popular gadgets including laptop, tablet and mobile specifications, features, prices, comparison.
Entertainment
What if the pandemic, rather than representing a temporary disruption in audience habits and industry revenues, turns out to be an extinction-level event for moviegoing?
Entertainment
In a joint statement, Ava DuVernay and ARRAY President Tilane Jones hailed Funny Boy as a "cinematic gem".
Entertainment
Tom Holland's Uncharted is an adaptation of the action-adventure video game series, and is helmed by Venom director Ruben Fleischer