Avengers: Infinity War heads for record-breaking $237 mn opening weekend in North America
Before Infinity War, the original Avengers had the highest opening to date for a Marvel film, debuting with $207.4 million in 2012.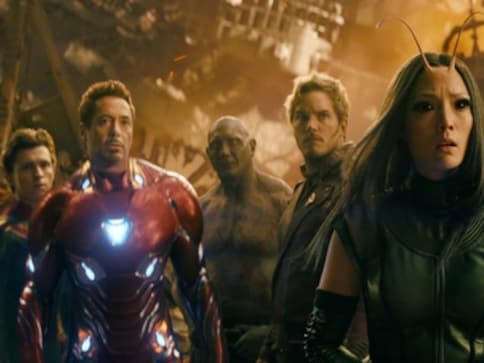 No one doubted that Avengers: Infinity War will see a massive box-office opening.
The highly-anticipated superhero movie, which features Marvel's super-heavyweights like Iron Man, Doctor Strange, Spider-Man, Black Widow, Captain America, Black Panther, and Thor among others, is expected to score huge in its first weekend and emerge at top of box-offices around the globe.
First estimated figures are out and, according to a report by Deadline, Avengers: Infinity War is expected to rake in $103 million on Friday in North America alone. Deadline also reports that the Marvel superhero movie collected a total of $39 million in Thursday night previews — the fourth-highest preview total in history, trailing only Star Wars: The Force Awakens ($57 million), Star Wars: The Last Jedi ($45 million), and Harry Potter and the Deathly Hallows — Part 2 ($43.5 million).
The total North America weekend collection for the Anthony and Joe Russo directed movie is pegged at $237 million. This will make Avengers: Infinity War second behind Star Wars: Force Awakens ($247.9 million) as the highest opening weekend collection. Some analysts believe that Avengers: Infinity War will make over $247 million as a lot of that depends on Sunday's business.
Also read — Avengers: Infinity War movie review — Marvel sets the bar high with a film that's worth all the hype
Avengers: Infinity War opened in 4,474 North American venues in the second-widest domestic release ever, behind only Despicable Me 3 at 4,529 locations. The movie has also been performing strongly in overseas markets with $95 million in its first two days from 43 territories.
The original Avengers had the highest opening to date for a Marvel film, debuting with $207.4 million in 2012. Its sequel, Avengers: Age of Ultron, launched with $191 million. It remains to be seen in Avengers: Infinity War will top these number.
Entertainment
In Honk For Jesus…the way the couple Lee-Curtis and Trinitie bond is excruciatingly funny. You can see they are acting, even when alone. Writer-director Adamma Ebo is unsparing in her indictment of organized religion.
Entertainment
Aftersun's final act shows Calum and Sophie dancing to Queen and David Bowie's Under Pressure. Feelings are felt. Emotions are stirred. A tear or two rolls down. Perhaps, in the afterlife, Calum is happy that Sophie is trying to process her trauma instead of passing it on to her child.
Entertainment
In the last years of her life, Gina Lollobrigida's name more frequently appeared in articles by journalists covering Rome's courts, not the glamour scene, as legal battles were waged over whether she had the mental competence to tend to her finances.