Avengers: Infinity War expected to release in 2000 screens in India, unprecedented for any Hollywood film
Earlier Avengers: Infinity War was scheduled to release in India, one week ahead of its US release on 27 April, but now it is releasing on the same day worldwide
There is a worldwide craze for Marvel Studios' Avengers: Infinity War, premiering on 24 April with its Indian release slated on 27 April. The action-adventure film is releasing in India in four languages — English, Hindi, Tamil and Telugu — in 2D, 3D and IMAX 3D. The film has also broken Black Panther's record by receiving almost double the number of advance booking requests worldwide. In Tamil Nadu, it has become the first Hollywood film to open advance booking in rural and semi urban areas a week before its release.
The box-office tracking agencies are predicting over $200 million plus at the US opening weekend and may surpass 2015's Star Wars: The Awakening opening weekend of $248 million. Avengers: Infinity War looks like another winner for Marvel after the stupendous success of their recent Black Panther, which had a massive $202 million opening.
Russo brothers, who are currently rated as the best commercial directors in Hollywood after the blockbuster success of Captain America: Winter Soldier, have so far been able to keep the film under a shroud of secrecy. Speaking at the Asia Pacific press junket exclusively to Firstpost, Joe Russo, one of the directors of the film said: " We are extra careful to see that there are no spoilers and that is one of the reasons we had advanced the US release by a week to 27 April. None of the stars in the film have watched the whole movie which will be premiered only on 24 April. The selected footage you saw does not have any spoilers. We have worked very hard for the past two years to maintain the highest level of secrecy."
Meanwhile Disney India and Marvel Studios are gearing up for the biggest ever release for a Hollywood film in India. Earlier Avengers: Infinity War was scheduled to release in India, one week ahead of its US release on 27 April, but now it is releasing on the same day worldwide. In India, the trade says the May Day weekend, which starts this year from 27 April, is the highest collecting summer time weekend. Last year Baahubali 2 went on to dominate the May Day weekend and emerged a blockbuster. This year, Avengers: Infinity War is going to hog the May Day release with a solo big release, with no Indian language big film as competition. Rajinikanth's Kaala which was to release on 27 April has been pushed to 7 June. In India, Avengers: Infinity War is expected to hit nearly 2000 screens in four languages, which is unprecedented for a Hollywood film.
Mahesh Samat, Senior VP and Managing Director at Walt Disney, South Asia said: " This is the 10th year of the Marvel Cinematic Universe and we were happy to bring the talents involved in Avengers: Infinity War to Singapore. As far as India specific market is concerned we will be having the biggest ever release in English, Hindi, Tamil and Telugu. Marvel and its superheroes have connected very well with Indian audiences. The growth of Marvel has been phenomenal across the Indian market, as proved by the recent blockbuster Black Panther. The dubbed versions are going to be massive, we don't look at them as dubs, as it connects more fans to Marvel with better story telling. We expect the film to be a blockbuster."
(Also read — Avengers: Infinity War — From unwieldy ensemble to superhero fatigue, many challenges for Marvel's next)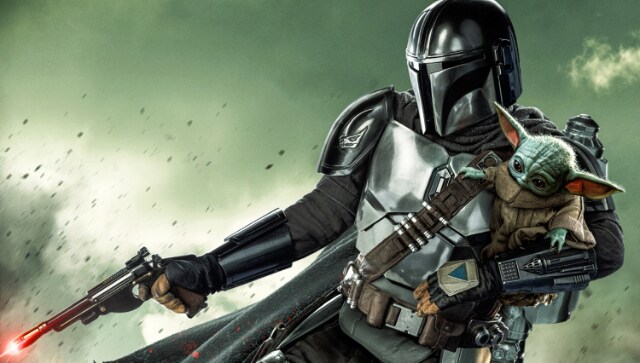 Entertainment
The latest episode focuses on the continuation of Mandalorian's journey through the galaxy of Star Wars.
Entertainment
"The Little Mermaid," helmed by visionary filmmaker Rob Marshall, opens exclusively in theaters nationwide May 26, 2023.
World
A team of engineers from Northwestern University, Illinois, have developed a new kind of bandage that uses electric shocks and signals to heal wounds. Because of these electric shocks, the wounds heal 30 per cent faster.