Avengers: Endgame star Robert Downey Jr, Akshay Kumar sport matching ties; Twitterati react to Iron Man vs Padman
Akshay Kumar posed in the same Givenchy tie as Robert Downey Jr, asks fans who wore it better. He also said that he found Avengers: Endgame 'out of this world'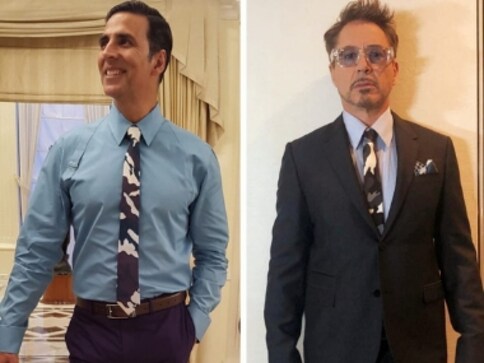 There aren't enough hyperboles in the world  to describe the mania surrounding Avengers: Endgame, hence Akshay Kumar resorted to twin with Iron Man by sporting a matching Givenchy tie, participating in the global craze. Posting a side-by-side photo with Robert Downey Jr, Akshay asked fans to decide who donned it better.
He added that he found the Infinity War sequel 'out of this world'. Twitterati could not contain their excitement and have been comparing the sartorial choices of the stars ever since Akshay's post. Some even commented that 'Padman' was giving a tough competition to Iron Man.
Entertainment
The 51-year-old performer whose given name is Michael Tyler is innocent of all charges, attorney Joel Pearce said after the arraignment in Ascension Parish court in Gonzales, about 15 miles (24 kilometers) from Baton Rouge.
Entertainment
The scandal-hit Golden Globes, one of Hollywood's most important awards events, are to return to television next year, organizers said Tuesday, after being dumped by broadcasters and shunned by industry figures over ethics lapses.
Entertainment
Finally, breaking her silence on the same, Ayesha said she had committed herself to the project after signing it and therefore did not object.