Ashani Sanket: Satyajit Ray's study of Bengal's great famine, and vulnerability of human spirit
Bibhutibhushan Bandyopadhyay's tragic tale set in the backdrop of the notorious 1943 man-made famine of Bengal became Satyajit Ray's Ashani Sanket
Editor's note: In a prolific career spanning nearly four decades, Satyajit Ray directed 36 films, including feature films, documentaries and shorts. His films have received worldwide critical acclaim and won him several awards, honours and recognition — both in India and elsewhere. In this column starting 25 June 2017, we discuss and dissect the films of Satyajit Ray (whose 96th birth anniversary was this May), in a bid to understand what really makes him one of the greatest filmmakers of the 20th century.
**
Satyajit Ray began his film career with Pather Panchali, an adaptation of a section of the novel of the same name by veteran Bengali writer Bibhutibhushan Bandyopadhyay — who Ray often described as the perfect novelist, primarily because in adapting the latter's works, Ray had to do very little. Bibhutibhushan's novels were written with such great and immaculate visual detailing that they almost worked as screenplays. Add to this the fact that rarely in the literary horizon of Bengal has an author been able to paint such a beautiful portrait of the relationship between man and nature as Bibhutibhushan had done.
After adapting various segments of the author's novels in making three films (the two other being Aparajito and Apur Sansar), Ray had been thinking of going back to Bibhutibhushan, from as early on as 1961. The novel he had in mind was a particularly striking one, and it had moved him immensely. But it was not until 1973 that he actually began working on it. That year, Satyajit Ray made Ashani Sanket (The Distant Thunder) – Bibhutibhushan Bandyopadhyay's tragic tale set in the backdrop of the notorious 1943 man-made famine of Bengal that claimed the lives of more than five million men, women and children.
Gangacharan Chakraborty is a Brahmin priest who has recently come to live in a village in Bengal with his beautiful wife Ananga. Along with priesthood, Gangacharan also plans to open a school in the village, and to treat ailing patients to supplement his income. Although his competencies are questionable, there is virtually nobody in the village to question him — he being the only Brahmin in the village. Gangacharan is having the time of his life, as a one-eyed man in a village of blind men is expected to have. The villagers literally worship him, and his food, clothes and other day-to-day necessities are all supplied to him as gifts and tokens of gratitude. Gangacharan is careful not to exploit the villagers though, because he knows that it is on their reverence that his livelihood depends. His wife, Ananga, on the other hand, is very amiable in nature and mixes quite freely with the womenfolk of the village, within the confines of caste rules. There is not a shred of animosity in the system, and the respect the Brahmin couple has earned seems completely deserving. Life is idyllic in the tiny village, but not for long.
The war is at its peak, there are warplanes patrolling overhead, children are cheering at them, women bathing in the tranquil village pond admire them, and amidst such innocent circumstances, the first glimpse of impending doom is seen in the form of a wizened old Brahmin gentleman (played brilliantly by the veteran character actor Gobindo Chakraborty) who walks in from the neighbouring village with news of a scarcity of rice, seeking a hearty meal for himself in turn. Before you know it, the crisis spreads like wild fire, and the village grocer announces that he does not have a supply of rice. Prices of all other food items soar in no time, till they become unaffordable. And bit by bit, the innocence of the village slowly begins to crumble before Gangacharan and Aanga's eyes. The men worry at first, and then stoop to looting and rioting. The women are forced to hunt for snails from the pond and eat them, or to walk miles into a dense forest to dig up wild potatoes. The age old adage of homo homini lupus (man is wolf to man) comes true once again, and while hoarders try to take advantage of the hunger of the poor villagers, some women are forced to sell more than their souls to lusting men in return for a meal. Gangacharan now realises that people's reverence takes a backseat in the face of insatiable hunger, and that he himself has been reduced to a commoner, hunting for a fistful of rice.
Soumita Chatterjee plays the role of the unsuspecting Brahmin priest Gangacharan, who despite being cautious in holding his fort in the village, fails to see the catastrophe racing towards him. He is mildly vain at first, thankful for his privilege as well, but towards the end of the film, he is shown his place, till he becomes one with everyone else in the village in the final scene of the film. Bangladeshi actress Babita is stunning as the Brahmin priest's wife Ananga, her charm almost costing her her life. She is the epitome of domesticity, and although she is bound by the rules of the caste system prevalent in the society she inhabits, she is neither unkind nor inhuman to those around her. Veteran Bengali actress Sandhya Mukherjee plays the role of Chutki — the bubbly, proud, fiery village belle, who is ultimately forced by dire circumstances to sell her body to a local brickyard manager in exchange of food. Every single character in the film plays his or her role perfectly, and in beautiful harmony.
The most striking aspect of Ashani Sanket is the role nature plays in the film. There, in that scenic village, nature continues to remain as beautiful as ever, with serene ponds, pretty butterflies frolicking in the mud, ants and dragonflies going about their business, lovely flowers blooming — thus highlighting the fact that the tragedy brought upon the village was not unleashed by the fury of nature, and that it was entirely artificial and man-made. Another salient feature of the film is that except in its final scene, not even once does Ray make any sort of reference — veiled or otherwise — to the poverty of the people. The village is shown as a happy place before the onslaught of the crisis, but as soon as the famine does arrive, people begin to lose all sense of proportions, and understandably so. It is this realisation — that such a sudden, radical and unthinkable decline of human values can actually happen in the face of decimation — that truly sets Ashani Sanket apart as a study of the great famine of Bengal, and of the vulnerability of the human spirit.
Bhaskar Chattopadhyay is an author and translator. His translations include 14: Stories That Inspired Satyajit Ray, and his original works include the mystery novels Patang, Penumbra and Here Falls The Shadow.
Find latest and upcoming tech gadgets online on Tech2 Gadgets. Get technology news, gadgets reviews & ratings. Popular gadgets including laptop, tablet and mobile specifications, features, prices, comparison.
Lifestyle
Harry Potter fan websites The Leaky Cauldron and Mugglenet distance from author JK Rowling, using their platforms to 'counteract the harm she has caused'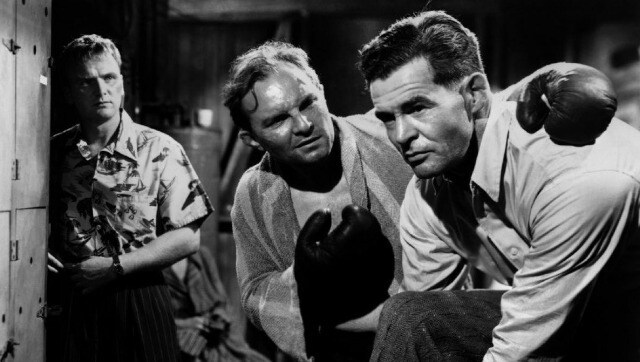 Entertainment
The Set-Up (1949) centres on Stoker, a 35-year-old boxer riding on a string of failures, getting ready for what may be his last shot at success.
Entertainment
The representation of single women with depression in popular culture has been largely unidimensional: failure is depicted as the main cause of the mental illness, and characters are shown being self-destructive and suffering heartbreaks