As Mickey Mouse turns 90, a look at how Disney evolved into a Thanos-like powerful media empire
Disney's insidious strategy to enter, take over and dominate new markets is similar to the master plan of a certain Mad Titan.
For generations, a simple, rough drawing of three well-placed circles — one large and two smaller ones — was enough to conjure up a lot of excitement. You probably sketched one and your mum was so proud she hung it on the refrigerator. The more easily impressed perhaps even framed it on the living room wall.
We only thought we were drawing a silhouette of the world's most beloved rodent. Not a corporation's most coveted piece of intellectual property. Not a symbol of American imperialism and cultural hegemony.
Because that's what Mickey Mouse represents in today's world — Disney's calculated expansion into a sprawling media and entertainment empire.
Mickey Mouse was born out of a 1928 cartoon called Plane Crazy, created by Walt Disney and Ub Iwerks. Later that same year, Walt spent $4,986 to create Steamboat Willie, which marked Mickey's big screen debut and the start of a new era of animated films. He has appeared in over 100 films since then. Aided by a few cosmetic changes including red shorts and white gloves, his image has been reproduced in all shapes and forms to create a media conglomerate worth over $92 billion.
By transcending the limitations of language and culture, Mickey Mouse has ingrained himself deeply into the global consciousness. He is the face of the "happiest places on earth". He is on toys, watches, stationery, t-shirts, boxers and all sorts of novelty items. His high visibility has been used to create an unhealthy consumerist environment by a multi-national corporation that commodifies children's dreams.
Capitalising on his omnipresence and omnipotence, the Walt Disney Company has ingrained him into its corporate identity. It has turned a beloved pop culture icon into a symbol of cultural imperialism, commodification and media consolidation.
The Disney empire includes Pixar, Lucasfilm, Marvel Entertainment, Touchstone Pictures, the ABC television network, A&E, Lifetime, E!, the History Channel, ESPN and more. With the recent acquisition of 21st Century Fox, its reach will only widen. It will give Disney control of film studios such as 20th Century Fox and Fox Searchlight Pictures, cable networks such as FX. National Geographic, Star India, Sky and Endemol Shine Group will also be under its corporate umbrella.
Disney has long been interested in creating its own streaming service to rival Netflix and Amazon. With its $52.4 billion Fox deal, it will become the majority stakeholder of Hulu. The company recently announced that it will also be launching its own service in an already crowded subscription streaming market once its deal with Netflix expires.
Its insidious strategy to enter, take over and dominate new markets is similar to the master plan of a certain Mad Titan.
There are six immensely powerful Hollywood studios and when assembled as one awesome force, their possessor will have infinite political-ideological control over the production of all media and entertainment content.
It sure sounds like Walt Disney's "friendly little guy" has turned into a Thanos-like mad Titan over the years.
Disney and Fox have produced 11 of the 15 highest grossing films of all time, which includes this year's two biggest earners — Black Panther and Avengers: Infinity War.
Franchises such as Avengers and Guardians of the Galaxy have been raking in plenty of money and Disney CEO Bob Iger promises there's more to come, considering they have 7000 more Marvel characters to explore.
However, a single corporation producing most of the studio blockbusters will not only lead to media monopolisation but also homogenisation of content.
Since its acquisition of Pixar in 2006, Disney — under Iger — has mostly preferred "family-friendly four-quadrant blockbusters." Even after taking over Marvel Entertainment in 2009 and Lucasfilm in 2012, it has remained in the PG-13 realm.
Disney announces it has reached a deal to acquire 21st Century Fox, as predicted by a Simpsons episode that first aired on November 8, 1998. pic.twitter.com/kzloJQHeM8

— Darren Rovell (@darrenrovell) December 14, 2017
Meanwhile, Fox has consistently pushed the envelope with its movies and TV programming with edgier, more adult-centred entertainment. 20th Century Fox has produced tentpoles of its own like the rebooted Planet of the Apes series and R-rated titles like Deadpool and Logan. Its indie arm, Fox Searchlight, has given us Oscar-winning films like 12 Years a Slave, Birdman and The Shape of Water and other prestige projects like Little Miss Sunshine, Black Swan, The Tree of Life,The Grand Budapest Hotel and Three Billboards Outside Ebbing, Missouri.
FOX airs popular shows like The Simpsons, Family Guy, Brooklyn Nine Nine and Empire. It was also home to cult TV series such as Firefly and Arrested Development before it prematurely cancelled them. The FX cable network's offerings have a real dark edge with shows like Archer, Atlanta, Better Things, Fargo, It's Always Sunny in Philadelphia, The Americans and You're the Worst.
In the wake of the mega-merger, Ryan Reynolds hinted that his character Deadpool wouldn't feel entirely at home at Disney. In character as the motor-mouthed Marvel mercenary, he made a few wisecracks about the deal on Twitter. "Time to uncork that explosive sexual tension between Deadpool and Mickey Mouse," he quipped. The Deadpool sequel originally included a joke about Disney, but Reynolds was asked to cut it from the film. "This is a sore spot for me because there's a joke in the movie that is not in the movie now because — I'm probably not even allowed to say this — Fox made me take it out," Reynolds, who co-wrote the film with Rhett Reese and Paul Wernick, told Entertainment Weekly. "It had more to do with Disney, and they made me take it out. As I look back at it, I think maybe that was a wise decision."
Apparently you can't actually blow the Matterhorn. pic.twitter.com/2bEAAcZrUv — Ryan Reynolds (@VancityReynolds) December 14, 2017
Therein lies the problem. Fox's more adult-oriented films and TV shows might not fit easily under Disney's wholesome, family-focused banner. So, the R-rated content could potentially be watered down and lose what made them appealing in the first place.
While no one's complaining too much about the Star Wars reboots, MCU films and other Disney tentpoles, it is important to make space for the FX and Fox Searchlight brand of entertainment.
So, the merger is not great news for filmmakers, showrunners and producers as it inhibits them from creating original and diverse content. It is not great news for us, the viewers, either as it seriously limits our options. And it sure isn't great for a democracy as it concentrates power in the hands of a few commercially driven media conglomerates, who are loyal to their advertisers and sponsors rather than their audience.
— Henry Gilbert (@hEnereyG) December 14, 2017
If Disney really has an evil plan to take over the world of entertainment, it shouldn't be Mickey Mouse's face that stares out at you from every conceivable dark corner of the planet. Thanos's wrinkly purple chin seems more apt.
Find latest and upcoming tech gadgets online on Tech2 Gadgets. Get technology news, gadgets reviews & ratings. Popular gadgets including laptop, tablet and mobile specifications, features, prices, comparison.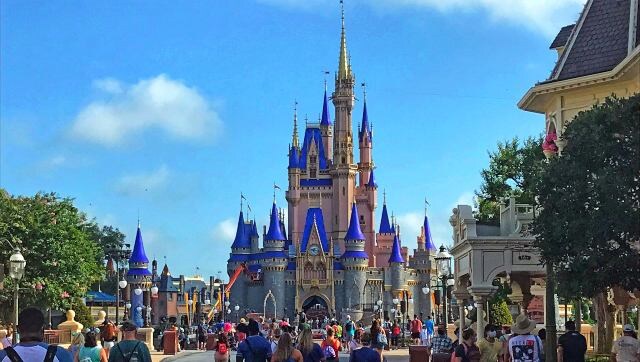 Entertainment
Attendance at Disney theme parks around the world fell less than 1 percent in 2019 from the previous year
Entertainment
While Dil Bechara marks Sanjana Sanghi's first lead role, she featured in a number of advertisements as well, including for brands like Ponds, Dark Fantasy and Coca-Cola
Entertainment
The Mulan delay follows Warner Bros' decision to postpone the August release of Tenet due to the coronavirus outbreak