As Kollywood strike continues, Vishwaroopam 2 cleared by censors: Will Kamal Haasan's film release before Rajinikanth's Kaala?
Kamal Haasan's Viswaroopam 2 has been censored with UA certificate, and producers will announce it officially once strike is over.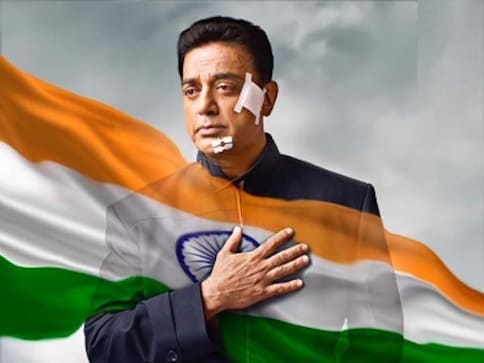 The Kollywood standoff between Tamil Film Producers Council (TFPC) and Digital Service Providers (DSP) over the Virtual Print Fee (VPF) has effectively crippled the once booming industry. There has been no new Tamil releases for the last 25 days and it looks like they will miss out the Easter weekend (from 30 March 30), which is the beginning of the summer season.
The theatres have been on strike for the past one week protesting against Tamil Nadu government policies on local body taxes, theatre maintenance and licence renewals. They withdrew their strike from last Friday, after the state government officials promised to sort out their issues within a month's time.  But theatres that opened faced dismal footfalls due to lack of new Tamil content.
Hollywood and Bollywood content simply does not have the appeal of Tamil masala films for the audiences. 85 % of screens in Tamil Nadu run purely on the strength of Tamil content. The other language films consisting of English, Hindi, Telugu and Malayalam content, have their core strength in Chennai city and its suburbs. Every year nearly 200 Tamil films are release, which provide the main feed for theatres, mainly single screens in towns and rural areas of Tamil Nadu.
The TFPC is trying to choke this pipeline, as they want the theatre operators to scrap existing agreements with DSPs who were monopolistic in their approach.
TFPC president Vishal says, "As per Tamil Nadu Theatre licensing procedure, every theatre should have a projector to get C form to run a show. But what was happening was producers were paying for screening their films via VPF charges and at the same time using our content the theatre and the third party (DSP) were making money by playing advertisements in between the film. They had initially promised that they won't charge us once their recoup their investments, but now they are not willing to sign a sunset clause."
Vishal does not want to negotiate any longer with DSPs but he is willing to talk to theatre owners. A secret meeting took place between Vishal and single screen owners and he is said to have told them TFPC is willing to release new films provided theatres take care of VPF charges from their share.
Theatres are now feeling the heat, as they are getting desperate for new content. The theatres want the strike to be over in the next few days, so that they can start afresh with new releases from the Easter weekend.
There is a huge backlog of releases, nearly 30 big and small films which are already censored waiting to hit the screens. Another 20 films are ready for censor, as TFPC is not allowing even completed films to apply for a censor certification during the strike period. The TFPC had said earlier that once the strike is over new releases would be regulated but preference will be given to films according to their date of censor certificate.
Vishal's detractors say that he will follow the censor order of certification for new releases as his big budget film with Samantha Irumbu Thirai has been censored and is getting ready for a 12 April release.
Meanwhile, Vishal had to rush and meet superstar Rajinikanth during the weekend. The grapevine has it that Rajinikanth was miffed that his film Kaala, announced as a 27 April 27, is waiting for the NOC from TFPC to get censored. Kaala is likely to be censored this week as its marketing and promotions have to start atleast by April first week.
The big news is that Kamal Haasan's Viswaroopam 2 has been censored with UA certificate, and producers will announce it officially once strike is over. The film may release even before Kaala. One way or the other, in the next two days there will be an outcome to Kollywood's longest ever period of no new releases.