Aruvi movie review: Aditi Balan is pitch-perfect in this gutsy film that's Kollywood's best in 2017
Aruvi is arguably the year's best film to have emerged out of Kollywood
Here is the verdict on Aruvi: This is a gutsy and outstanding film. 'Aruvi' means a mountain stream, an apt title as the movie itself is a flow of emotions. In an era of a shallow and fraudulent films masquerading as good cinema, here is something which is pure, and at the same time, entertaining. A big hug for debutant director Arun Prabhu Purushothaman, who was willing to take the road less travelled, and actress Aditi Balan for doing a role which no mainstream heroine would dare take up.
Aruvi is a well-conceived satire on money-minded modern society. The film is emotionally moving; as mentioned earlier, it is also entertaining, but is underlined by a tone of gloom. It is written brilliantly to provide drama, tension, laughter, black humour, anger, frustration, some tragic moments and to create an awareness of something we dread.
Is 24-year-old Aruvi (Aditi Balan) a terrorist? That's what we think when the film opens in a police station where she is being interrogated. There are enough red herrings thrown by the director, like why was she forced out of her home by her loving father? Was she pregnant?
Her best friend is Emily (Anjali Varadhan), a transgender woman who understands her best. One day they are called to audition for a reality television show called Solvadhellam Sathyam (Whatever is Told is the Truth) run by a former actress, now a famous television personality (Lakshmi Gopalaswamy).
The channel runs purely on the TRPs provided by this tacky show, where people make outrageous remarks and wild accusations. Aruvi gets onto the show because she wants to bring to justice three men who (in a way) spoiled her life. It's payback time for Aruvi; held hostage by society for all these years, her revenge spree unfolds in a television studio.
The director uses satire and black humour to make his point. The film is a triumph of honest writing. The scene where Aruvi delivers a stunning speech to her hostages in the TV studio to speak out against TRP-run reality shows, is an eye opener. The idea is everything in, modern society is driven by the craze for money and human values are taking a backseat. The director takes a dig at everyone from money-minded medical companies to those in Kollywood making crappy commercial movies!
Aruvi is powered by an outstanding performance in the title role by Aditi Balan — she is simply fantastic. She inhabits Aruvi: you can feel the earnestness of her intentions and at the same time, the wetness of her tears, especially the final breakdown. The supporting characters — all mostly newcomers — elevate the film. The musical score by Bindu Malini and Vedanth Bhardwaj heightens the mood and is in perfect sync with the narration.
If you want to nit-pick, the film slides a bit by taking a preachy tone and overstretched melodrama towards the end. But these are just minor flaws in arguably the year's best film to have emerged out of Kollywood.
Entertainment
R Madhavan, Khushalii Kumar and Aparshakti Khurana's Dhokha Round D Corner keeps you at the edge of your seat with its solid twists and turns.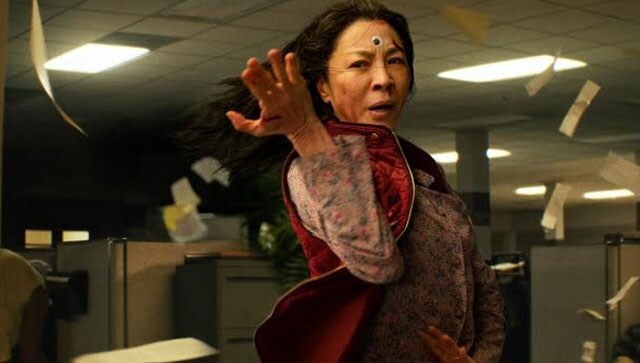 Entertainment
The Daniels take us on a freewheeling adventure where metaphysics and martial arts don't exactly make for the strangest bedfellows.
Entertainment
Mia Goth's dual role proves to be the X-factor in Ti West's ode to low-budget filmmaking of all stripes.