Anushka Shetty's road to stardom: How Arundhati paved the way for Baahubali, Bhaagamathie
Anushka proved that she's more than just a pretty face with a 2009 horror drama Arundhati, and Arundhati's success paved way for more author-backed roles in Rudhramadevi, Size Zero, and the biggest of them all Baahubali.
Long before Sweety Shetty became one of the biggest stars in Telugu cinema, she was living a simple and comfortable life in Bangalore teaching yoga. Nearly 13 years after she made her acting debut in Puri Jagannadh's Super, starring Nagarjuna and Ayesha Takia, a lot of things have changed. Sweety became Anushka, Anushka proved that she's more than just a pretty face with a 2009 horror drama Arundhati, and Arundhati's success paved way for more author-backed roles in Rudhramadevi, Size Zero, and the biggest of them all Baahubali.
Now, as her upcoming film Bhaagamathie, that solely rests on her shoulders, makes a big splash, it's worth noting how far she has come in recent years. But then, perhaps, the phenomenon of Anushka Shetty wouldn't exist without Arundhati, a blood-soaked horror drama that delved into a classic tale of honour, pride, revenge, and redemption.
The initial years of Anushka's career, during which she acted in 12 films and made cameo appearances in couple of others, were unremarkable at best. The only exception was the success of SS Rajamouli's Vikramarkudu in which she was paired opposite Ravi Teja.
"I was so clueless about films that I didn't even know it was okay to listen to a story before signing a project. It was then that Puri Jagannadh (director of Super) told me how things worked," Anushka said in a recent interview about her initial days in Telugu cinema. All that changed in 2007 when she was signed up to play the lead role in Kodi Ramakrishna's Arundhati.
Produced by Shyam Prasad Reddy, it was expected to be an ambitious film that was going to push the boundaries of visual effects in Telugu cinema. While it completely justified what it set out to achieve, the film also turned Anushka into a sensation and for a while, she was either addressed as 'Arundhati' Anushka or Jejamma, the character she played in the film.
Arundhati is about a young woman of the same name, who hails from a royal family in Gadwal. One day when she visits her ancestral house, she begins to hear bizarre sounds from a dilapidated palace nearby. Her quest to know the truth leads her to unravel the secrets of her own great-grandmother Arundhati and her battle with Pasupathi.
When the film finally released in January, 2009, after much delay and re-shoots, it left everyone in awe of Anushka, whose regal avatar and towering personality gave her a warrior-like aura. There's a scene in the film where Anushka, who struggles to escape from Pasupathi's (Sonu Sood) evil spirit, finally realises that she's the reincarnation of her great-grandmother. The moment of transformation, in a split second, from being a hapless young woman to a regal queen, who sacrifices her own life for the greater good, puts in perspective how much Anushka had changed with this film compared to her previous works. She was no longer the actress who was following the lead of her romantic interest. With Arundhati, Anushka proved that she can hold our attention and root for her on screen.
Interestingly, the rise of Anushka as a name to reckon with, kind of filled a vacuum in the industry which hadn't found a star post the likes of Vijayashanti and Soundarya, who ruled the roost in the 90s and early 2000s. Moreover, the lack of strong roles for actresses during this phase also didn't leave any scope for the emergence of female superstars in Telugu cinema. No wonder, Anushka has almost always acknowledged that she owes a lot to producer Shyam Prasad Reddy for having a lot of conviction in her.
During the making of Arundhati, the actress reportedly relied a lot on the producer to guide her to transform herself to play a strong role, unlike anything she had done in her career till then. And when the film exceeded its working days and endless reshoots, it was once again Shyam Prasad Reddy's faith in Anushka that kept motivating her. Their efforts paid off and how! Arundhati became a blockbuster, earning nearly three times its budget and it still remains as the most profitable film with a female lead.
The success of Arundhati also paved way for better roles being offered to Anushka. In 2010, she once again impressed everyone in Krish's Vedam in which she played a prostitute, followed by a lawyer in Deiva Thirumagal, and yet another strong character in Selvaraghavan's Irandam Ulagam (released in Telugu as Varna). 2015 was a landmark year for her with films like Baahubali: The Beginning, Rudhramadevi, and Size Zero adding more muscle to her filmography.
Talking about Anushka, SS Rajamouli once said, "The actor who surprised me the most during the making of Baahubali was Anushka. She's a decent actress and if you tell her what to do and show how to do it, she'll go out of her way to rise up to the challenge. While we were shooting her scenes with Prabhas, Nasser and Ramyakrishna in the royal durbar, I was stunned with how she held everyone's attention. It's not an easy task at all to make your presence felt especially with stalwarts like Nasser and Ramyakrishna being in the same frame."
It's this ability to surprise the directors, who have plenty of confidence in her, that has propelled Anushka's career over the years. That's not to say that her career has been spectacular with a string of great films and performances, but there have been bursts of terrific performances that make a star in her own right.
When director Ashok pitched the story of Bhaagamathie to Anushka, she was yet to join the sets of Baahubali. A lot has changed since then and Anushka's stock value increased by leaps and bounds after Baahubali 2 released in 2017. The director waited for nearly four years for Anushka because he couldn't imagine anyone else in the role. "Anushka was very keen on getting the graph of the character. Only after getting the clarity will she act. Her dedication is something I have never seen. Moreover if we have to depict a queen on the screen, nobody else but Anushka will come to mind," Ashok said in another interview few weeks ago. It couldn't be more true. There's no one else like Anushka when it comes to playing a queen on screen.
Although Bhaagamathie is being touted as a contemporary thriller that's set in the modern era, the trailer rekindled memories of watching Anushka juggle between characters which are from two different timeframes. Will Bhaagamathie be yet another Arundhati in Anushka's career? Only time will tell, but for now, there's no denying that Anushka has already carved her name in the memories of the audiences as a star they took them years to admire. And there's been no looking back since then. And for people close to Anushka or everyone who has worked with her, one thing has remained constant in all these years - she might be Anushka onscreen, but off-screen, she's true to her original name - Sweety.
Entertainment
After making waves with his multiple award winning Aavasavyuham, director Krishand returns with the equally gloriously kookie and clever Purusha Pretham.
Entertainment
Nani delivers one of his finest performances in Dasara.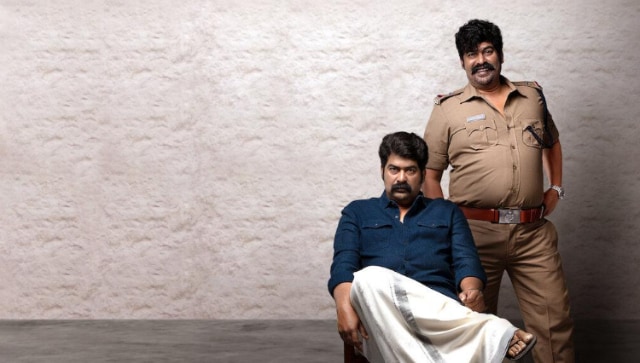 Entertainment
Iratta's slamdunker of an ending makes it a searing study of consequences, extending far beyond the notions of action and reaction commonly explored in cinema.