Anurag Kashyap has raised a valid question; Prime Minister Narendra Modi must answer
It takes some courage to ask questions these days — and Anurag Kashyap has displayed plenty of it, in asking Prime Minister Narendra Modi why he has not apologised to the nation for his trip to Pakistan last year, even as filmmakers like Karan Johar are being threatened for having cast Pakistani artistes at a time when relations between both countries were not strained
It takes some courage to ask questions these days — and Anurag Kashyap has displayed plenty of it, in asking Prime Minister Narendra Modi why he has not apologised to the nation for his trip to Pakistan last year.
The reaction on social media and in the real world, has been predictable. Kashyap has been subjected to the vilest of criticism from key-board patriots and jingoists of all denominations. As is usual, foul-mouthed elements have taken charge, egged on by hyper-nationalistic sections in the media. Kashyap, no stranger to controversies, can take all that in his stride. However, he has asked a question that needs to be answered with due seriousness.
On the face of it, it makes no sense to drag the Prime Minister into an issue he has nothing to do with directly. Films are far removed from the world he operates in; however, the issue here is not confined to films alone. As Kashyap points out elsewhere, it is about protecting people like him. It is also about the positive business environment Modi loves talking about.
Kashyap tweeted:
@narendramodi Sir you haven't yet said sorry for your trip to meet the Pakistani PM.. It was dec 25th. Same time KJo was shooting ADHM? Why?

— Anurag Kashyap (@anuragkashyap72) October 16, 2016
He batted for Karan Johar, whose latest film Ae Dil Hai Mushkil, has run into trouble after threats from local political outfits over the presence of Pakistani artistes in it.
Let's keep aside sentiments and try to understand the matter with some clarity: Films are like business projects with a long gestation period. When Johar started his project, India's relationship with Pakistan was looking up. The Prime Minister himself had given it a boost by his surprise visit to the country. It was all bonhomie and 'good neighbours' talk then.
Since there was no tension in the air and the political leadership sought deeper engagement with Pakistan, Johar and others in the industry roped in artistes from that country without hesitation. They obviously took it for granted that the equations would remain unchanged and invested financially in the projects. A few months later, the chill set in. The ruling establishment, with Modi in the lead, was now singing the opposite tune. The mob took over the discourse soon, demanding boycott of films featuring artistes from Pakistan. Filmmakers' investments were immediately at risk.
Now, how fair is this? When the government headed by the Prime Minister does policy flip-flops, why should others pay the price? Tomorrow, the government's position might change. Under whatever circumstances, change of heart being one of them, it might encourage friendly relations with Pakistan. People who trust it may get into financial commitments again — and suffer when it changes its mind a few days later. There's something inherently silly in this. Policies require stability; these cannot work on whims. Because on them ride several long-term commitments, financial and otherwise. This applies to all businesses, not only to films.
Read: Anurag Kashyap tweets to PM Modi, asks him to apologise for Pakistan trip
Interestingly, the BJP in its long campaign in the run-up to the general elections of 2014 had made a huge noise over policy stability. It had accused the UPA government of creating an environment of policy uncertainty that was driving away investment. Karan Johar may be a small player in the context of India's big business universe, but his losses are still losses, aren't they? Who's going to protect him? India and Pakistan have a trade engagement worth more than $2.5 billion. Obviously, it involves a lot of businessmen from the Indian side, which remains on the sunny side of the balance of trade. There may be demands to stop their businesses too.
Yes, the Prime Minister must answer Kashyap's question; at least, he can think of a solution to the problem of the unstable business environment. Because around him revolves all policies, including the Pakistan policy. People take his message on policies seriously — when it is positive, people like Johar jump in to capitalise on it; when it is negative, all kinds of rabid elements take it as licence to harass their own countrymen. A word of sympathy from him to the likes of Johar would do them a world of good, in terms of confidence. The least he can assure them is that their business interests would be protected in case of a policy shift.
Kudos to Kashyap for not hedging his words. He can ignore the hate brigade.
For a counter-view, read: Anurag Kashyap's demand for a Narendra Modi apology is just misplaced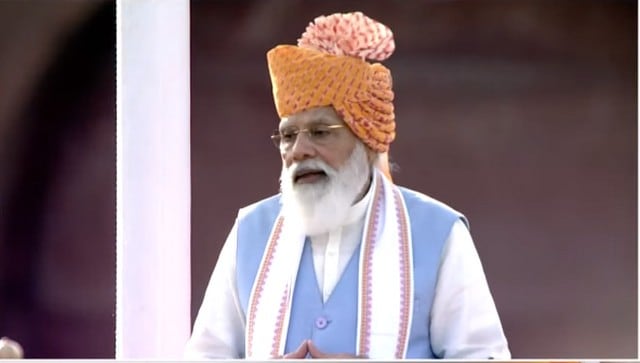 India
At the same time, Modi said, we should not forget the mantra of "Davai Bhi, Karai Bhi' (get vaccinated, strictly follow COVID protocols).'
India
The 20-day mega campaign titled 'Seva aur Samarpan Abhiyan' will begin tomorrow (17 September) and will conclude on 7 October
India
The buildings will provide modern, secure and functional working spaces, the Prime Minister's Office said