Anupama Chopra's review of Aiyaary: Neeraj Pandey's film is half-baked, simplistic and slogs for the most part
'The background score frantically tries to build a sense of urgency that the narration lacks,' Anupama Chopra reviews Neeraj Pandey's Aiyaary.
The word aiyaar means shape-shifter — someone who can become someone else at will. The Arabic word was popularized by the landmark Hindi novel Chandrakanta. I suspect that director Neeraj Pandey, who has also written the film, fell in love with the word first and then reverse-engineered a story around it. Because Aiyaary is half-baked, simplistic and for the most part, a slog.
Sidharth Malhotra plays Major Jai Bakshi. Jai is part of a covert military intelligence unit. His job is surveillance and he keeps repeating what his boss has told him – that listening is a fine art. Jai gets a front row seat to the corruption that infests every Indian institution, including the army. He goes rogue. His superior Colonel Abhay Singh, played by Manoj Bajpayee, must get him before he reveals sensitive information. The action moves from Delhi to Cairo to London to Kashmir. But the film stays in the same place. Despite the disguises, treachery, high stakes and deaths, the drama does not come alive. Meanwhile, the background score by Sanjoy Chowdhury frantically tries to build a sense of urgency that the narration lacks.
Aiyaary is a curiously inert movie. For much of the first half, it feels like we have barely started. There are sections set in Cairo and Kashmir that are disconnected from the actual plot – these sequences are only meant to reveal the nature of our protagonists. The Kashmir portion is actually introduced with the dialogue – ek incident yaad aa gaya. The frame is filled with seasoned actors – apart from Manoj, we have Neeraj's favourites – Anupam Kher and Naseeruddin Shah. The wonderful Kumud Mishra and Adil Hussain step in as the businessmen behind the machinations. Kumud gets a few scenes to show his skills but poor Adil gets to hang in a spiffy, nearly empty apartment in London, wearing sharp suits and barking orders like: Keep watching, Roger. But he does get the film's best dialogue – Imandaar log mere kisi kaam ke nahin.
The women are window-dressing. Rakul Preet Singh plays an IT expert who can hack through any system. In a flashback within a flashback, we see her love story with Jai, which is, hands-down, the laziest writing in the film. She also has an inadvertently comic moment when Jai and Colonel finally meet. Each time the Colonel points his gun at Jai, she tries to stop him saying: Sir gun, sir gun.
Siddharth struggles to find flesh on his poorly written character but finally it's up to Manoj Bajpayee to save the day.  He has a great time playing the tough-talking Colonel who takes no prisoners. He grimaces too much in some scenes but at least he feels alive.
With films like A Wednesday, Special 26 and Baby, Neeraj Pandey has established himself as Bollywood's go-to director for stories of men in uniform. He has a genuine love and flair for making these worlds come alive.
But Aiyaary is a misstep. I'm going with two stars.
Entertainment
People are celebrating the release of Ajith starrer 'Thunivu' not just at the cinema halls but also streets of France by bursting crackers, hooting, lighting smoke bombs, dancing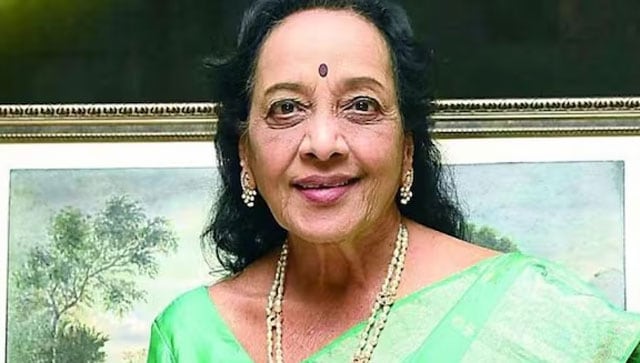 Entertainment
She had won the Filmfare award for Hindi Film 'Milan'. Some of her iconic films include 'Missamma', 'Gundamma Katha' and 'Sri Krishna Tulabharam'.