Anti-Padmaavat protesters unleash violence in Ahmedabad: Malls vandalised, vehicles burnt ahead of Karni Sena chief's visit
30 motorcyles were set on fire and several other vehicles parked outside three city malls were damaged by protesters opposing release of Padmaavat, police said.
At least, 30 motorcyles were set on fire and several other vehicles parked outside three city malls were damaged on Wednesday by protesters opposing the release of the controversial film "Padmaavat", police said. Ahmedabad police commissioner AK Singh said several people have been arrested over the violence.
"Some anti-social elements today damaged vehicles outside three malls in the name of holding protests. It is a matter of investigation that who exactly were behind these acts. We have arrested several persons who were involved in the violence," Singh said. An official from city police control room said the mobs first torched 21 bikes parked in the premises of the Acropolis mall, which houses the PVR multiplex.
Later, the same mob reached Himalaya mall, which houses Carnival Cinemas and wrecked havoc by torching several bikes parked outside it, the official said. Then the protesters torched around 10 bikes parked outside the AlphaOne mall, which houses Cinepolis multiplex, the official added.
#Gujarat: A group of men vandalised the area outside a multiplex in Ahmedabad's Thaltej and torched vehicles in protest against #Padmaavat pic.twitter.com/UmvZfP7NgO

— ANI (@ANI) January 23, 2018
Police said around 200 protesters went around multiplexes on the upmarket SG Highway in Ahmedabad and burnt down more than a dozen two-wheelers and other vehicles as well as pelted cinemas with stones. However, there were no reports of injuries. The incidents of arson coincided with the visit of Rajput Karni Sena chief Lokendra Singh Kalvi, who is spearheading the protests against the movie across the country.
The violence caught police by surprise since owners of most cinemas in Gujarat, including multiplexes in Ahmedabad, had already declared they would not screen the controversial film. Police said some vehicles were targetted outside Wide Angle multiplex, while more than seven two-wheelers were burnt or damaged at Acropolis Mall which houses the PVR Cinema screens, where some windowpanes and glass doors were also damaged.
Ahmedabad Police Commissioner AK Singh said many miscreants had been arrested while adequate police force had been deployed outside all cinemas.
The trouble began after more than 1,500 persons, claiming to be Sena activists, gathered outside Dev Arc Mall that houses a movie theatre, in the evening to hold a candlelight march.
The group later went to the SG Highway, first reaching Acropolis Mall which has upmarket PVR cinema hall, and then other malls. Shouting slogans, the mob halted traffic on the busy road, followed by aron.
Gujarat Deputy Chief Minister Nitin Patel exhorted people to boycott the movie, while also appealing to them to stay calm. Similar appeals were issued by Minister of State for Home Pradipsinh Jadeja and senior Minister Bhupendrasinh Chudasama, both Rajputs.
"It appears that certain antisocial elements are trying to defame our community," Chudasama said. Karni Sena leader claimed they had nothing to do with the violence and urged the state to initiate action the culprits.
"I will resign if there is any link (of violence) established with our organisation," Raj Shekhavat, President of Gujarat Rajput Karni Sena, told mediapersons.
Meanwhile, Gujarat minister of state for home Pradeepsinh Jadeja promised action against those guilty of the violence. "The situation deteriorated after some of the protesters, who took part in the candle march against the movie at S G Highway, reached at these malls," Jadeja said.
"We will take strict action against the perpetrators. They first took part in the candle march at S G Highway and then reached these malls. I will seek report from city police as to how many policemen were deployed at these multiplexes," Jadeja said.
According to an eye witness, some persons wearing masks threw stones inside the mall and then set ablaze vehicles. Officials of the Rashtriya Karni Sena and the Rajput Karni Sena, the organisations which are vehemently opposing the release of the Sanjay Leela Bhansali-directed movie, denied any responsibility over the violence.
The movie, which was earlier named "Padmavati" and was slated for a December 1 release, will now hit theatres worldwide on January 25 with a new title suggested by the censor board.
The film, starring Deepika Padukone, Ranveer Singh and Shahid Kapoor, is based on the saga of the historic 13th century battle between Maharaja Ratan Singh and his army of Mewar and Sultan Alauddin Khilji of Delhi. The film has been facing protests by the Karni Sena and other fringe groups over allegations that historical facts were distorted in the flick.
The Supreme Court has earlier paved the way for the all-India release of "Padmaavat" on January 25 and stayed notifications and orders issued by Madhya Pradesh, Rajasthan and Gujarat -- all ruled by the BJP — prohibiting exhibition of the film in their states.
Entertainment
Photo-Prem is a funny, quintessential take on what we leave behind for memories but quickly loses potential with half-baked writing and slow pace.
Entertainment
Time to Dance is pulled down by its unexceptional story, prosaic dialogues and colourless performances by the leads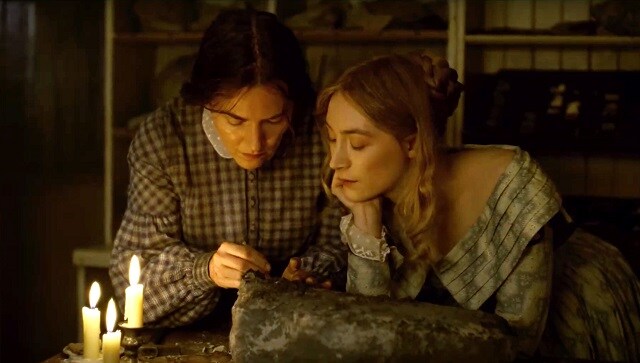 Entertainment
Ammonite suffers from a slowness, that intends to mimic the pace of life, but does not build or culminate into anything profound or satisfying.