Annihilation review round-up: Natalie Portman sci-fi horror movie is 'refreshing' and 'groundbreaking'
Natalie Portman will be seen in Netflix's Annihilation; a science-fiction horror flick based on the Southern Reach Trilogy.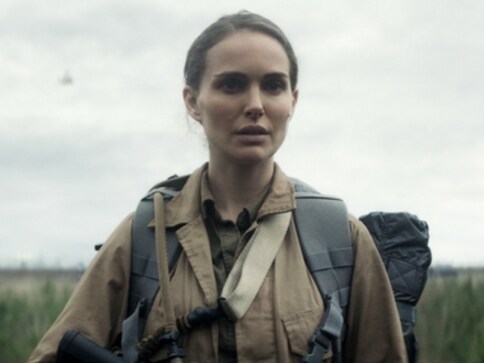 In an attempt to bring its viewers some of the finest recent science-fictions movies, Netflix has come forward with Annihilation. Based on Jeff VanderMeer's best-selling Southern Reach Trilogy, Annihilation tells the story of four women — a biologist, an anthropologist, a psychologist, and a surveyor — who set out into an unknown area, called Area X, which has been abandoned and cut off from the rest of civilisation.
The four women are the 12th expedition to Area X, and every other expedition has been fraught with disappearances, suicides, aggressive cancers, and mental trauma.
Annihilation stars Natalie Portman, Jennifer Jason Leigh, Gina Rodriguez, Tessa Thompson, Tuva Novotny, and Oscar Isaac. It has been directed by Alex Garland  (Ex Machina fame) and was released in the United States by Paramount Pictures on 23 February, 2018. The science-fiction horror flick will be releasing worldwide on 12 March, 2018 on Netflix.
Annihilation was initially set to be a big theatrical release, but after being shown to test audiences who found the movie too "intellectual" and "complicated", Paramount Pictures decided to sell the movie's international rights to Netflix. Director Garner, who was highly praised for his debut directorial venture Ex Machina, did not want to compromise on his vision for the movie and went with Netflix as his choice for a global release. And while we wait to see what Annihilation has in store for us, the first reviews have already started to come in.
A review in The Guardian says, "It's hugely refreshing, and remarkably uncommon, to watch a genre film that revolves around intelligent characters reacting intelligently to fantastical events. The team is made up of briskly efficient problem-solvers who remain practical and focused while dealing with otherworldly mayhem. Unlike with so many superficially similar films, as an audience we understand and empathize with the decision-making process, the script never sacrificing its smarts for suspense. It's tightly constructed and devoid of unnecessary exposition yet the characters mostly feel like they are more than their various professions."
The review for Annihilation in Vulture says, "The film is drastically different from VanderMeer's book, but it's also about something that can't be uttered, and, accordingly, Garland goes silent for the film's stunning finale. Something at the intersection of the end of 2001: A Space Odyssey and modern dance, it left me breathless with its unforgiving depiction of the relentless weight of depression; the impulse to self-destruct."
The Verge, in a review titled 'Annihilation is the most thoughtful science fiction movie since Arrival', compares Garland's Annihilation to Tarkovsky's 1979 classic Stalker and says, "Stalker wasn't particularly well-received on first release... Annihilation seems destined to walk the same path. It's nothing like a safely commercial film: like Ex Machina, it asks viewers to be patient with its mysteries, and with the relatively subtle emotional responses of a group of characters who are all clearly repressing their fear and frustration, right up until the moments where they explode."
The Atlantic said, "The result is a film that has the feel of brainy, high-end science fiction, but ultimately neither the underlying structure nor content. It's a shame, given that we are in the midst of a modest heyday for the subgenre. Garland's previous feature, the exceptional Ex Machina, raised probing questions about the nature of consciousness and humanity—and offered clear, if provisional, answers. "
Entertainment
Jackson said there was ample evidence, including emails the two exchanged in the ensuing years, that Siebel Newsom and Harvey Weinstein had a consensual sexual encounter that she later reframed as rape.
Entertainment
As played by Jennifer Lawrence this performance is so stripped of self-pity you will be embarrassed for having been told to not shed tears for Lynsey.
Entertainment
Siebel Newsom is known as Jane Doe #4 at the trial, and like the others Harvey Weinstein is charged with raping or sexually assaulting, her name is not being spoken in court.