Angelina Jolie responds to 'casting game' controversy: 'Allegations are false, upsetting'
Angelina Jolie has responded to the flak that she received for the 'casting game' of her upcoming movie, calling the description by Vanity Fair 'false and upsetting'
Angelina Jolie has given a statement to clear up the controversy surrounding her recent Vanity Fair cover story, and the details of the 'casting game' that Jolie described was used for the audition process of her upcoming Netflix Original film First They  Killed My Father. 
The cover story was written by Vanity Fair contributor Evgenia Peretz, and resulted in a media storm for Jolie and her movie, as she received lots of flak from critics all over that called the exercise 'cruel'.
"Every measure was taken to ensure the safety, comfort and well-being of the children on the film starting from the auditions through production to the present. I am upset that a pretend exercise in an improvisation, from an actual scene in the film, has been written about as if it was a real scenario. The suggestion that real money was taken from a child during an audition is false and upsetting. I would be outraged myself if this had happened," said Jolie according to a report by The Huffington Post.
The 'casting game' that was described in the Vanity Fair article reported a strange method that was used during the shooting of First They Killed My Father in order to draw the deepest, realest and rawest emotions from the actors of the movie. The technique involved giving money to an impoverished Cambodian child and subsequently taking it away as the child was "overwhelmed with emotion", which is how the girl —Srey Moch who was finally selected for the lead role in the movie — was awarded the part, according to an interview Jolie gave to Vanity Fair.
"Srey Moch was the only child that stared at the money for a very, very long time. When she was forced to give it back, she became overwhelmed with emotion. All these different things came flooding back. When she was asked later what the money was for, she said her grandfather had died, and they didn't have enough money for a nice funeral," Jolie had said, according to the same Vanity Fair article.
First They Killed My Father is reportedly Jolie's most personal film till date. Donning the director's hat for this movie, First They Killed My Father is based on the 2000 memoir by Loung Ung of the Khmer Rouge genocide that rocked Cambodia, killing two of Ung's siblings and her parents. The movie tells the story of what life was like when Cambodian dictator Pol Pot was in power. Approximately two million Cambodians, apart from Ung's family members, also perished in this period which left a dark mark on Cambodian history.
Cambodia is a place that has proven to be deeply cathartic for Jolie, as it is where she adopted her first child — son Maddox who was also a large part of the movie during its shooting — and restarted her life. First They Killed My Father is the largest production that Cambodia has seen since it was hit with war, having been shot entirely in the country.
The movie is slated for release in the latter half of 2017.
Find latest and upcoming tech gadgets online on Tech2 Gadgets. Get technology news, gadgets reviews & ratings. Popular gadgets including laptop, tablet and mobile specifications, features, prices, comparison.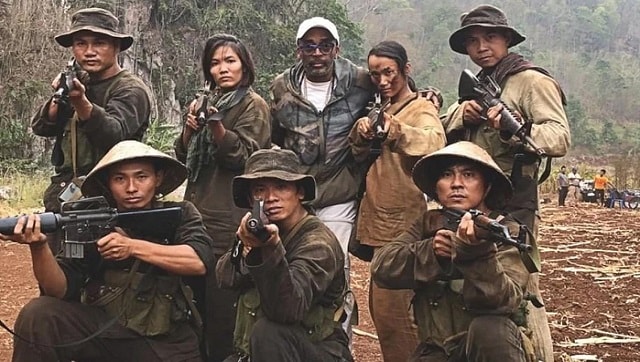 Entertainment
Da 5 Bloods director Spike Lee's anti-racist critique could not overcome his subconscious investment in American imperialism.
Entertainment
Throughout its 90-minute runtime, Bulbbul engages with many different tropes of the Gothic genre.