Andrea Jeremiah on lack of strong female characters in Tamil cinema: 'It's a completely male-dominated industry'
Andrea Jeremiah, who participated in a panel discussion as part of Women's Day celebrations in a popular engineering college in Chennai, raised a lot of pertinent questions about the stereotypes in the Tamil film industry.
Actress Andrea Jeremiah, who participated in a panel discussion on "Does social stigma exist and how do women overcome it?" as part of Women's Day celebrations in a popular engineering college in Chennai, raised a lot of pertinent questions about the stereotypes in the film industry.
Explaining how male actors have ruled the roost over their counterparts for decades, Andrea said, "Firstly, the film industry is a completely male-dominated industry. If I ask anybody to name the superstars of Indian cinema, they would naturally come up with names like Shah Rukh Khan, Salman Khan, Aamir Khan, Amitabh Bachchan, Rajinikanth and Kamal Haasan. They would not name a woman actor."
Andrea, who earned the praise of critics and audiences alike for her recent performance as a bold, independent IT employee in the Ram-directed Taramani last year, brought to attention the dearth of good roles for women in the industry. "This is something very important to me; something I have discovered recently. I did a film called Taramani. After Taramani, I haven't signed a single film yet. Not a single film. Whereas, a girl who acts opposite Vijay and does nothing except dance in three songs, will sign four or five films on the trot, if the film is a hit. After Taramani, where is everybody who loved the film and raved about my performance?" asked Andrea.
Slamming the narrow mindset of filmmakers, Andrea said, "When a woman does a strong role that asks uncomfortable questions, she's saying, 'Hello I'm not happy to be a pretty young thing on screen. I want to do more than that. Yes, I can look hot and sexy, and I can act also.' So write roles for me. Don't ask me to come on screen and jiggle my butt and wear revealing clothes and be happy with that. I'm not going to be happy with that."
Andrea also called out her colleagues who objectify themselves on screen: "I can do a scene where I'm naked, and it will have more relevance than actresses who say, 'I will not do kissing scenes,' but who are ultimately objectifying themselves on screen. And, that for me is the primary issue, especially with Tamil cinema. Now, it's slowly changing. Very very slowly."
When the moderator stressed that a lot of heroines in Bollywood do bold roles and audiences accept them, Andrea put forth some sensible questions. "How did they all start off? This is my other concern. Even a Deepika Padukone had to do a film with Shah Rukh Khan and Ranbir Kapoor to become a Deepika Padukone. A Nayanthara has to do films with Vijay, Ajith, Suriya, Rajini and then she becomes Nayanthara. Why can't an Andreah just do good, strong roles and become an Andrea? Why does the worth of an actress have to be determined by her co-stars? Why should a heroine be considered significant only because she has acted alongside Rajinikanth? Why? These are the questions I'm asking my industry right now because it's the way it is functioning right now. It's a completely male-driven industry," she rued.
Asked about the constant pressure to look beautiful on screen, Andrea demystified the concept that beauty should be synonymous with the film industry. "To start with, I haven't even colored my hair. So, Botox is not even on the horizon for me. I believe in being true to who I'm. I don't do injections. I don't do surgeries. My nose is my nose; you can look at my childhood pictures (laughs). But, ultimately, it's every woman's choice. Nobody looks like how they look on their magazine covers. Not me. Not anybody. That includes a lot of makeup, perfect lighting, and a lot of photoshop. Nobody looks like that when they wake up," she said.
On the professional front, Andrea is waiting for the release of Vetrimaaran's Vada Chennai and Kamal Haasan's Vishwaroopam 2, which are in various stages of post-production.
Entertainment
While supporting Samantha Ruth Prabhu, Vikram Bhatt also revealed his own 18-year-old struggle with Fibromyalgia.
Entertainment
While sharing the poster of their upcoming series, the renowned filmmakers wrote in the caption, "Vadhandhi trailer will be out tomorrow Nov 22nd! Excited for you folks to taste our next production!"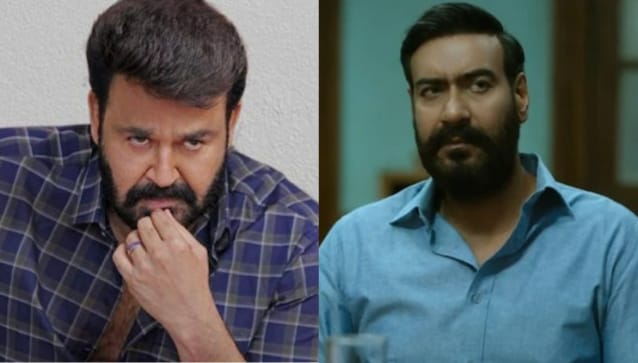 Entertainment
Ajay Devgn has adhered to the original character's moral blueprint and yet alchemized the man of the house into something much more than a patriarchal stereotype.