And the Padma goes to: Here's why we'll soon stop taking this prestigious award seriously
By Subhash K Jha
The Government, in all its wisdom, decided to honour Saeed Jaffrey with a Padma Shri months after he passed away. It's not ours to ask why this couldn't have been done while the actor was alive. For, Bollywood had killed him a decade ago.
The Padma Awards this year honour entertainers from Indian cinema, from the hard achievers (Rajinikanth and Anupam Kher) to the hardly achievers.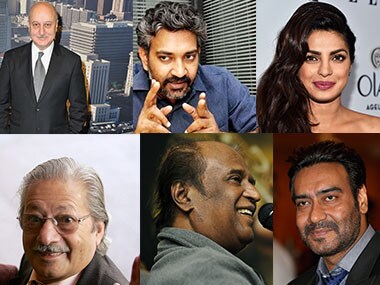 Rajinikanth, considered a God by fans of Tamil cinema, receives the second-highest civilian honour— the Padma Vibhushan. There are rumbles from his fans that he deserves the Bharat Ratna, nothing else. But the fans should look at it this way: the Gods need no recommendation from human institutions.
Anupam Kher's Padma Bhushan has also raised many eyebrows. Anupam, they snigger, has been shouting anti-protest slogans so hard that it has reached the ears of the power-that-be. Before that, Anupam tweeted anti-awards messages which have been duly ignored by Kirron Kher's colleagues.
Ajay Devgn who once played Bhagat Singh and has since then patented the role of the desi super-cop Singham, gets a Padma Shri while Priyanka Chopra who has lately gone global also gets a Padma Shri. I sadly missed Kapil Sharma on the Padma Shri list for patenting misogyny on his show as an acceptable form of satire.
Others from the movie industry to get Padma Shris are filmmakers Madhur Bhandarkar (for the record, his last film was Calendar Girls) and Nila Madab Panda (who made a commendable film I Am Kalam inspired by our former President).
Not quite the kind of achievers who deserve national honours on the Padma Shri list except SS Rajamouli of Baahubali fame. Long before he captured the nation's mind with his epic spectacle, Rajamouli made game-changing entertainers in Telugu. So, well done.
However, some of the other talent being honoured in this year's Padma Awards tell us a very different story.
Updated Date: Jan 27, 2016 11:14:29 IST