And Breathe Normally reviews reveal the interesting ways in which black and white critics write
How interesting it is to see how white critics react to black films, how male critics react to feminist films, how straight critics react to gay films, how cis critics react to trans films, and vice versa.
Ísold Uggadóttir's Icelandic drama, And Breathe Normally, played at the Jio MAMI 20th Mumbai Film Festival With Star, and the first scene shows you the reason behind that title. Lara (Kristín Thóra Haraldsdóttir), a single mother, is at the supermarket, realising how much she has to pay for her purchases. She empties her purse. What she has isn't enough. She hands over a debit card. It's declined. A man behind her offers to pay the remainder. She chooses, instead, to return a few items and get out of there. Haraldsdóttir is so brilliant at putting across a proud woman on the verge of humiliation that  my nerves were shredded. I didn't want anyone to say anything to Lara, not even shoot her an impatient look. Later, she climbs into her old, red Volkswagen. You expect her to break down, but it feels like she's finally exhaling. It's the title: And Breathe Normally.
Things get slightly better when Lara lands a position as a trainee with the border security force at the airport. She flags the passport of Adja (Babetida Sadjo), a black woman who says she's from France -- but investigation reveals that she's an asylum seeker from Guinea Bissau. Adja is jailed for a short term, and then thrown into a refugee centre, where she awaits news of her fate. Does Lara feel guilty? Instead of clear answers, we get information in the form of asides. When Lara glances at her phone, we realise her mother lives in Norway. When Lara discovers drugs at the back of a drawer, we realise she's a recently recovered addict. And when she kisses the mother of her son's classmate, we realise she's… lesbian? Bi? Curious? Some may complain that they need more information. Others will realise that this is like life around us. We don't demand to know everything about our neighbours. Why not extend the same courtesy to Lara?
But what's interesting, for the purposes of this piece, is the relationship between Lara and Adja. They may not seem to have much in common apart from their two-syllable names, but consider the fact that, unable to pay rent, Lara takes to living in her car with her son, Eldar (Patrik Nökkvi Pétursson). Lara has left her home and is in a temporary shelter. She's like Adja, who has left her country and is in a temporary shelter. Both women are also united by a late revelation that I won't spoil for you, but I do want to discuss the events that bring Lara and Adja together. When Eldar gets lost, Adja finds him. When Adja sees that Lara and Eldar need a home, she takes them to her room at the refugee centre. When Lara has to rush for work, Adja says she will take Eldar to school. Most dramatically, when Eldar's schoolteacher discovers drugs in the boy's vicinity, Adja says they are hers. I wondered why Adja is being so… noble?
Rather, why is she being slotted into the trope of the "noble savage", which Britannica.com defines as an "idealised concept of uncivilized man, who symbolises the innate goodness of one not exposed to the corrupting influences of civilisation"? This question seems to have eluded white critics like Alissa Simon, whose review in Variety noted, simply, that Adja's actions "might strain plausibility for some." But Valerie Complex, at blackgirlnerds.com was livid. She felt that "the film spends too much time dealing with Lara's screw-ups, and Adja playing mammy in this phony relationship the story forces the audience to accept. Why are movies still like this in 2018?" "Mammy", of course, is the term for a black nanny in charge of white children, a type most memorably portrayed on screen by Hattie McDaniel in Gone With the Wind.
How interesting it is to see how white critics react to black films, how male critics react to feminist films, how straight critics react to gay films, how cis critics react to trans films -- and vice versa. Gone With the Wind attracted this criticism from Frank S Nugent, in his The New York Times review published on 20 December, 1939. "Hattie McDaniel must be personally absolved of responsibility for that most 'unfittin' ' scene in which [Mammy] scolds Scarlett [O'Hara] from an upstairs window. She played even that one right, however wrong it was." But the Pulitzer Prize-winning black critic, Wesley Morris, was relatively unfazed. On All Things Considered, the National Public Radio (NPR) news programme, Morris weighed in during the film's 75th anniversary re-release. He said "these vexing ideas about [race] are still huge underlying problems in society… You can't pretend that those things aren't there anymore just because it's 2014 and not 1939." He called Gone with the Wind a timeless classic.
The point isn't that the white critic's reaction to And Breathe Normally is invalid, and the black critic's words are truer. Or that The New York Times critic was trying to gain PC points (with that observation about Mammy), which Morris didn't need to. They all said what they felt, and the only thing for us to do is decide which critic we agree with. Still, I admire those who go against the grain. This, for instance, is what the very white (and very wise) Jonathan Rosenbaum had to say about 12 Years a Slave: "[an] arthouse exploitation gift to masochistic guilty liberals hungry for history lessons, some of whom consider any treatment of American slavery by a black filmmaker to be an unprecedented event, thus overlooking Charles Burnett's far superior [1996 TV movie] Nightjohn."
This is a brave, brave stance to take on a much-lauded movie about an Important Subject™ -- especially in today's hysterical climate, where the Social Media PC Police scream themselves hoarse over every real or imagined infraction. Pauline Kael had it far easier. Of Steven Spielberg's The Color Purple (1985), based on Alice Walker's novel, she noted that "it seems to be going on in a faraway, magical kingdom, in a field of pink flowers from the florists who supplied the daffodils tor David Lean's Doctor Zhivago." This may not seem as controversial a stance as Rosenbaum's on 12 Years a Slave, which was a black film by a black filmmaker. (Spielberg is easier to criticise.) But then, Kael wasn't a fan of Walker's book either. She smirked, "The novel is about the bonding of the generous, artistically gifted, understanding black women (no matter how worn down they are, they never speak a harsh word to a child)..." Oh what fun it would have been to have Kael in the Twitter era.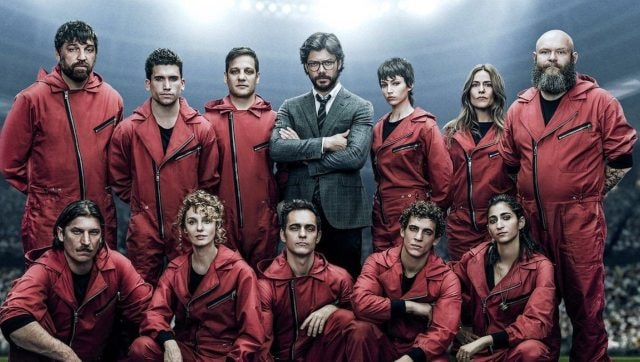 Entertainment
While refusing to divulge details about the plot, Alvaro Morte says the upcoming season of Money Heist will have "a lot of tension, a lot of action, and it's very exciting."
Entertainment
a portion of the amount will be transferred directly to the bank accounts of 2000 artists, while the rest will be used to procure rations kits and organise a vaccination drive.
Entertainment
The shutdown till 14 June takes place months after a clip of star Tom Cruise reprimanding the Mission Impossible members for apparently not following COVID-19 guidelines went viral.