Amitabh Bachchan assures fans of his well being, after news of falling ill during Thugs of Hindosthan shoot in Jodhpur
Jaya Bachchan told the media outside the Parliament that Amitabh's condition is stable. Rajasthan Chief Minister Vasudhra Raje is also facilitating his speedy recovery.
Megastar Amitabh Bachchan has assured his fans and well wishers that he is doing well after getting treated by his team of doctors.
Yesterday, the 75-year-old actor's cryptic blog post on getting his doctors from Mumbai to 'fiddle around' with his body had sparked worries about his health.
"I am getting my team of Doctors in tomorrow morning to fiddle around with my body and set me up again... I will rest and keep informed in process," Bachchan, who is in the city to shoot for his upcoming movie, wrote in his blog.
His wife Jaya-Bachchan said he had pain in his neck and back due to the heavy costumes of the film. Bachchan today again took to his blog and other social media accounts to give a health update.
In a poetic post in Hindi the actor said he was not feeling well and had to call his doctors for the treatment, but now he is doing fine.
T 2742 -
कुछ कष्ट बढ़ा
चिकिस्तक को चिकिस्ता के लिए बुलाना पड़ा ;
इलाज प्रबल ,
स्वस्थ हुए नवल ,
चलो इसी बहाने , अपनों का पता तो चला ~ ab

🙏🙏🙏🙏🙏🙏🙏🙏🙏🙏🙏🙏🙏🙏🙏 pic.twitter.com/StAyxRgO6l

— Amitabh Bachchan (@SrBachchan) March 13, 2018
A team of doctors flew in to check on megastar Amitabh Bachchan, who is in pain due to the heavy costumes for the shoot of Thugs of Hindostan.
In an early morning blog post on Tuesday, Amitabh, 75, revealed doctors would be coming in to "fiddle around" with his body and set him up again.
His wife Jaya Bachchan told the media at Parliament House in Delhi, "Amitji is fine. He has pain in the back and neck. The costumes are very heavy so there's some pain. Otherwise he is fine."
Rajasthan Chief Minister Vasundhara Raje extended her best wishes for his quick recovery. Raje, who is on a Kanchipuram and Andhra Pradesh tour, asked officials of the Jodhpur administration to ensure that Amitabh gets timely medical aid and care, read a statement from her office.
Big B has been shooting in the picturesque Mehrangarh Fort for Thugs of Hindostan, which also features Aamir Khan, Fatima Sana Shaikh and Katrina Kaif, and will release during Diwali 2018.
The senior actor has been shooting at odd hours and staying up late for shoots. "It's been rough. But whenever did any be achieved without it. There is struggle and disappointment and pain and sweat and tears. Then the expectation of all working out. Sometimes it does, most of the times not. That not is the catalyst. When they say not, it is the right impetus to say and deliver that it has been successful and achieved," he wrote on the blog.
The cine icon had revealed last year that he had been nursing a "stiff neck and shoulder pain" as a result of past injuries from stunts he did in the 1970s and 1980s.
also read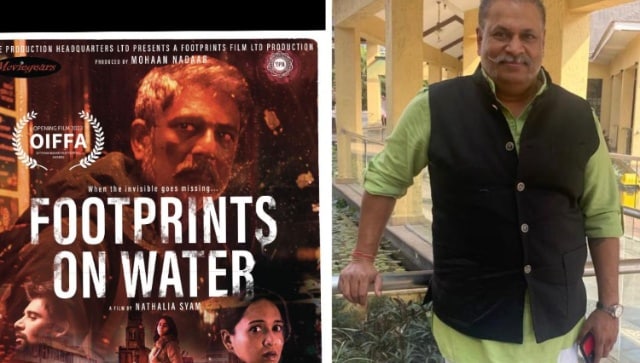 Entertainment
Adil Hussain won the Best Actor – Making Waves Globally – at the United Kingdom Asian Film Festival (UKAFF) 2023 and Footprints on Water won the Celebrating Stories and Theme at UKAFF.
Arts & Culture
Talking numbers with the founder of Purple Style Labs, India's biggest fashion conglomerate