Amazon Prime Video is in India: So is it time to switch your Netflix India subscription just yet?
Well, it's finally here!
Nearly a year after Netflix launched in India, the "other" major streaming service, Amazon Prime Video, is, well, primed to invade its way into Indian homes, our hearts and our devices, as the alternative to the rest. With a decent video catalogue of movies and TV shows (Indian, non-Indian, and Amazon original) and compellingly priced for the Indian market, Amazon Prime Video has made its intention as clear as the midsummer sky (as Amazon usually does): customers rejoice, and competition better watch out! This is huge news for Indian movie and television viewers; Christmas has come early! Erm, or has it? Terribly organised as we are, we've got the perfect content ranking system to help you decide which big fat streaming service you should keep or switch your loyalties to: Netflix or Amazon Prime Video. We'll keep things fair and services like Hotstar and Hooq out of the equation here (although, the fact that Nukkad, Doordarshan's classic from its '80s heydays is available on Hooq gets the service some major brownie points from us). But for now, let's see how the content on Netflix and Amazon fares against each other, shall we?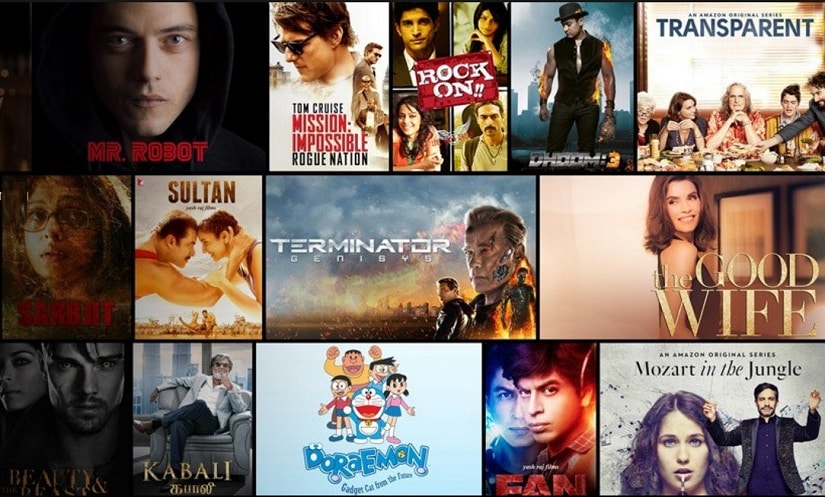 Start score — Netflix: 0, Amazon: 0
1. Pricing
Let's start with the basics first: the cost of Netflix v/s Amazon Prime Video. Generously priced at only Rs 499 a year, Amazon's service is less than 1/10th the cost of Netflix's monthly subscription starting at Rs 500 (certain packages go up to Rs 850 per month). For a country used to acquiring their movies and TV shows *cough* illegally *cough* for the past decade, Amazon's pricing seems about right. Now, we love our Black Mirror and Making A Murderer, so when Netflix tells us it's 500 bucks per month to watch these shows, our response (obviously) is, "Shut up and take our money!" But it's understandable if most people don't think that way, don't consider discussing movies and TV shows as the best ice-breaker/conversation starter, and don't stop hanging out with people who don't love Marvel's Daredevil and Marvel's Jessica Jones. So yeah, for most people looking to invest in a streaming service, Amazon Prime Video is a much better alternative. Even if they increase their annual subscription fee to Rs 999, as they're most likely to.
Netflix: Starts at Rs 500 per month.
Amazon: Rs 499 per year. Might go up to Rs 999 per year.
Winner: Amazon
Netflix: 0, Amazon: 1
Read on Firstpost — Amazon Prime Video vs Netflix vs Hotstar: How the video streaming services compare
2. TV shows
An annual subscription of only Rs 499 (or even Rs 999) is pointless if the actual content is lacking. Hmm, let's see: Netflix has Black Mirror, Breaking Bad, Archer, That 70s Show, Suits, Weeds, The IT Crowd, How To Get Away With Murder, and Dexter! All eight seasons of Michael C. Hall's blood-splatter-analyst-by-day-vigilante-serial-killer-by-night genius alone would be enough for our bloodthirsty, justice-seeking souls, but Amazon's video content tries its darndest to keep up. And let's give it a chance: for every 2 Broke Girls (ugh!) and The Vampire Diaries, Amazon also offers Mr Robot and The Night Manager. But the list is small, at least for now. Sure, you have Seinfeld, but you need more than that and The Good Wife to win our hearts, Amazon. Well played though!
Netflix: Black Mirror, Breaking Bad, Dexter. Enough said!
Amazon: Seinfeld, Mr. Robot, The Night Manager, The Good Wife.
Winner: Netflix. Why? Any streaming service that offers a TV show that has this opening sequence is a keeper.
Netflix: 1, Amazon: 1
3. Original Content
Alright, alright, don't get all Litchfield crazy on us: we haven't forgotten Orange Is The New Black (OITNB), or any of the other original content created by these streaming giants. Netflix has so firmly rooted itself as the creator of some of the best original content available anywhere today, that to throw it off its snug high throne would be a mammoth effort. And Amazon tries, it really does: Transparent (Jill Soloway's brilliantly poignant and funny series about gender identity, starring the inimitable Jeffrey Tambor, Transparent was the first show produced by a streaming service to win a Golden Globe for Best Series), Good Girls Revolt (leading the charge this year for the we-need-more-of-this trope: the not-so-nice girl, The Man in the High Castle (a dystopian alternative history series loosely based on Philip K. Dick's novel of the same name), and Mozart in the Jungle are all available for Indian audiences. Even Amazon's brand new The Grand Tour (which, let's face it, is just a new avatar of BBC's Top Gear, and is as funny and delightful as the original show) is available for streaming.
That would make any streaming service the clear winner, except that Netflix has a litany of great original content that has been consumed and re-consumed by viewers across the globe: available series include Making A Murderer, Marvel's Daredevil, Marvel's Jessica Jones, Master of None, Bojack Horseman, OITNB, Narcos, Wet Hot American Summer, and Unbreakable Kimmy Schmidt. Phew! Add House of Cards and Stranger Things, and we'll love you forever, Netflix!
Netflix: In poker terms, it's a full house.
Amazon: In poker terms, it's a flush.
Winner: Netflix, by a hair's breadth (or the opposite of Dover's bloomin' arse, whichever way you choose to look at it).
Netflix: 2, Amazon: 1
4. Movies
This one's kind of a no-brainer. Amazon Prime Video in India clearly has a long way to go, to even begin its attempt to catch up with Netflix. The proof? Netflix India's movie list v/s Godfather Part I and II, and Chinatown (they're the only ones worth mentioning), on Amazon. Ouch! Amazon's focus is clearly on Indian movies, although that list isn't much better than Netflix's Indian offerings.
Winner: Netflix
Netflix: 3, Amazon: 1
5. India originals
So who's creating some kickass (by the sound of it) original Indian content? Amazon has got this covered! While Netflix's original series rumours haven't really moved beyond a series based on Vikram Chandra's best-selling novel Sacred Games, Amazon has gone ahead and roped in the biggies (think Farhan Akhtar and Anurag Kashyap, woah!) for developing its India original content. Let's take a moment to heave a sigh of relief for Amazon's comeback (somewhat) in this otherwise very one-sided contest!
Netflix: ?
Amazon: Powerplay, by Ritesh Sidhwani and Farhan Akhtar starring Vivek Oberoi; Stardust and Vishpuri, by Vikramaditya Motwane and Anurag Kashyap; Made in Heaven, by Ritesh Sidhwani, Farhan and Zoya Akhtar. Among many others.
Winner: Amazon
Netflix: 3, Amazon: 2
Also read — Netflix India signs deal with Shah Rukh Khan: Is it in response to Amazon Prime Video launch?
6. Golden Globe nominations
For kicks (and to stir up some drama!), let's look at how these two streaming services stack up against each other with the Golden Globe award nominations announced yesterday.
i. Netflix nominations for best TV show: 2. The Crown and Stranger Things (both shows are nominated in the "drama" category).
ii. Netflix acting nominations: 3. Claire Foy (The Crown), John Lithgow (as Winston Churchill in The Crown), and Winona Ryder (Stranger Things).
iii. Netflix nominations for movies: 1. Divines.
iv. Amazon nominations for best TV show: 2. Mozart in the Jungle and Transparent (both shows are nominated in the "comedy" category).
v. Amazon acting nominations: 3. Gael Garcia Bernal (Mozart in the Jungle), Jeffrey Tambor (Transparent), and Billy Bob Thornton (Goliath).
vi. Amazon nominations for movies: Manchester by the Sea (distributed by Amazon Studios, it's up for a whopping 5 awards) and The Salesman (foreign language film).
Netflix: 6 nominations
Amazon: 11 nominations
Winner: Amazon. Although not all of them are available for viewing to Indian audiences, Amazon's variety and quality for their TV shows (drama and comedy) and movies (English and foreign language) is totally winner worthy!
Netflix: 3, Amazon: 3
Final score — It's a tie. Technically.
Our final word: We'll say go try out Amazon Prime Video, like we're sure you were already planning to. Especially while it's priced as low as it is! But be prepared to be slightly disappointed if you're expecting a range of content that's similar to Netflix's vast library.
Our really final word: It may be a while before viewers create a version of the "Netflix and chill" phrase for Amazon!
Updated Date: Dec 15, 2016 14:44:48 IST