Amala Paul reveals man who harassed her is part of larger sex racket: 'He had my latest number, all my information'
Two weeks after Amala Paul accused a businessman named Alagesan for making sexual advances at her while she was rehearsing in a dance studio, the actress has shared the exact details of the ordeal.
Two weeks after Amala Paul accused a businessman named Alagesan for making sexual advances at her while she was rehearsing in a dance studio, the actress has shared the exact details of the ordeal.
"On 31 Jan while I was practicing at a Chennai based studio for a dance performance, a man entered the premises and approached me saying there is something important he needs to discuss with me regarding the event. He offered me to attend a special dinner after the event which was to be concluded in Malaysia," Amala Paul alleged in a statement.
After Paul had lodged a complaint on 31 January on Alagesan for harassing her at the workplace, the police had booked a case against the 40-year-old man from Kottivakkam under Sections 354A (Sexual harassment), 509 (Uttering any word or making any gesture intended to insult the modesty of a woman) of the Indian Penal Code and Section 4 of the Tamil Nadu Prohibition of Harassment of Women Act. He was then arrested and remanded to Puzhal prison in judicial custody.
Recounting the sickening conversation, and how Alagesan confidently waited outside the studio for her reply, Amala said, "When I cross-questioned him as to what special dinner he is talking about, he shrugged and said, "Don't be a fool, you are not a kid." I got startled because when I looked around no one was present at that moment aside me and him and this disgusting conversation. When this guy went out of the studio, saying he is waiting for my positive answer, I called my well-wishers and staff to come to my rescue. It took them 30 odd minutes to reach the spot and catch hold of him, while he patiently and confidently stood outside the studio as if this was his normal day at a business negotiation."
Paul revealed that it was her team who locked him up in the studio before she went to the Mambalam police station to formally lodge a complaint.
"Seeing my team approaching him, he tried to escape the situation by saying, "She can also say 'no' if she doesn't want to, what's the big deal?". When he tried to push my team and ran, they caught hold of him and locked him up in the studio. While this ordeal was going on, I realised that he is a member of an organised sex racket as he had my latest number stored in his phone and had all the information related to me and other actresses performing in the event. When the police arrived at the scene on complaints of nuisance by the locals around the studio, we delivered this guy to the Mambalam police station in T Nagar. I too rushed to the station to file an FIR," she furthered.
Paul said the the police have found various shreds of evidence in connection with the sex racket and have arrested two of the linchpins. "Few more arrest warrants are underway for other suspects too. But I still request them to expedite their investigation and make all the names who are involved in this racket public."
After an investigation, police had arrested another accused named Baskar in connection with the racket and detained him in prison. Now, the Principal Sessions Court, Chennai, has rejected the anticipatory bail plea filed by the third accused Razzaq, who reportedly works in a private organisation.
Paul also condemned media houses for spreading 'rubbish' about her experience. "There is an investigation going on and I don't wish to be a hurdle, that's the only reason I am choosing to keep mum on the findings. But that doesn't stop me from filing a defamation suit against such cheap journalism," she said.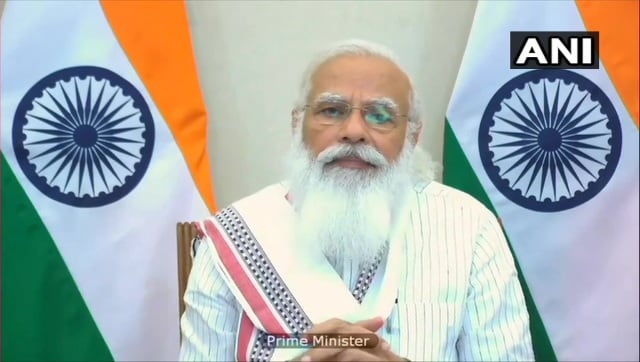 India
During an interaction with CMs of Tamil Nadu, Andhra Pradesh, Karnataka, Odisha, Maharashtra and Kerala, Modi said that 80% of the new COVID cases last week were from these states
India
A hilarious trend has taken over Twitter where jilted lovers are revealing frivolous reasons for which they were friendzoned
India
The typographical error had led the trial court judge to treat the semen found in the genitals of the child as semmann, which was not uncommon on a child playing on the floor outside a house.