Amala Paul readily agreed to physically demanding role in Adho Andha Paravai Pola, says writer Arun Rajagopalan
'It is Amala Paul's 35th film but she has no starry airs at all,' says debutant director KR Vinoth on shooting with her for Adho Andha Paravai Pola.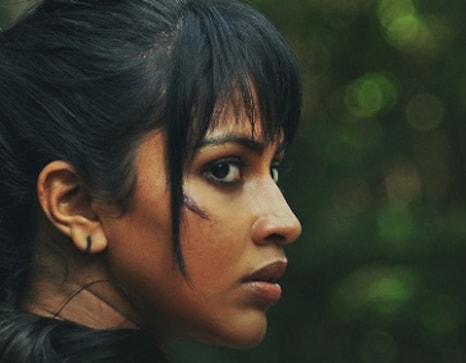 The first look posters of Amala Paul's women-centric film Adho Andha Paravai Pola were released recently by the team. The film, which is billed as an adventure thriller set in the forest backdrop, is being helmed by debutant director KR Vinoth with the story, screenplay, and dialogues penned by Arun Rajagopalan.
Firstpost caught up with the director-writer duo to learn interesting details about the project which is currently progressing at a brisk pace in lush green, picturesque locations of the Western Ghats. "When Arun narrated the story to me and asked if I would direct, I had no second thoughts at all. I loved the story and jumped on the opportunity. I felt this is the kind of film that could fetch me recognition for my directorial skills," says Vinoth.
Writer Arun says he approached the project from the perspective of a corporate film studio. Asked why he handed over the directorial job to someone else, he said, "After I completed the script, I started talking to production companies. It was then I came across Jones' name and his penchant for stories that are unique and interesting. When I said I'm just pitching the script, and that I wouldn't direct it, they were quite surprised. Script writing involves a lot of research and it's a big task to use it effectively in fiction. When it comes to direction, it demands ten times the effort of writing, and it's about managing people and working with them as a team, in which I have no experience at all."
Besides working in films like Tamiluku En Ondrai Azhuthavum, director Vinoth has also done a handful of tele-commercials before wielding the megaphone for Adho Andha Paravai Pola. "The production people were already aware of Vinoth's execution skills and were confident. After the narration, Vinoth worked with storyboard artists and the result was impressive. It made me feel very optimistic about him handling the project," Arun added.
Recollecting the meeting with Amala for the first time to narrate the script, Arun said, "After Vinoth and I met Amala Paul to discuss the story, I had two sessions with her later to give her a good idea of the character and to get her in the groove of the script. Since this is a very physically demanding film, her fitness quotient was also significant. But Amala Paul was already highly proficient in yoga."
Appreciating Amala's interest to walk the extra mile for the film, Vinoth said, "Right after the narration, she said she needed to lose weight and look apt for the role. She bought time and started working towards that immediately. She did not have any apprehensions about shooting in a forest environment too. In fact, she offered a few location suggestions in Himachal Pradesh which we felt were too dense to shoot. Although we have been shooting in extremely challenging conditions, Amala Paul is pulling off her scenes with great ease."
Although Amala plays the central role in the film, Adho Andha Paravai is a character-driven story, and each character has equal significance, says Arun. "The film revolves around five pivotal characters including Amala Paul. So Vinoth wanted to get the casting right, and he also wanted to steer clear of usual stereotypes. It was his decision to cast Aashish Vidyarthi and other characters including stunt master Supreme Sundar, who makes his first on-screen appearance, and TV host Sameer Kochhar," he said.
Spilling beans on the film's story, Arun said, "It is about a woman who gets lost in the woods. What brings her there, the challenges she faces and how she gets herself out are the crux of the story. The entire sequence of events happens in 48 hours. Liberation forms an undercurrent of the story, and that's why we zeroed in on this title."
Shot extensively in Andhra Pradesh, Tamil Nadu and Kerala, Adho Andha Paravai Pola is being produced by Jones of Century International Films. "When we suggested Amala's name to the producer, they readily gave their nod. She has a market and all her recent films fared well in box office too. Though I'm a debutant, she has never made me feel so on the set. She never gets into the caravan and stays with the team throughout the shoot. It's her 35th film but she has no starry airs at all," said Vinoth.
The film's technical crew comprises Santhakumar, a former associate of Kaththi DOP George Williams, for cinematography, Jakes Bejoy of Dhuruvangal 16-fame for music, Saravanan for art direction and John Abraham for editing. The makers are aiming for a 2018 release.
also read
Entertainment
Embrace the vibrant spectrum of love, acceptance, and authenticity this Pride Month as Netflix India proudly presents a captivating collection of LGBTQIA+ films and series.
Entertainment
Creed III is the third installment in the successful franchise and is Michael B. Jordan's directorial debut.
Entertainment
Scoop is the adaptation of journalist Jigna Vora's biographical book Behind The Bars In Byculla: My Days in Prison