Almost Pyaar with DJ Mohabbat review: Anurag Kashyap delivers unconventional romantic-drama with Vicky's memorable cameo
Karan Mehta makes a promising debut in Anurag Kashyap's Almost Pyaar With DJ Mohabbat.
Cast: Alaya F, Karan Mehta, Sagar Arya, Sapna Pabbi, Mohinder Gujral and Vicky Kaushal
Director: Anurag Kashyap
Language: Hindi
What is the definition of love? Well, undoubtedly it will be different for everyone based on his or her perspective, understanding and convenience. Filmmaker Anurag Kashyap, who is known for his unconventional take has made Almost Pyaar with DJ Mohabbat from his daughter's perspective.
The plot of the movie narrates two parallel love stories. One of Yakub and Amrita in Dalhousie (played by debutant Karan Mehta and Alaya F) and another one of Harmeet and Ayesha in London (again played by Karan Mehta and Alaya F).
In this story of four star-crossed lovers, we witness the background of patriarchy and wildness and respectively. Talking about the story set in Dalhousie of naive Yakub and Amrita, who elope to watch the concert of their favourite DJ, we can see Anurag's innocent writing in the story, which showcases the mirror of the conservative society, which forces individuals to restrict themselves and go against the carefree vibe of love.
While we never see Yakub and Amrita proposing each other as there is no mention of a romantic relationship between them, the filmmaker beautifully weaves situations, which makes the duo think that they are only for each other.
In the second story, set in London, we see a rich-spoiled brat Ayesha getting obsessed with DJ Harneet and going all out to get him. This story has a modern take and can find resonance with the current generation, especially in the metro cities. It has a layered and complex storytelling, which is a typical Anurag Kashyap style.
Through these stories, we witness different highs and lows with the filmmaker taking a jibe at homophobia and Love Jihad. But after a series of dramatic twists and turns when these two stories cross paths, it ends on a high point, which is subtle yet impeccable.
Talking about the star performances, Alaya F and Karan Mehta played their two distinct extremely well. While the innocence looks super cute in them as Yakub and Amrita. As Harneet and Ayesha, they stand out for their complexity and restrained personalities.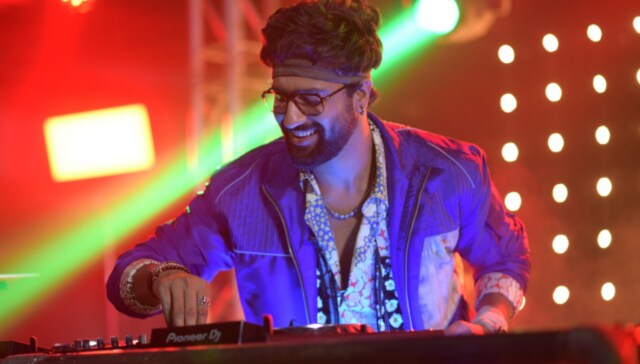 But honestly, it is Vicky Kaushal, whose extended cameo as DJ Mohabbat will be remembered for a long time. His delicate yet amazing lines on love and relationships penned by Gulzar and Vishal Bhardwaj can be part of diaries if you are a fan of romantic lines and has a different opinion on Love with a touch of sufiness.
Almost Pyaar With DJ Mohabbat is a cinematic treat if you love unconventional takes on romantic dramas.
Rating 3.5 (out of 5 stars)
Almost Pyaar with DJ Mohabbat is playing in cinemas near you
Read all the Latest News, Trending News, Cricket News, Bollywood News,
India News and Entertainment News here. Follow us on Facebook, Twitter and Instagram.
Entertainment
Keanu Reeves' John Wick: Chapter 4 is an action-packed adrenaline rush filled with breathtaking cinematic moments.
Entertainment
Director Pavan Kirpalani adds some atmospheric tension and jolting jump scares, and even gives Sara Ali Khan a character to play with, and still stops short.
Entertainment
Netflix's Chor Nikal Ke Bhaga is a heist film and a hijack film put together. We have seen both heist films and hijack films in the past too. But too many stories in one film made Chor Nikal Ke Bhaga somehow lose focus. Chor Nikal Ke Bhaga had too many flaws too.