All-male film industry delegation meets Narendra Modi to discuss issues; 'where are the women?' ask Twitterati
There was not a woman in sight in a convention that was supposed to have representatives of the Indian film industry meet Narendra Modi to discuss issues.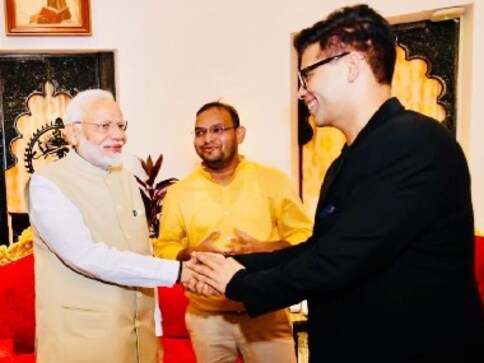 On 18 December, a delegation representing the Indian entertainment industry met with Prime Minister Narendra Modi to discuss lower and uniform rates of GST for the fraternity, increasing density of screens across India and cinema being empowered as a soft power.
Among those present were actors Akshay Kumar and Ajay Devgn, filmmakers Karan Johar and Rakesh Roshan, Central Board of Film Certification (CBFC) chief Prasoon Joshi, producers Ronnie Screwvala, and Siddharth Roy Kapur, along with several other men. However, as the Twitterati pointed out, there was not a woman in sight in a convention that was supposed to have representatives of the Indian film industry - the largest in the world.
Here are some reactions which mentioned the irony of having an all-male delegation represent the Indian film industry, especially after a year which was marked with multiple women-led blockbusters.
And not one woman to represent the Indian film industry! #WhereAreAllTheWomen https://t.co/sEDnK6vOFY

— Sameera Khan (@samjourno123) December 18, 2018
And these superstars only speak about women empowerment when their move is all set to release. No women from film industry? Much wow https://t.co/D9S20eTdu0 — SVETA MISHRA (@Whysoliberal) December 19, 2018
Would be great to have female representation in these delegations. It is 2018. https://t.co/HoxGbptgwX — Alankrita Shrivastava (@alankrita601) December 18, 2018
Not even a single women in meeting. Is hindi film industry lead by male only ? Cc @ReallySwara — md shaquib asfaque (@beingshaquib) December 18, 2018
As always, aghast to see that the Hindi film industry team meeting the PM is an ALL MALE team. Unbelievable. We have senior women directors, actors and producers. Where are they?@AzmiShabana @TheFarahKhan @meghnagulzar @gaurikhan What say, @BDUTT of these manels? https://t.co/DOPmQPdyzB — Meera Harish (@meeraharish) December 19, 2018
No women worth the while from the Indian film industry? That's the current govt for you. All of these men showed up too, no questions asked! Indian women will reply in May 2019. So will the farmers. So will the minorities. If only statues and cows could vote. Tsk. https://t.co/j0IfzPdJbJ — Anuja J (@AnujaJaiman) December 19, 2018
Not a single woman in the entire forum? Disappointing, no wonder the film industry is considered to be male dominated #breaktheglassceiling #glassceiling — So Lo 🇮🇳 (@Sonit_singh) December 18, 2018
Says loads about the film industry that its delegation doesn't have a single woman in it. https://t.co/RqglDuYPZo — Akshay Madhavan (@aksvismad) December 18, 2018
The circumstances in which the meeting took are still unclear. There is no official word on whether women representatives from the industry were even invited to the event. However, their absence is certainly jarring to the Twitterati especially because this is not an isolated incident.
A 'film industry delegation', comprising Aamir Khan, Aanand L Rai, Rajkumar Hirani and Siddahrth Roy Kapur had met Modi in October to discuss how the fraternity could help in nation building. There was not a single woman representative in an official photo which made its way online.
There has been no comment from the Prime Minister's Office (PMO) or Prasoon Joshi (who reportedly initiated the meeting along with Mahaveer Jain) on the absence of women representatives yet.
Find latest and upcoming tech gadgets online on Tech2 Gadgets. Get technology news, gadgets reviews & ratings. Popular gadgets including laptop, tablet and mobile specifications, features, prices, comparison.
India
Mumbai Police has issued notices to Kangana Ranaut and her sister Rangoli Chandel to record their statements in the case against them for allegedly promoting enmity between communities through their remarks.
Entertainment
Badhaai Do marks Bhumi Pednekar and Rajkummar Rao's first collaboration.
India
The complaint stated that Kangana Ranaut was "creating divisions between communities and spreading communal hatred"