Alita: Battle Angel second trailer is action-packed spectacle presented in James Cameron's signature style
Alita: Battle Angel brings the genius of two visionaries together — from larger-than-life spaces and almost-lifelike VFX works (of James Cameron's flavour) to a pacy, action-driven screenplay in the quintessential Robert Rodrigues' style.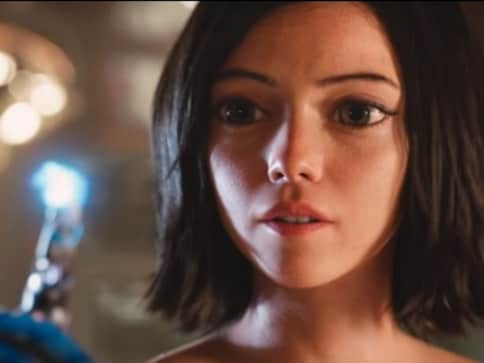 The second trailer of the upcoming film Alita: Battle Angel was released on Monday and is nothing short of a visual delight packed with loads of action, emotions and some breathtaking VFX.
Based on the graphic novel series Gunnm by Yukito Kishiro, Alita: Battle Angel has been in conception for the past 10 years under the visionary filmmaker James Cameron. Known for his magnum opuses like Titanic and Avatar (both received record Oscar nods), Cameron is known for his cinematic acumen with a superior sense of aesthetics that weave magic on celluloid. However, in 2015, he handed over the directorial baton to Robert Rodriguez who, in the past, has helmed projects like Spy Kids, Machete and Sin City.
In this second trailer, one can easily see what happens when the genius of two visionaries come together — we see larger-than-life spaces and almost lifelike VFX works (of Cameron's flavour) and at the same time, a pacy, action-driven screenplay in the quintessential Rodrigues style. The first trailer of the manga-inspired film had dropped last year in December.
The official synopsis of the trailer says that the film is "an epic adventure of hope and empowerment". The story takes place in a dystopian world and revolves around an amnesiac female cyborg Alita who is rescued from a scrapyard by a doctor named Ido (essayed by Christopher Waltz). After she is rebuilt, it is known that she has forgotten all about her mysterious past. While the compassionate doctor Ido tries to shield her past in order to protect her from the evil forces operating the Iron City (the place around which the story is set). As Alita learns to navigate through her new life, she befriends the street smart guy Hugo (played by Keean Johnson) who offers to help trigger her memories and learn about her past.
The screenplay of Alita: Battle Angel is penned by Cameron, Laeta Kalogridis and Rodriguez. While Rosa Salazar has voiced Alita's character, the film also stars Jennifer Connelly, Mahershala Ali, Ed Skrein and Jackie Earle Haley.
Watch the trailer here.
Entertainment
Scottish actor Gerard Butler, known for Zack Snyder's historical epic film 300 and Has Fallen series, leads the cast as an undercover CIA agent called Tom Harris.
Entertainment
"Our movie doesn't show the breaking up of the Beatles," Peter Jackson said, "but it shows the one singular moment in history that you could possibly say was the beginning of the end."
Entertainment
83 Trailer Released: The trailer of Kabir Khan's much-awaited movie 83 is finally out. Ranveer Singh is a spitting image of Kapil Dev, while Deepika Padukone makes a short appearance in the trailer as Romi Dev.