Aladdin: Will Smith's Genie draws funny reactions on Twitter; high ponytail compared to Goro, Ariana Grande
The high ponytail of Will Smith's Genie in Aladdin drew hilarious comparisons to Mortal Kombat's Goro and Ariana Grande.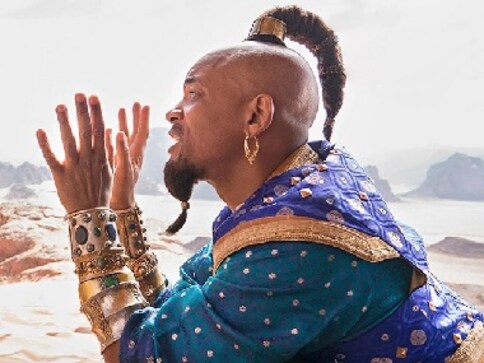 Entertainment Weekly provided the first glimpse of Disney's upcoming live-action version of Aladdin on Wednesday and it didn't receive the most favourable reactions from Twitterati.
The first look images showed Mena Massoud as Aladdin, Will Smith as Genie and Naomi Scott as Princess Jasmine in the Guy Ritchie movie. But the Internet was particularly unimpressed with Genie, who was originally voiced by Robin Williams in the 1992 animated classic.
So, they were always going to be some big shoes to fill and Smith's reinvention of Genie hasn't got the kind of reception he would have liked. One user referred to him as 'Sinbad on a diet.'
So he's a diet Sinbad? https://t.co/DJWJQwCed4

— Sofa Glow'd (@Swii_n_Sour) December 19, 2018
What could Will Smith possibly have done to deserve this? Jada is gonna have to do a whole episode of "Read Table Talk" about this hair piece. pic.twitter.com/wMm5fysIg0 — Saeed Jones (@theferocity) December 19, 2018
After seeing Will Smith a the genie, 'Aladdin' is canceled. We're skipping to 'Lion King.' pic.twitter.com/20pAklfL0n

— Kanye invented music. (@yoyotrav) December 19, 2018
Smith's high ponytail and long goatee drew hilarious comparisons on Twitter.
but who wore it best pic.twitter.com/wBCKrLqfTW — kim (@LeKimBurnett) December 19, 2018
Tried to warn y'all but you didn't wanna listen did you pic.twitter.com/miVDEaOhMB

— Scott Wampler™ (@ScottWamplerBMD) December 19, 2018
One taught me love One taught me patience One taught me pain pic.twitter.com/uk5YgtgEK5 — Gabriel Barreto (@CricketRamsey) December 19, 2018
Will Smith's genie hair in the live-action #Aladdin is going to be a major source of anxiety for me in 2019. pic.twitter.com/FwG44LHiUj

— Jason Carlos (@jaarlos) December 19, 2018
When I saw what genie will look like in #Aladdin pic.twitter.com/QtB85IQPiC — The Comic Losers Podcast (@TheComicLosers) December 19, 2018
The original animated movie was a comic take on the Arabic folk tale of a young man granted three wishes by a genie trapped in a lamp.
Aladdin was the highest-grossing film of 1992, and won Academy Awards for best score and best song for "A Whole New World."
Aladdin is set to open in movie theatres on 24 May, 2019.
Entertainment
Aayush Sharma on Antim: "The first time that I looked into Salman Bhai's eyes in front of the camera, I froze. He is the star I have grown up watching and now I was in the same frame as him"
Entertainment
In an exclusive interview, Kirsten Dunst discusses her new film The Power of the Dog, "creating her own monsters" to make her character feel powerless, and whether Western is a dated genre that should be done away with.
Entertainment
"Befriending a notorious entity is no crime. Pretending you do not know him, as Jacqueline Fernandez did when questioned about conman Sukesh Chandrasekar, is certainly inviting trouble of the serious kind."