Aladdin: Will Smith's Genie draws funny reactions on Twitter; high ponytail compared to Goro, Ariana Grande
The high ponytail of Will Smith's Genie in Aladdin drew hilarious comparisons to Mortal Kombat's Goro and Ariana Grande.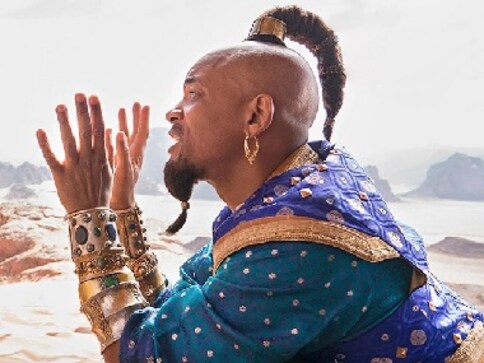 Entertainment Weekly provided the first glimpse of Disney's upcoming live-action version of Aladdin on Wednesday and it didn't receive the most favourable reactions from Twitterati.
The first look images showed Mena Massoud as Aladdin, Will Smith as Genie and Naomi Scott as Princess Jasmine in the Guy Ritchie movie. But the Internet was particularly unimpressed with Genie, who was originally voiced by Robin Williams in the 1992 animated classic.
So, they were always going to be some big shoes to fill and Smith's reinvention of Genie hasn't got the kind of reception he would have liked. One user referred to him as 'Sinbad on a diet.'
Smith's high ponytail and long goatee drew hilarious comparisons on Twitter.
The original animated movie was a comic take on the Arabic folk tale of a young man granted three wishes by a genie trapped in a lamp.
Aladdin was the highest-grossing film of 1992, and won Academy Awards for best score and best song for "A Whole New World."
Aladdin is set to open in movie theatres on 24 May, 2019.
Entertainment
Citadel's first season contains six episodes. The first two episodes will be made available during the time of premiere and a new episode will be released each Friday.
Entertainment
Bruce Willis was diagnosed with dementia earlier this year, as per a statement by his family.
Entertainment
Gibby and Goldstein have previously appeared as expert witnesses for Sanderson, who has said he broke ribs and sustained brain damage from the crash.