Akshay Kumar on 2.0: Shankar is like James Cameron on steroids; everything is larger than life in the film
Rajinikanth has repeatedly said that 2.0 is Akshay's film, to which Kumar responded with, 'He's just being humble. I'm just the Amrish Puri of the film. It is very much his film, because the title is 2.0 and he is 2.0."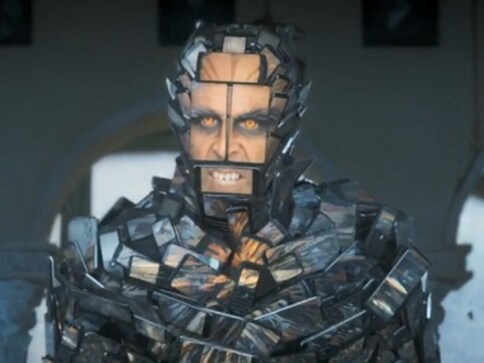 Rajinikanth and Akshay Kumar's action sci-fi thriller, 2.0, releasing in Hindi, Tamil and Telugu on 29 November, has been in the news for a variety of reasons. A sequel to 2010 hit Enthiran, the film's gigantic budget (estimated at over Rs 500 crore), the technology used to make the movie and the film's star cast has been making headlines from the time it was announced.
Akshay's villainous role in the film has garnered a lot of interest, and now that 2.0 promotions are in full swing, the superstar says he is excited to be part of India's most expensive film. "It's a huge release and I am nervous about how the film will fare at the box office but it was a relief when I last spoke to my producer. He sounded happy though I am not sure how they will recover the cost. But if this film works then I will be confident enough to say that I have set a benchmark and I will feel motivated, or else I will be back to square one," says Akshay in an interview to Firstpost.
Working with Rajinikanth
"I was very excited when S Shankar (director) offered 2.0 to me. I knew everyone's character when the script and screenplay was narrated. It talks about how the world is not only for us humans, the earth also belongs to animals, birds, and just because they can't speak, we shouldn't take advantage, we shouldn't play with the nature. It's such a brilliant concept and I wondered why no filmmaker came up with this idea before," says Akshay, excitedly adding, "I was also very happy working with The Rajinikanth. I would enjoy talking to him in Marathi on sets.
Rajinikanth has repeatedly said that 2.0 is Akshay's film, to which he responds, "He's just being humble. I'm just the Amrish Puri of the film. It is very much his film, because the title is 2.0 and he is 2.0."
Akshay pointed out that he and the rest of the team were simply awestruck by Rajinikanth's style. "He has a huge aura. It is amazing that he would add his unique style in every dialogue. Just give him one simple line and he would make it so entertaining. He is very professional and not put on. He is never worried about his appearance." Akshay is often been asked why he agreed to play the antagonist, and he jokingly says, "The advantage of playing a villain is that you shoot for less number of days. I shot for just 40 days and Mr Rajinikanth shot double that number."
The VFX in 2.0
While everyone is talking about Akshay's fierce and ferocious look, the actor is completely awestruck by the technology used in making the film. "I don't know if my look is a highlight but technically it is the best that India has produced. It is an original 3D film and you can feel the beat of it. It is not transformed into 3D. Mr Shankar is equivalent to James Cameron on steroids (laughs). Everything's larger than life," he says.
"When we watch two robots fighting with each other in Transformers we come out saying, 'Wow, that was great fun'. 2.0 is a similar attempt from India, we can't compete with the West because their budget is some 17 times higher than ours. But trust me, they cannot make what we have produced here in Rs 510 crore. Technology wise it will definitely be appreciated. I would leave the reception of film and screenplay to the audience yet I feel the technology will enhance the story and narration. The message comes out very clean and clear and it is the finest 3D film India has ever produced," added Akshay.
The supposed divide between Hindi and south films
Besides having a wish list of working with directors in the South, Akshay further said that he would love to take up such projects in the future.
"I would love to do more sci-fi films," says the actor. He continues, "I feel this divide between Hindi and South films should blur completely and hence I would call 2.0 a lovely Indian film. But, professionally, too, South film industry is much ahead of us and one can learn a lot from them. I feel, a newcomer should do five films in the south industry and then come here. They take 35 to 40 shots in a single day, whereas we manage just 12 to 13 shots. They are very fast. They don't take others for granted, they value people's time. 2.0 is an experiment, it is an experience for me."
Lauding Akshay's discipline, dedication and patience, the film's director recently said that Akshay suffered a lot while getting the prosthetic make-up, costume, sunlight to match, to which the actor said, "I didn't suffer but it was very tough. For three-and-a-half hours I would be sitting quietly in one place and three people would work on my body. After shooting, it would take one- and- a- half hour to remove the make-up. Every night I would sleep with the thought that I have to go through this process again the next day, and it continued for 40 days. That was a painful. My pores couldn't breathe, so for six hours sweat would accumulate inside my body, and when I would get out of the costume, my whole body would smell of sweat. Also, I was only on liquid diet — water, juice and milkshakes. I wasn't allowed to eat because the costume had to fit me. And the first thing I did after I saw myself in that get up was click selfies with my family, my wife, my children," he reveals.
His future projects after 2.0
Akshay is one of those rare actors who has moulded himself as a comic actor who is also good at drama and action, and he never shies away from experimenting if convinced about the project.
Someone who muscles in four to five films every year and all in different genres while striking a fine balance between commercial and meaningful cinema, Akshay, with a ridiculously high success rate, has an incredible line up of films like the historical war drama Kesari in collaboration with Karan Johar's Dharma Productions, which is near completion with just six days work left; he teams up again with Kareena Kapoor for Dharma Productions' Good News (shoot starts next year); there is the fourth instalment of the popular franchise, Housefull, and his own production, Mission Mangal, based on ISRO's Mars Orbiter Mission.
"Kesari is also a high budget film, and when my film is talked about for its content and it is commercial as well, I like that," he says. In fact, the superstar is also game for collaborating with OTT platforms like Netflix, Amazon that is attracting a lot of popular actors. "I would surely love to do something on a digital platform," he adds.
When asked about the other projects that he is likely to take up in the future, for instance, the historical period drama, Prithviraj Chauhan (he will be finalising this next year end), the third instalment of Hera Pheri and sequels of OMG Oh My God! and Rowdy Rathore, the actor bursts out laughing, saying, "Looks like I am doing 35 films! I can do only five films at a time."
(Also Read: 2.0 movie review: Shankar's story is pedestrian; but VFX, Rajinikanth and Akshay Kumar carry the day)
Entertainment
Dibyendu Bhattacharya will be next seen in The Capsule Gill, alongside Akshay Kumar and Parineeti Chopra.
Entertainment
Trade guru Taran Adarsh says he is hopeful about both. "It's too early to comment on the box-office prospects of either Laal Singh Chaddha or Raksha Bandhan. The advance bookings have not been too strong and the two films are dependent on word of mouth."
Entertainment
The movie is presented and distributed by Zee Studios in association with Kumar's sister, Alka Hiranandani and Rai. It is backed by Rai's Colour Yellow Production in association with Kumar's Cape of Good Films.