Ajay Devgn: Pakistani artistes are good, but we have to show solidarity with our soldiers
Ajay Devgn talks about Shivaay, the clash with Karan Johar's Ae Dil Hai Mushkil, star kids and not working with Pakistani artistes after the Uri attack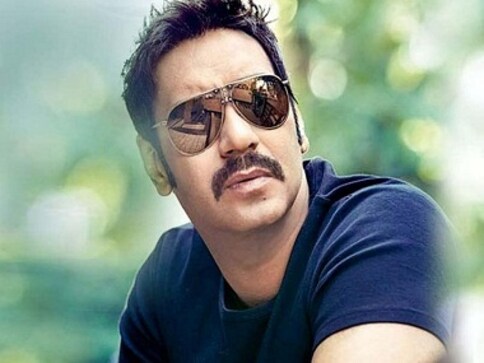 With his film Shivaay hurting towards its 28 October release date, Ajay Devgn has been in the news for his statements regarding the ban on Pakistani artistes working in India that has been imposed by industry bodies, and a few political parties.
Ajay was recently asked if he would work with any Pakistani artistes and he replied: "Not at the moment. I am very clear on this because you are an Indian first. I don't care if my film doesn't release in Pakistan. Their artistes are standing by their nation. They are earning here but are sticking by their nation. We should learn from them." He added, "Country comes before money; if the country breaks into [trouble] what will we do with the money?"
Ajay Devgn: 'I will not work with Pakistani artistes; I'm Indian first'
Even as Ajay garnered a lot of support for his views, news reports pointed out that Shivaay had 'almost had' a Pakistani-born Canadian actor Ali Kazmi as part of its cast.
Kazmi, seen in Deepa Mehta's 2015 film Beeba Boys, was supposed to play the part of a military officer in Shivaay. As the film faced scheduling delays, Kazmi had to opt out of the project.
Ajay says "importing" actors depends on the requirement of the script.
He adds that the artistes from across the border he has worked with have all been very good, but the aftermath of the Uri attacks made current cultural exchanges fraught.
"Pakistani artists are good, their singers are very good and so is their music. I admire them, I have worked with them. Rahat Fateh Ali Khan has sung many songs in my films. So far, I feel the best music in my film was in Kachche Dhaage (1999) which was Nusrat Fateh Ali Khan's last film as music composer. The issue is not that. When artists work, there is no boundary, they can work from any part of the world. They are our friends, they are not terrorists."
Ajay continues, "But if our soldiers are fighting on the border and their family members are grief-stricken, they are mourning, then in that situation we can't carry on with our lives the way we were. We can't say that art and culture should be separate and we will continue doing our work, let the soldiers do their job, let them handle the situation on the border. This is totally wrong. Why would he fight for you? We will have to show solidarity, show them that the country comes first and that we are all with them. Their families should feel that the whole country is with them and their family members. Our nation comes first...till the time the problem between the two countries is not resolved we have to stand with our security forces. We can not make them feel that we are two separate entities. I want the issue to be resolved soon so that their artistes can come back and work with us and vice versa. Art should be exchanged, but a time comes when you have to take a decision."
At the start of September, Ajay was embroiled in a row with filmmaker Karan Johar — Ajay's Shivaay has a high stakes clash with Karan's Ae Dil Hai Mushkil at the box office. Ajay had released an audio clip in which self-proclaimed critic Kamaal R Khan claimed he was paid to tweet positively about ADHM and negatively about Shivaay (the implication was that Karan's team had given money to KRK). The controversy fizzled out after KRK stated that no such deal had taken place.
The battle begins: Ajay Devgn accuses Karan Johar of paying KRK for negative tweets on Shivaay
Ae Dil Hai Mushkil is now facing the brunt of the anti-Pakistani artiste sentiment simmering in India post-Uri attacks. Fawad Khan, who has a cameo in the film (which stars Ranbir Kapoor, Anushka Sharma and Aishwarya Rai Bachchan), has become the face of the Pakistani artiste ban by virtue of being the most (and only?) successful crossover star.
However, Ajay has expressd support for Karan Johar during this time, and said that banning films featuring Pakistani artistes — as has been demanded by groups like Raj Thackeray's Maharashtra Navnirman Sena — is "unfair".
"Sometimes, it is difficult to remove an actor from a film that has already been completed. I feel, when people have shot a film before an issue has happened, they should be allowed to release it," Ajay said in a previous interview. When asked about theatre owners and exhibitors' fears that their screens would be vandalised by those who support the ban, Ajay says, "I can't comment on that. I think films should release and when it comes to the audiences' mood, what they feel — let the audience decide that. Public sentiments [must be decided by] the public."
So as Shivaay and Ae Dil Hai Mushkil head towards their high profile clash, is Ajay feeling the pressure? Not just the audiences, theatres and screens too get divided in such a scenario.
"That the picture will tell. Screens reduce for two days, but later the count increases for the better film. I certainly have the confidence. If I didn't have that confidence, I wouldn't have made the film," says Ajay, who returns to direction after eight years with Shivaay.
Ajay made his directorial debut with U Me Aur Hum in 2008. "Direction comes easy to me," he says. "Before I started out as an actor, I was an assistant director and I would be involved in every department right from camera, lights to editing. Except acting, I would do everything. I am well-versed with different techniques as well. Just that I don't find myself comfortable doing production."
"But yes," he continues, "wearing all three hats of actor, director and producer takes its toll. I have hardly slept for past 20 days. I have been working till around 5 am and again starting at 9 am. During the shoot I had to put double the effort, I wouldn't get any rest. I was arranging the shot, explaining it to the actors and then giving a shot myself. I had to be alert all the time and couldn't afford to divert my mind," he says.
Of Shivaay, he says, "The film is an emotional drama, it's a father-daughter story. All my songs tell the story. The story is simple but it's the screenplay and the emotional drama that needed more attention."
Shivaay features debutante Sayyeshaa Saigal. Of his lead actress, Ajay says, "I wanted a new girl, a new face. My film is performance-oriented. I took many screen tests, Sayyeshaa was very raw when I screen-tested her but I found potential in her. As a director I am very stern when it comes to performances."
Did her selection have anything to do with her lineage (Sayyeshaa is the grand niece of veteran actors Dilip Kumar and Saira Banu)?
"No, not at all," says Ajay. "There are so many sons and daughters of actors in our industry who are such bad actors. I don't want to take any names. I don't know if my son will have the talent or he would like to do something else."
"But yes," he adds, "Some of the Gen Next actors like Ranbir (Rapoor), Ranveer (Singh), Alia (Bhatt)...are very good. They are focused and well prepared as compared to how we were when we started. We were so raw and ignorant. We were not serious about our work, we would be playing mischief on sets. But these youngsters concentrate on their art and skills."
Entertainment
Taare Zameen Par, Gandhi & Co., Stanley Ka Dabba, Chillar Party, The Blue Umbrella and I am Kalam have broadened the scope of children's cinema with universal themes.
Entertainment
Jugjugg Jeeyo finely shares thoughts on the abuse of marital vows and how quickly they turn sour if left too long to dry in the sun.
Entertainment
Varun Dhawan, Kiara Advani, Anil Kapoor and Neetu Kapoor's Jug Jugg Jeeyo is expected to take a promising start at the box office.