Ajay Devgn on Raid: 'I like switching my genre, lucky that most of them have worked for me'
Ajay Devgn opens up on Raid, says unlike the old fans, who are loyal and sentimental, the new crop of fans only look for content in films, not the actors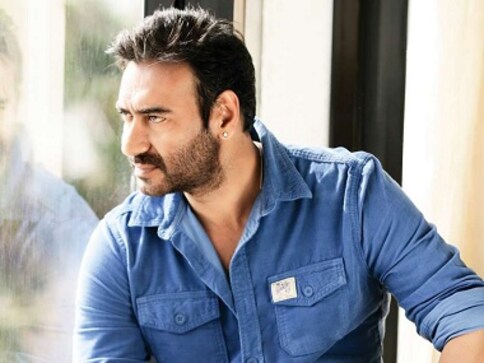 One of Ajay Devgn's most prized possession is a coin that is also a reminder of his first brush with stardom. The history behind the coin is that the actor had gone to a suburban Mumbai theatre to gauge public reaction to his debut film. "It was the second day of Phool Aur Kaante and I quietly sneaked into the theatre and sat in the first row. It was on my entry scene that people started clapping and whistling and then started throwing coins. One of the coins fell on my head and I still have that coin," reveals Ajay.
When I meet him at the Novotel, it's a day that has been earmarked by the publicist of Ajay's upcoming film Raid to finish all his promotional interviews. The yellow-blue checkered shirt with a denim reveals more about his casual attitude but the goggles in the air conditioned confines of the five-star hotel is an oddity. He reveals that his watering eyes has made him do so. With Raid, Ajay is once again treading a familiar territory where the protagonist this time is a no nonsense Income Tax officer. The story of Raid is based on a true incident that happened in Lucknow in early '80s. How much of the film is fiction? "Every film needs to be fictionalised otherwise it gets boring. It's all about the screenplay so you have incorporate the highs and the lows. It's fictionalised as much as news. You often get to hear background score in news these days," quips Ajay.
The old guards of the film industry have often been heard saying that filmmakers get inspiration for their films from what's happening around them. The premise of Raid, though based on a 37-year-old incident, still holds relevance today. Ajay minces no words and accepts that none of the ideas of filmmakers is from outside. "If it's a corrupt society, we show corruption in films. You pick any decade and see what sort of films were made in those decades. If you were to analyse you will discover that the films were exactly what the society was at point of time. Most of the films in '70s and '80s showed corrupt ministers and then in '90s most of the film tackled the subject of the underworld," admits the actor.
Ajay is one of the few actors from the industry who never had to struggle for a hit film. Barring once or twice there has not been a year when he has not delivered a hit film. A spate of two or three flop films has always been followed by a hit. Guess Ajay has devised his own formula of delivering hits. "I always like switching my genre. I like to do different things otherwise I would get bored. I did Golmaal and then I did Raid. After this there is a romcom and then there is Total Dhamaal. I am lucky that I have tried most of the genres and most of them have worked."
Ajay's next production is a period film and is based on the life of Taanaji Malusare who was a military leader in Chhatrapati Shivaji's army. The controversies that erupted in wake of Padmaavat's release and during the Rajasthan shooting schedule of Manikarnika, surely left a bad taste in filmmakers. So is he taking any precautions with his film? "My film is very straight and clean and its following history. If anybody has an issue, I know how to sort it out. I will just sit across the table and will sort it out. I am not worried about anything as there is nothing controversial in my film."
With stakes running high for films these days and most of the films of A-listers falling like ninepins at the box office, there are clear signals that the star system is fading away and films are running more on the power of word of mouth. Ajay agrees with the statement and at the same time accepts the fact that the stars of his generation have been pretty lucky. "When we started doing films, we got a different kind of fan following. They are loyal fans who see our films religiously. The new crop of fans is pretty sensible and intelligent and they go only by the content. They decide to see a film on solely its merit. This system will again change in future. Actors in a film won't matter to them."
Quiz Ajay about the concept of blocking dates even before the film has gone on floors and he completely is against the concept. "Blocking dates doesn't help. I have stopped blocking dates because once you block the dates, you are in a state of hurry to meet the deadline. The ideal thing is to finish the film and then decide when to release it. If I were to announce a date today, I am hundred per cent sure that some other film will definitely come on that day and it's nobody's fault. Clashes are not good but you don't have a choice." He takes his views on clashes further and recalls the time when his debut film had released. He mentions that clashes were non-existent in the '90s and no one was in a hurry to release their film and producer took anywhere from two to five years to make their films. Not many know that his debut film Phool Aur Kaante had clashed with the Anil Kapoor and Sridevi starrer Lamhe at the box office. "I had nothing to lose. They were scared. I still remember Anil ji advising my father not to release my film and he did it only because he was very close to my father. He was also there for the trial of my debut film. When we met again after the release, I remember him telling me, "Tum logo ne meri film ki band baja di." The rapport that actors shared at that time was so sweet. Right now I don't see such a thing among actors and now things have become too professional."
About getting feedback on his films from family members, Ajay is candid enough to admit that it's his daughter's criticism that matters to him the most. "Kajol does not have the guts to criticize my work. My daughter is very harsh with her comments. She is brutally honest to tell me what she feels about my film."
The interview with the star simply cannot get over without him be asked if he has ever been raided? "Yes, I have been raided once and it was in the '90s but I was not present when it all happened as I was out of town shooting for a film. The entire operation went on for a day or two and in the end they got nothing," reveals a nonchalant Ajay.
also read
Entertainment
For Fatima Sana Shaikh suffering from epilepsy was a struggle and it took her 5 years to accept it, but now she is okay and opens up on raising awareness about the same.
Entertainment
In Bloody Daddy trailer Shahid Kapoor is seen fighting drug lords and cops
Entertainment
Just after her wedding Swara Bhasker completes the filming for her next 'Mrs. Falani' Mrs. Falani is real special film.