Aishwarya's big interview: The unbearable blandness of the Bollywood diva
Ash's much-touted Q&A with Sir David Frost reveals a well-known but rarely acknowledged truth: interviews with top Bollwood actresses ought to be a prescribed cure for insomnia.
"What are your favourites when you come to a restaurant like this?" asks David Frost as he and Aishwarya Rai settle down for meal at an Indian restaurant toward the end of their Al Jazeera interview. It's the ultimate softball question, the kind that sets up a celebrity to reveal something cute and personal, maybe even a wee bit funny.
Ash opts for neither.
"That's a tricky question. When it comes to food, I love my food, I am comfortable with my foods. I have never dieted. Never. I really enjoy food," she says, rambling on for excruciating minutes without ever answering the burning question. She enjoys all kinds of cuisine, "but there is something about Indian food. It's something we've all grown up with. It's so easily available anywhere in the world now…. But I am easy with food. I'm really not a very fussy eater."
After gently probing into Mrs Rai Bachchan's claim that she's never, ever dieted or exercised — eye roll alert!— Frost returns valiantly to hot-button issue of food preference: "If you had to write down the last meal on earth, what would be the perfect Indian meal for you?"
Crumbling under the heat of interrogation, Aishwarya finally gives up the goods: "I've never thought about it so strongly. I guess just basic food cooked by my mother. Very basic. Simple rice, dal, maybe a fish or a chicken curry made by my mother. I would love that. Simple basic food."
OMG, stop the presses! Aishwarya Rai confesses to loving ma ke haath ka khana!
The absurd exchange reveals a well-known but rarely acknowledged truth: interviews with top Bollwood actresses ought to be a prescribed cure for insomnia. Bigger the name, duller their answers. And more boiler plate.
This is Priyanka Chopra on her food preferences: "Fortunately I do not have a tendency to put on weight and can get away eating as much as I want to, which is a blessing in this industry. But even then, I'm not weight-conscious and eat well like a Punjabi kudi. I love eating ghar ka khana and am non-fussy about food."
Really, that's what it says right here in my "Complete Idiot's Guide to Being a Bollywood Diva."
The aim is never to venture an opinion — or anything that could possibly mistaken for one. No, Ash doesn't have a favourite among her Hollywood outings. She picked each for "different reasons" because she "was in a different stage in her career." And Ash has "no idea" if she has made more movies than her husband, who she insists "maybe has made a few more" — firmly squelching any notion that she may have outdone pati dev in quantity, leave alone quality of work.
This peculiar reluctance to actually "say something" is shared by almost all A-list movie actresses. Madhuri Dixit has "no answer" as to whether she would do a Dirty Picture. Katrina Kaif's beauty secret is "to be happy," whereas for Sridevi it's the "love of my fans and people around me." All directors are wonderful, motherhood is bliss, age is a number, blah blah, blah.
The irony is that this addiction to yawn-inducing sound-bytes makes for bad, unmemorable PR.
The men, on the other hand, have no problem mouthing off on all matters, not merely food. Bigger the name, bigger the mouth. SRK confesses to surviving on cigarettes, black coffee and tandoori chicken, routinely pisses off the Shiv Sena, and gleefully jokes that he is "Try-sexual." Ash's own father-in-law, Big B, has made waves for his many twitter faux pas, including the over-the-top display of enthusiasm when announcing  her pregnancy. Salman Khan's entire persona is based on a cavalier disregard for niceties.
In a joint interview to promote Ek Tha Tiger with Katrina Kaif, it's Khan who fields the thorny questions, while Katrina sticks carefully to the PR template. Where Kat insists they had a "logical and stylish discussion" about a blouse that became a bone of contention between the two, Sallu bluntly cuts in, "It didn't look like a blouse. It looked like a bra kind of thing!"
The only women who seem at ease speaking their mind to a degree, are either C-list sex symbols like Mallika Sherawat —who are looking for attention — or the Vidya Balans and Shabana Azmis who have built their brand as a "serious actress." The beauty queens seem doomed to play Barbie both on and off screen. So trapped are they in their 'perfect woman' image that they dare not reveal even an iota of personality that may dent the fantasy. And no degree of success is sufficient to buy the freedom to be remotely human — like say Catherine Zeta Jones who cheerfully confesses to loving "smoked salmon sandwiches on ground bread with potato chips in the middle, crushed down."
That's blech, yes, but hallelujah, not boring. So how about it Ash? Maggi noodles — on toast with ketchup?
India
Unity in diversity is the fundamental ethos of Indian culture, land and people but the education system seems to be heading in the opposite direction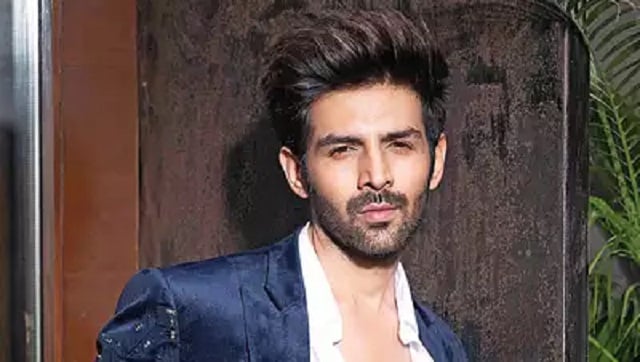 Entertainment
Colour Yellow Productions in a statement said the team is still in talks with Kartik Aaryan for a movie project.
Entertainment
The shooting of Goodbye had come to a halt due to the second wave of the coronavirus pandemic in April