Ahead of Prince Harry and Meghan Markle's royal wedding, ek vivaah aisa bhi
In Mumbai, a scriptwriter in desperate need for a TV series idea finally comes across some inspiration. At a meeting with a friendly executive from a religiously-named production house, the writer makes his pitch | #FlyOnTheWall
Note: The following conversation may or may not have taken place, and may nor may not be inspired by real life incidents. Firstpost's Special Forces have not independently verified the veracity of this reported conversation.
As the wedding-of-the-century takes place in the United Kingdom, In Mumbai, a scriptwriter in desperate need for a TV series idea finally comes across some inspiration. At a meeting with a friendly executive from a religiously-named production house, the writer makes his pitch:
X: Bhai, ek mast script idea hai!
Y: Phir se naagin wali kahaani mat sunao.
X: Nahi! This is a full-on family drama.
Y: So? Isme new kya hai?
X: Arre, aise waisa drama nai hai. Ye jo family hai, unki story unfold hogi ek high-profile wedding ke backdrop mein.
Y: Monsoon wedding?
X: Nai, royal wedding!
Y [suspicious]: Hmmm....
X: So, bride is a beautiful young woman, who has made her name as an actress. Groom is from a royal family in Rajasthan.
Y: And groom tells her she must give up her acting career if she wants to be accepted by his strict-but-loving daadi who rules over the family with an iron hand?
X: Haan, but that's not the main story!
Y: Then? Bride has a complex past that threatens to cast a shadow on her future?
X: Haan, but that's not the main story!
Y: Toh phir? Groom has a colourful back story? Some ex-girlfriend who wants to crash his wedding?
X: Wo bhi hai, but that's not the main story!
Y: Arre, phir story kya hai?
X: Story bride ki family hai.
Y [intrigued now]: Aur batao...
X: So, scene ye hai ki bride ki family thodi twisted type ki hai.
Y: Mmhmm...
X: Father is thoda reclusive, but beti's wedding has brought him out. Ek badi behen hai, thodi jealous type ki. Ek bhai hai, wo bhi thoda ajeeb sa hai.
Y: Ma kaisi hai?
X: Ma toh normal hai.
Y: So what's that you were saying about high level drama?
X: Haan, so how it goes is, as soon as news of the bride's wedding is reported, jo purane resentments they, wo reignite ho jaate hain. The brother gets some journalists to publish a message to the prince saying ki, meri behen se shaadi mat karo, phas jaoge. Bechara groom is befuddled. Itne mein, badi behen is also sending all sorts of mixed messages. First she says ki this girl — bride jo hai — didn't support us when she became a famous actress. Then she says she only wishes her well. Then she —
Y: By 'she' you mean the elder sister?
X: Haan, wohi. So she threatens ki main tumhare saare pol khol doongi; this sister wants to write a book you see.
Y: Whoa...
X: Haan! And iss beech mein, even the father is up to some odd stuff. Pehle toh ek mystery hogi viewers ke liye ki did the bride even invite her papa for the wedding. Because their equation is not clear. Then, just when sab clear hone lagta hai, ek doosri controversy media mein aa jati hai.
Y: Achha...
X: So now it turns out the father had a setting with a photographer to take fake candid photos of him preparing for his daughter's shaadi. Aur phir bas — bedlam!
Y: How could a father do such a thing!
X: Yaa, so it turns out isme bhi badi behen ka haath tha. Father ko iss sab stress ke beech mein heart attack ho jaata hai. So the sister admits that she was the one who cooked up the whole photos wala scheme. Iss sab mein hi kaafi episodes nikal jaenge.
Y: Wo theek hai, par finally hota kya hai?
X: Toh wedding will be the climax na. Poori family lands up uninvited to the place where the shaadi is taking place — matlab bacche wachhe sab ko lekar. But bride and groom ka pyaar triumphs, and they finish their saat phera successfully. Father, who is now recovering in hospital, is remorseful and sends blessings to his daughter over phone. Mast scene hoga, bride and groom setting off on their honeymoon as a crowd cheers them on.
Y: And the family? Unka kya?
X: Arre, bride now has new family na. High class family. We'll shift the focus to them. Bride will soon find out her own relatives were nothing compared to this new bunch. Season 2?
Y: I like it! Inspiration kya thi tumhari?
X [hiding copy of TMZ under other papers]: Bas, thoda imagination use kiya!
World
The wedding was a global event, thanks to Prince Harry's status as a senior British royal and Meghan Markle's celebrity after starring on the US television series Suits for seven years
Entertainment
Priyanka Chopra was seen wearing a Vivienne Westwood suit and matching hat by Philip Treacy. She was photographed walking into the ceremony alongside actress Abigail Spencer.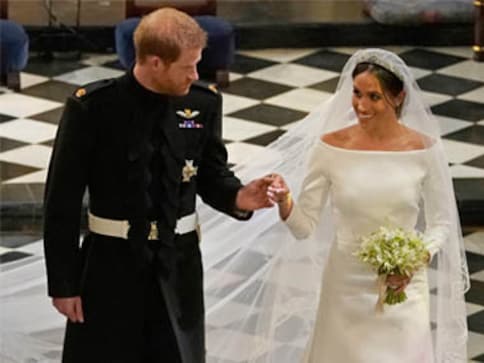 World
Over six million people tweeted on the royal wedding of Prince Harry and Meghan Markle, more than three times the number during his older brother's wedding, social media monitoring firm Visibrain said on Sunday.