Ae Dil Hai Mushkil is a typical Karan Johar film, but also nothing like he's ever done before
Ae Dil Hai Mushkil bears the Karan Johar signature — in that, it is like every other film he has made, and it is unlike any other film he has ever made.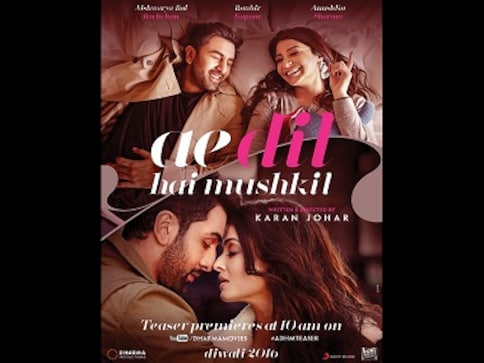 Quora can be quite the treasure trove when you're looking to fill a few empty minutes. Look through it, and you'll see that people have a wide variety of questions, on a wide variety of subjects, all inviting a wide variety of answers.
One of the queries that apparently occupies some minds, is this one:
Also, these:
The 'quality' of Karan Johar's cinema seems to be questioned a lot.
What can't be questioned, however, is his success.
For the purpose of limiting the scope of this piece, we are going to restrict ourselves to a comment on Johar's work as a director rather than as a producer.
On Tuesday, 30 August 2016, Johar has marked his 'comeback' as a director with the teaser of Ae Dil Hai Mushkil (watch it here). The last film he helmed was 2012's Student Of The Year.
The teaser for the film shows us that ADHM bears all the hallmarks of Johar's brand of filmmaking: Goodlooking stars, great overseas locations, and of course — a love triangle.
It has been said that Ae Dil Hai Mushkil is a remake of Yash Raj Films' Doosra Aadmi (which featured a triangle in which Rakhee-Rishi Kapoor-Neetu Singh played the principal parts).
ADHM's triangle has Ranbir Kapoor-Aishwarya Rai Bachchan and Anushka Sharma at its vertices. The triangle gets an extra, fourth dimension (making this a quadrilateral?) in the form of Fawad Khan, of whom not much is seen in this trailer.
If indeed, it has four parties involved, and not three, then ADHM would become a lot more like another of Johar's previous films, Kabhi Alvida Na Kehna, rather than Doosra Aadmi.
There was a time when Johar's filmmaking introduced Indian moviegoers to a world the majority of them weren't familiar with.
In 1998, when Kuch Kuch Hota Hai released, the other notable films of the year included Dil Se..., Ghulam, Satya and Pyaar Kiya To Darna Kya. (There was also that little cinematic gem called Gunda.)
The year before had brought Dil To Pagal Hai to the theatres; the year after would have Hum Dil De Chuke Sanam.
Hum Aapke Hain Koun...! was in 1994, followed by Dilwale Dulhaniya Le Jayenge in 1995.
Somewhere in between was Raja Hindustani.
Kuch Kuch Hota Hai — Johar's first film — then came at a very specific time. Family values a la the Barjatya brand of filmmaking had created a gold standard for mainstream Bollywood films. At the same time, there was greater emphasis on style, sophistication, a sort of manufactured Westernisation that was brought in by YRF.
So in Kuch Kuch Hota Hai, when a then 33-year-old Shah Rukh Khan played the role of a college student, complete with GAP sweatshirts and Tommy Hilfiger tees in a Riverdale High-esque environment that was supposed to be an Indian college, not too many blinked.
If several other aspects of the film also required a suspension of belief, then so be it. Khan's chemistry with Kajol was more than enough to save the day, and propel the film into the ranks of landmarks in Hindi cinema.
Dil Chahta Hai came out in 2000 and ushered in a more realistic paradigm for how upwardly mobile urban Indian lifestyles were portrayed in Hindi films (contrast that with Aditya Chopra's Mohabbatein, which released the same year, and the depiction of its young protagonists). But the Johar aesthetic remained the same, except for a few upgrades in terms of nods to the leading fashions of the day.
There was also an attempt to upgrade his 'themes', post-Kabhi Khushi Kabhi Gham. So Kabhi Alvida Na Kehna had — shocker! — infidelity; My Name Is Khan spoke of terrorism and inter-faith relationships.
By the time Johar made Student Of The Year, there was another considerable shift: The setting may have been that of even fancier, far more permissive and fun Mohabbatein-style Gurukul, but this time, the students were portrayed by actors whose ages were a lot closer to their screen counterparts'.
Ae Dil Hai 'Mush-Kill' comes at a time when the depiction of the super-wealthy, the young and the urbane in mainstream Bollywood films has undergone another shift — this time courtesy another Akhtar, Zoya, and her films like Zindagi Na Milegi Dobara and Dil Dhadakne Do.
Several of the films from Johar's own production house (Dharma) — Kapoor & Sons, Yeh Jawaani Hai Deewani — have also done the same.
Just like Kuch Kuch Hota Hai and every subsequent Johar film since has been a unique product of its times, Ae Dil Hai Mushkil — from its teasers — seems to be too.
"My passion, unapologetically, is Hindi cinema. With all its mainstream issues, with all its sell-outs sometimes... I breathe and eat Hindi cinema," Johar once said in an interview.
Ae Dil Hai Mushkil bears the Johar signature — in that, it is like every other film he has made, and it is unlike any other film he has ever made.
Entertainment
The high-octane battle sequences, Ranbir Kapoor's rugged look and the brilliant cinematography will surely appeal to fans. Shamshera has been directed by Karan Malhotra of Agneepath fame
Entertainment
In 1976, Yash Johar launched his production banner Dharma Productions, which is one of the biggest production houses in the country today. The first film that Yash Johar produced under the Dharma Productions banner was Dostana, which was released in 1980.
Entertainment
Like much of what is coming out of Bollywood these days, Ranbir Kapoor's Shamshera looks dated.