Adivi Sesh on the success of his film Goodachari and the revival of spy-thrillers in Telugu cinema
Post the success of Goodachari, in an exclusive interview to Firstpost, Adivi Sesh opens up about his choices, making of Goodachari, and why he is no mood to slow down.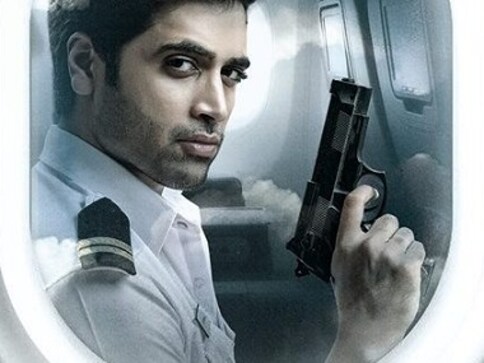 Having moved to India almost eight years ago, it's been a roller coaster ride for Adivi Sesh, who has captured everyone's attention in Telugu cinema in the past few years with his films like Kshanam, Ami Tumi, and now, his latest spy thriller, Goodachari has been hailed as one of the best Telugu films in the genre. "Every actor, even if you have no filmy background, gets 3-4 chances to prove his calibre and if you can utilise those opportunities well, you earn a lot of credibility. Thankfully, I did films like Karma, Panjaa and Kshanam in my career which helped me immensely over the years," Adivi Sesh says.
"When I look back at my career, a lot of things changed post KISS. It was the worst film of my career, and it was after that film that resolved to follow my heart and make choices where I know what I'm doing. Till then, I was doing a lot of things all at once - I was playing supporting roles, negative roles, lead roles etc. But after KISS bombed, I had to reevaluate my options. That's why I would like to call this phase of my career as 2.0. This is my present now," he laughs.
In Goodachari, the actor plays Arjun, a college student, who wants to follow his father's footsteps and serve the nation. The spy thriller, directed by Sashi Kiran Tikka, was also written by Sesh way back in 2004 when he was a high school grad in the US. "I remember the first film I saw as a kid was James Bond's You Only Live Twice, and then, I grew up watching many other films from the franchise. Then, several years later, I saw Superstar Krishna garu's Goodachari 116. I was a teenager when I wrote the story of Goodachari and back then, I didn't know the right techniques to convey my thoughts on paper. But it was definitely one of the 7-8 films that I really wanted to make in my career," Sesh recalls, adding, "The first time Sashi Kiran Tikka read the story, he didn't like it (laughs). So, we ended up rewriting the entire story for nearly nine months. Goodachari was always meant to be an origin story of a spy and I wasn't really interested in showing what a spy does."
It's no secret that despite the popularity of the spy-thriller genre in the '60s and '70s, thanks to a string of spy dramas starring Krishna, it has been largely sidelined in the past couple of decades. Ask him if he was waiting for a appropriate time to make Goodachari, Adivi Sesh says, "Absolutely. I wasn't waiting for a relevant incident per se, but I was definitely looking for a culturally appropriate time to make Goodachari. I don't think we could have made Goodachari, if Krishna garu hadn't introduced this concept of spy thrillers to Telugu audiences back in the '60s. In fact, my serial number in the film - 116 - is a homage to Krishna garu's Goodachari 116."
The film has been hailed for its slick action choreography, editing, background score, besides its writing. However, all this pales in comparison when you realise that the team pulled off this spectacle within a limited budget. Although Sesh doesn't quite get into the details about the numbers, he says, "By all means, Goodachari is a mid-range budget film and the producers went above and beyond to make this film. However, the problem is, my vision was that of a Rs 50 crore film! I don't think I'm a naturally gifted writer, director, or actor. Some of my contemporaries like Nani make it look so effortless, but I don't know how he pulls it off so well each time. I'm in awe of Koratala Siva's calibre as a writer and a director to make a blockbuster film like Bharat Ane Nenu. And when I look at my own style of working, I need at least 6-8 months of time to complete the post-production. Besides, I'm driven by my anxiety throughout the process, which makes me want to push the envelope and work harder. A lot of it rubs on to the team as well, but the good thing is that we all believe in the film we are making."
Interestingly, he doesn't like the term 'new-age' cinema while talking about the recent set of content-driven films that are making a mark in Telugu film industry. His own films, Kshanam and now Goodachari, are part of this growing trend of films. "I don't understand what has led to this obsession with 'new-age cinema'. We have been making good films all the time. There's nothing new about it anymore. This year, we had a biopic (Savitri) which spoke about a lot of sensitive issues in such a realistic manner. Now, there is no reason for us to say that Telugu films ought to change. I'm proud of being part of this industry and this really is an exciting time to be making films here," Sesh says.
Entertainment
Akshay Kumar's Prithviraj will lock horns with Kamal Haasan, Vijay Sethupathi, Fahadh Faasil's Vikram and Adivi Sesh's Major at the box office on 3rd June.
Entertainment
The highly anticipated movie, Major, starring Adivi Sesh will have nationwide pre-release film screenings which is a first in Indian cinema.
Bollywood
'Major' actor Adivi Sesh received a roaring response from ten thousand students of VJIT, Hyderabad as the actor spent time with them and showcased India's most loved trailer of the month.