Aditi Rao Hydari has come a long way from a Delhi-6 cameo to a Mani Ratnam leading lady
Though the new song of Mani Ratnam's Tamil romantic drama Kaatru Veliyidai, titled 'Azhagiye', is dominated by Karthi, leading lady Aditi Rao Hydari enchants with her strong screen presence and charm. From a supporting act which got lost, in Rakesh Omprakash Mehra's ensemble Delhi-6, to being Ratnam's leading lady, Hydari has come a long way.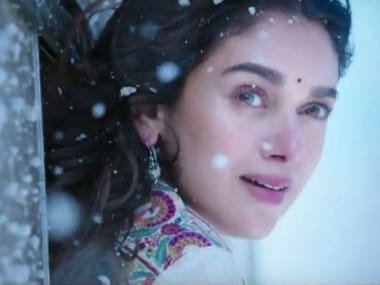 Interestingly, the first film she ever signed was in fact a Tamil film. Having been trained by the veteran Bharatanatyam dancer Leela Samson since the age of six, Hydari managed to impress Tamil filmmaker Sharada Ramanathan at a conference with her moves, prompting her to sign Hydari for Sringaram in which she played a devadasi. In the process of filming, she also signed her first and only Malayalam film Prajapathi with National Award-winning filmmaker Ranjith.
Hydari then made inroads into the Hindi film industry with Mehra's film. Neither the film fared well at the box office nor she was a highlight of the film but she got the opportunity to work with another National Award-winning filmmaker.
This pretty much defines Hydari's career graph so far. She may not boast of the meatiest roles or resounding success at the box office but she has always got the opportunity to collaborate with seasoned filmmakers and huge stars. Her next film was the gritty drama Yeh Saali Zindagi. Though Chitrangada Singh was the female lead, Hydari managed to grab her fair share of eyeballs. Also, it allowed her to work with yet another National Award-winning filmmaker in Sudhir Mishra.
Hydari also played another supporting role in Imtiaz Ali's 2011 musical Rockstar which allowed her to share the screen space with Ranbir Kapoor. She followed it by starring in her first Hindi film as a lead with Anu Menon's romantic comedy London Paris New York. She enhanced her fan base through her first rom-com which probably fetched her Vishesh Bhatt's psychological thriller Murder 3 opposite Randeep Hooda.
Her mass appeal was also banked on in Anthony D'Souza's Boss in which she played the lead yet again, opposite Akshay Kumar. However, she was sidelined by a more popular star in Sonakshi Sinha who dominated the promotions with two item numbers with Kumar.
After two underwhelming roles in Shashanka Ghosh's Khoobsurat and Subhash Kapoor's Guddu Rangeela, Hydari bounced back with Bijoy Nambiar's crime thriller Wazir. Though she had less dialogues, her portrayal of Ruhana can be dubbed as arguably her best performance yet, given her fluent dance moves and the understated act that allowed her to hold her own amidst stalwarts like Amitabh Bachchan and Farhan Akhtar.
She went on to do two cameos last year in Abhishek Kapoor's Fitoor and Manish Jha's The Legend of Michael Mishra. Her upcoming films include Sanjay Leela Bhansali's Padmavati and Sudhir's Aur Bata Devdas in which she has again been reduced to a supporting role. However, given the fact that she plays Chandramukhi in Sudhir's political thriller, and that she's in a Bhansali project (everyone is aware of his ability to present his supporting female characters beautifully on the silver screen), it is tough to contest the argument that Hydari is in a secure place now, professionally.
Though she only has a single upcoming film in the capacity of a lead actor, to boast of, it is nonetheless a position of privilege since the project is being held by Ratnam.
Whether it is Manisha Koirala in Dil Se or Aishwarya Rai Bachchan in Guru, Ratnam has a well documented streak of presenting his leading ladies with utmost grace and gravitas. As far as Hydari is concerned, she can add another National Award-winning filmmaker to her list.
Updated Date: Feb 02, 2017 17:20 PM