Acid attack survivor finds love via wrong number; Vivek Oberoi attends the wedding
An acid attack survivor dialled the wrong number but found the right love. Bollywood actor Vivek Oberoi attended the wedding.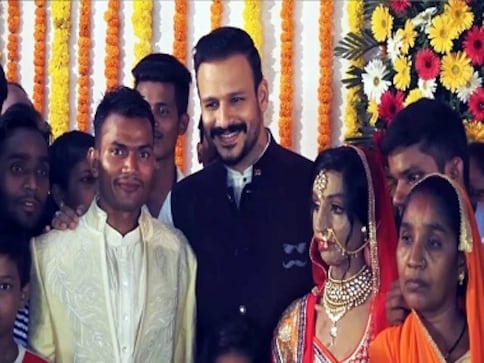 Most of us cannot point to one particular moment in our lives where everything changed. Lalita Bansi however, can probably tell you two with the utmost clarity and recollection. The first would be the day she became the unfortunate victim of an acid attack. The second instance would be when she dialed a wrong number. When the recipient returned her missed call, it did not take long for magic to be created.
Ravi Shankar Singh heard Bansi's voice and realised immediately that this was something different. They talked on a daily basis for a couple of weeks, and Singh was certain that this was the woman he wanted to spend the rest of his life with.
Bansi told him at the nascent stages of their relationship about the damaging ordeal that she had been through and the subsequent facial and emotional scarring that followed. Singh however, did not seem to care.
"I told her I was in love with her and would like to get married. Many couples fall in love with their partners' face and eventually get divorced. With Bansi, I am not concerned about her face. She is a sweet person. I wish god blesses us for a lifetime," Singh told the Hindu.
Bansi works in the Acid Survivors Saahas Foundation as a humble mango seller and Singh works as a CCTV operator in a private firm in Mumbai's Kandivli along with owning a petrol pump in Ranchi. Their wedding was attended by actor Vivek Oberoi, Mumbai's former sheriff, Dr. Jagannathrao Hegde and Congress MLA Nitish Rane.
Amazng luv stry of my lil sistr Lalita Bansi,an acid attack survivor,gt married 2day 2 n amazng man Ravi Shankar who luvs her fr who she is! pic.twitter.com/Pt4gLh0ASn

— Vivek Anand Oberoi (@vivek_oberoi) May 23, 2017
Rushikesk Kadam, founder of Udyami Maharashtra along with his friends sponsered Bansi and Singh's wedding. The Rotary Club of Shivaji Park gifted the couple Rs. 25,000, while the bride's wedding finery was designed by renowned fashion designers Abu Jani and Sandeep Khosla. Vivek Oberoi has gifted the couple an apartment in Mumbai.
"Miracles do happen. Who would have thought an acid attack and 17 surgeries later I would find love. But it happened," a jubilent Bansi told Hindustan Times.